She played the complicated, manipulating, mentally unstable Kathy Bradford for two solid years, but is probably best known at present for her depiction of another lady with a troubled past; Gina Seddon in Coronation Street.
Make no mistake though; Connie Hyde is no one-trick pony. She has played a plethora of parts in a career littered with TV appearances, not to mention her distinguished theatre pedigree.
Connie Skov Hyde was born in Macclesfield, Cheshire in 1969 but spent her early childhood moving around the country. She explains:
"We moved around for a bit. My Mum and Dad were both nurses. From Macclesfield, we went up to Edinburgh, then Burnley, then Haslingden."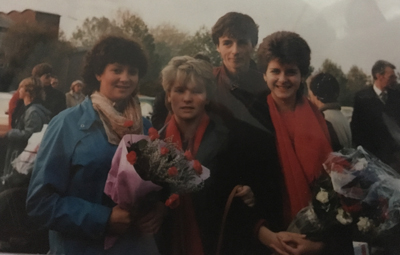 By this time Connie recalled, she was about seven or eight years of age and attended Primary School and then Haslingden High School.
Connie studied with two other actors I have interviewed for Acorn News - Julie Hesmondhalgh and Mina Anwar- at Accrington and Rossendale College under the tutelage of Martin Cosgrif and Nick Pamphlett and can't thank them enough. Connie and Julie went on to study together at the London Academy of Music and Dramatic Art (LAMDA). About that time, Connie said:
"From nowhere – we weren't really actors - they got us into drama school and they were incredible. We got grants, all of us. We couldn't have gone if not."
Connie's Mum was Danish and initially came over to England as an au pair before training to be a nurse in Macclesfield where she met her Dad who was also doing his nursing training. She told me:
"My Dad worked in a Mental Institution there, and she was training to be a nurse."
About that time, Connie intimated:
"We spent most of our summers at my Gran's and Granddad's in Denmark. That was sort of quite unusual at the time."
I put it to her that she definitely had a Nordic look and she replied:
"Yeah, I probably do actually. I'm quite tall I suppose."
I asked her about her childhood and if she was a happy child.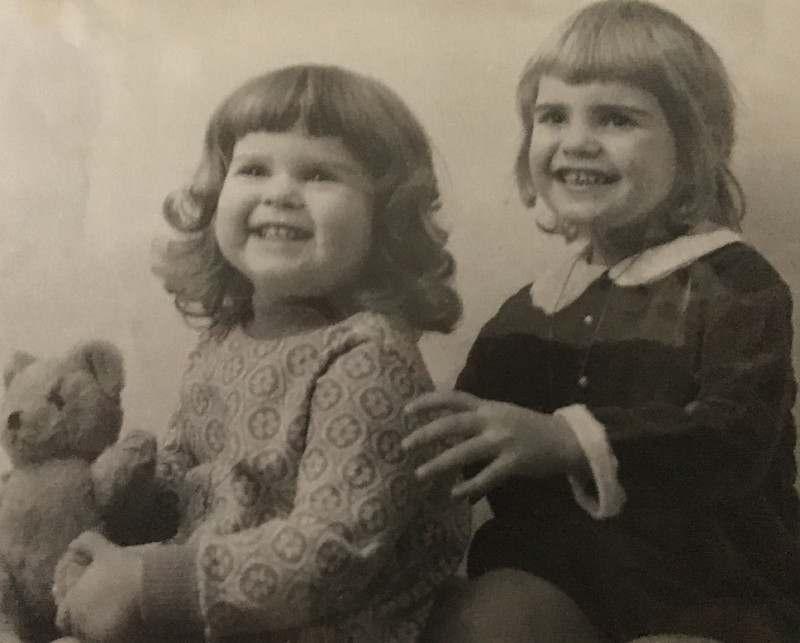 Connie (left) with her older sister. Picture courtesy of Connie Hyde. As is the Haslingden High School one above.
"Absolutely; I had a fantastic childhood. Just me and my sister, and although I didn't really like it at the time; all the moving around, in hindsight it was probably a very good thing, going to a couple of different schools, because you recreate yourself and learn to make friends very quickly."
The sister Connie spoke about is her older sibling and now has a clothes shop in Whalley, where her Dad also lives and where she was when I interviewed her.
I asked Connie what sort of student she was and she related:
"I think mainly the feedback my parents got was: 'she just stares out the window.'" She explains:
"I was quite sporty when I was young and I always used to look at the sports field. In Haslingden High they had a nice running track I used to go on quite a lot, so I used to just stare out there. I got my 'O' levels, but not a great student, I would say. I was quite bored at school apart from English, and I loved sport."
Connie is married with two boys aged 11 and 13. She told me at the time we spoke:
"One's starting senior school next week. Actually they are in London. I did think of moving up when I got the job (on Corrie) but my older boy had just started senior school, so it would have been quite a big change and I didn't have the heart to move them."
It all worked out well though because Connie's husband has gone back into education to study furniture design at University and that fits in with him looking after the boys.
I felt that I couldn't interview Connie without mentioning her iconic role as PC Cathy Bradford, which she played until 2004. She said about that role:
"Oh Peter, I loved it. I loved playing a baddie. I'm such a coward in real life. That was the ultimate role to play."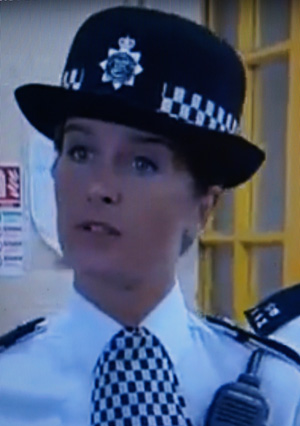 She explained to me that Cathy was more ill that evil.
"The thing was she had Munchhausen's disease and she made things up for attention, so the stories were endless really; what she could create and make up. They were quite extreme really. I am a great researcher of these things and people do go to extraordinary lengths with these things and they are very believable."
I was discussing the back catalogue of Connie's work and it is really quite extensive. She was in Cold Feet, Waterloo Road, Shameless, City Central, Holby City, Doctors, Wing and a Prayer and The Lifeboat; to name just a few of her credits. I put it to her that she must have always been in work. She told me:
"I had a couple of years when I had the kids, when actually I thought I'd never get back into it. I felt like I'd have to start again really, but I did get back into it.
"I've had a very lucky actor's life really, but I've seen both sides; I've not worked as well, and I've been quite successful, so I see it from both sides."
I asked Connie what roles she had enjoyed most and she said:
"It's funny because you kind of get typecast really, but I was typecast in stuff I like to play. I've always been quite feminist and played very strong women; there were lawyers, doctors, four police officer roles, and then I went into prostitutes. I suppose you could say; all professional women."
I asked her what would be her dream role if she were offered it and she told me:
"I love theatre and I'd like to play Hamlet's Mum. I went to Elsinore castle this summer with the boys where Hamlet is set and saw a re-enactment which was really well done. I thought 'that's the role'. I'm getting too old now for Ophelia. Lady Macbeth would have been my dream but I'm tipping the scales on that (age-wise), so I have to be looking at the mums now."
It was at this stage in our interview that I turned the conversation to Coronation Street, where Connie is currently playing Gina Seddon, sister of ex-mayor of Weatherfield, Sally Metcalfe. I put it to Connie that I was reading that her character had some juicy storylines coming up and guessed she couldn't tell me about them.
She answered:
"I'd have to shoot you if I did." I'll take that as a no then.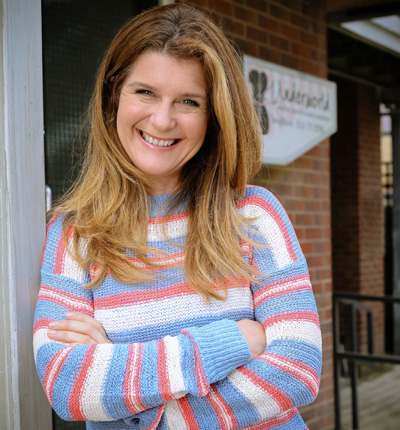 We discussed the fact that Gina was a little dishevelled when she came into the Street at first and that now she has shown how beautiful she can be also. Although this was a telephone interview, I think I heard her blush. I suggested that was a character worth playing, as Gina also has mental health issues, being bi-polar.
"I like that in her because when I started playing her in Coronation Street, she wasn't in a very good place. I sat in the make-up chair and they asked what sort of make-up I thought she'd wear. I said that I didn't think she'd wear any and there was this horrible pause. Then the make-up artist said: 'oh I don't think we've ever had any actors not wearing make-up. I'd better just check that upstairs;' upstairs meaning the producers. About ten minutes later, a phone call came back: 'perhaps a bit of make-up.'"
She went on to agree with me saying:
"Yes, she can look alright but then she can look as if she's been hit by a bus. I quite like that in her really."
I asked about the research she did when she was playing someone who was bi-polar and she said:
Actually, Coronation Street as well, are very, very good. The writers talked to the Bi-polar society and had a lady come along who lectures in the subject, so I have to thank them for that support and I think I probably am drawn, like most actors to playing people who are quite complicated. I think playing a character like that is fascinating for an actor. Putting yourself in somebody else's head; walking in someone else's shoes."
I asked Connie how much her roles affected her when she got home and how she relaxed. She told me in her case she had a secret weapon.
"I've got an allotment. I could clear a room in ten seconds talking and boring people about my allotment and I find that quite therapeutic really. I live in London and I don't have a garden, so I've got this little allotment, and actually my Grandmother and my Mum have always had allotments. I feel like it's in my DNA really. That sort of helps to switch off from work."
As a feminist, Connie is a member of ERA; an organisation that fights for equal pay for women. In this role she has directed a campaign video featuring Olivia Coleman which can be seen on YouTube. The video which lasts for around three minutes highlights the results of two years of research and is well worth watching. It can be watched by typing in ERA 50:50. "This issue is hugely important to me," she told me.
Connie has also worked for Samaritans and Home Start.
I asked what she did to relax apart from her allotment, and Connie told me:
"I don't have much time to relax. At the moment I just like to sit and cuddle the boys, but my thirteen-year-old is a mad Liverpool fan, so because we haven't got Sky Sports, I end up going to the pub most Saturdays watching Liverpool."
Connie also describes herself as an obsessive reader and at the time of this interview she was reading Once in A House on Fire by Andrea Ashworth. It was a debut memoir by a Manchester writer published in 1998 and the winner of the Somerset Maugham award from the Society of Authors in 1999, so she obviously has good literary taste.
I asked Connie what TV she liked to watch when she wasn't on the box herself. She made mention of two recent dramas to come for Wales, which featured the Welsh language and one of them was the highly acclaimed Keeping Faith, which featured Eve Myles. I also watched the whole series and found it excellent.
She thinks we should celebrate the Celtic languages of the British Isles and embrace them. Of course, Connie also loves the Scandinavian dramas. She also watches Channel 4's Ackley Bridge with her family.
When I asked her what her musical tastes were Connie replied:
"I'm an old Mod. I'll be listening to The Jam, The Small Faces, The Who, when I have the chance. I'm really into that. I love it."
When I asked Connie what food she liked she told me:
"I do like to eat healthy as a rule, but if I was on death row my favourite meal would have to be, chips and gravy, pudding and mushy peas. I do not have that in London."
My next question was what advice would Connie give to anyone thinking of a career in the media? She told me:
"I never expected to work in the media, but I would say that Constantine Stanislavsky, who taught method acting, summed it up when he said: 'Love the art in yourself; not yourself in the art. And that kind of sums it up really. Do it because you love it. Not because you want to be famous"
I finally asked Connie if she had a mantra that she lived by. She said:
"Yes; and my boys will always take the Mickey out of me. It's from Roald Dahl: be kind, be kind, be kind."
I would like to take this opportunity to thank Connie for giving up her time to speak to me. She told me she is a private person and this interview was only the second she had done, so I am honoured that she allowed me into her world. I found her to be humble, articulate and very friendly and on behalf of Acorn News would like to wish her every success in the future.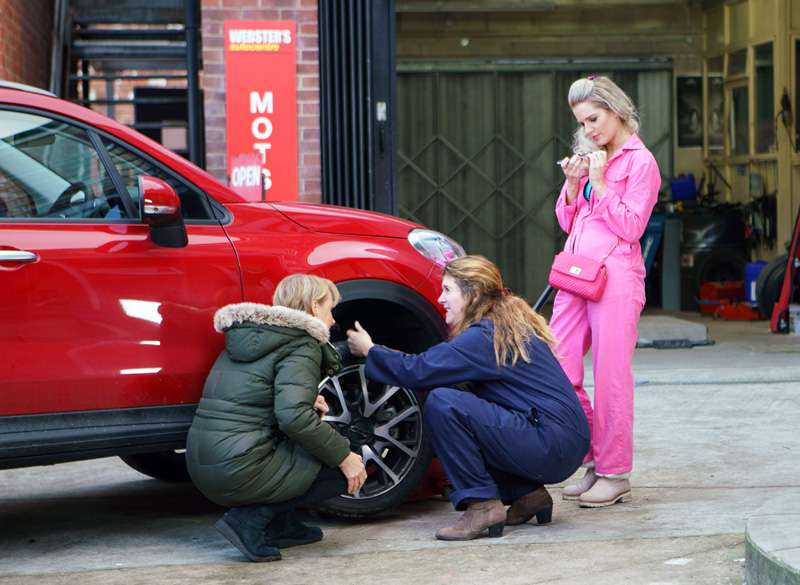 Gina gets to grip with the spare wheel as Rosie attends to more pressing matters. Picture courtesy of Coronation Street, as is the one of Gina above. I would like to thank them for their very generous permission in allowing us to use these images.
© Peter Jones 2018