News
COLLEGE MAKES IMPORTANT ANNOUNCEMENT
Nelson and Colne College Group announce important decision to accept applicants based on school teachers' GCSE grades
Nelson and Colne College Group has today made the important and reassuring announcement that students picking up GCSE Results on Thursday will be accepted onto their College course based on grades submitted by their school teachers (Centre Assessed Grades) – if higher than their official grade.
Nelson and Colne College Group – which includes Nelson and Colne College and Accrington and Rossendale College – has announced the urgent update to its entry criteria, in recognition that the calculated GCSE grades that pupils will receive on Thursday are highly likely to be significantly different to the Centre Assessed Grades.
The positive step means Nelson and Colne College and Accrington and Rossendale College applicants will not have to go through the anxiety that faced A Level students last week. It also acknowledges the significant work that teachers have gone to in assessing the abilities of their students, in what has been an unprecedented academic year.
Nelson and Colne College Group is now working with local secondary schools around the sharing of Centre Assessed Grades. This year's enrolment for Nelson and Colne College and Accrington and Rossendale College will be taking place online for the safety of staff and the wider community, and applicants and parents are being sent key communications about this process, to make the experience as smooth as possible.
Fionnuala Swann, Assistant Principal for Academic Curriculum at Nelson and Colne College Group, said: "Ahead of the release of GCSE results on Thursday, Nelson and Colne College Group has made the decision to accept applicants onto their College course based on grades submitted by their school teachers - where higher than official grades.
"We know that this has been an unprecedented year and we hope this decision provides reassurance for Year 11 pupils and parents.
"We are committed to ensuring that young people can be as successful as possible in the future following the significant disruption they have had to their education. We believe that our students will play a vital role in the recovery of the local and national economy and deserve the very best start to their college journey."
Nelson and Colne College saw no change in its A Level success in 2020, with a 99% pass rate. There was no dip in the number of A Level students achieving A*-C grades at Nelson and Colne College, remaining at 80%, with 55% achieving A*-B grades and 25% achieving coveted A*-A grades.
The college has also gained an ALPS 2 score meaning it is in the top 10% of all A Level providers nationally for the progress that students make. This is in line with the college's status as the leading FE College in the country for A Level progress.
Nelson and Colne College Group – incorporating Accrington and Rossendale College – also saw a 100% pass rate for students completing BTEC qualifications, with a staggering 85% of students achieving high grades.
Nelson and Colne College is one of the leading colleges nationally across a range of academic measures – 16-18 classroom learner achievement, 16-18 Advanced Apprenticeship timely achievement, A Level progress and GCSE Mathematics and English progress. The college is also the number one college in the country for student satisfaction.
Applicants looking to apply to Nelson and Colne College or Accrington and Rossendale College still have the time to do so. Visit www.nelson.ac.uk or www.accross.ac.uk or contact the Admissions Team on 01282 440272.
CSNW CELEBRATES CENTENARY OF GATTY PARK IN STYLE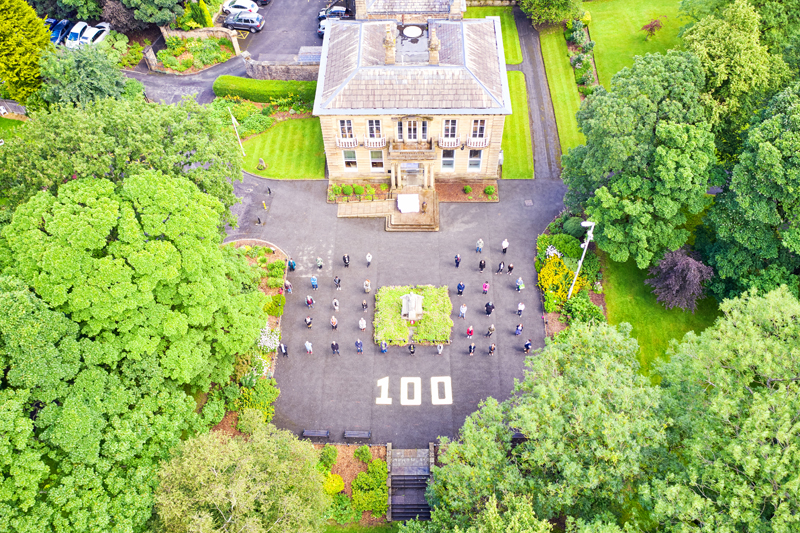 Community Solutions North West hosted a socially distanced celebration to mark the centenary of the opening of Gatty Park to the public and the gifting of Elmfield Hall to the people of Church.
The charity, based in Elmfield Hall, organised a unique photo opportunity to celebrate the occasion with local MP Sara Britcliffe, Councillors Paul and Lorraine Cox and Lancashire Fire and Rescue Service in attendance alongside staff, volunteers and participants from various social groups normally held at the hall.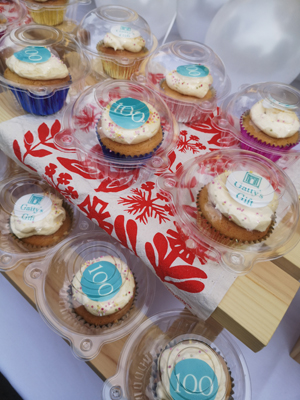 The sun shone on the park as Great Harwood based photographer Jak Spedding flew his drone to capture a remarkable shot of the group and a '100' centrepiece which was donated by Accrington based The Cardboard Box Company. Attendees stood 2 metres apart, with some wearing face masks, to ensure social distancing measures were followed and to ensure the photo was a true representation of the current situation in 2020.
CEO Deborah Clark said of the event 'We wanted to mark the occasion as the park holds many special memories for the local community, but Coronavirus has changed our original plans for the day. We decided to organise a socially distanced photo as we wanted to have something for people to look back on in future and to see how we celebrated the centenary during a pandemic."
"It was great to see so many familiar faces, even from a distance. As a charity it's our mission to help end loneliness and social isolation. We've been through a tough few months with our participants who feel more isolated than ever during lockdown. We've worked hard to continue with our telephone and digital befriending services and other services where we can, but it was lovely to be able to see some people in person at last and celebrate a piece of history.'
The charity is about to embark on an exciting new heritage project, funded by the National Lottery Heritage Fund, called 'Gatty's Gift'. The project aims to engage the community in local history and heritage and help them to develop new skills in heritage, research, event planning and oral history. Anyone interested in taking part can get in touch by calling 01254 460080 or emailing info@csnw.co.uk.
For more information about CSNW visit www.csnw.co.uk or contact 01254 460080.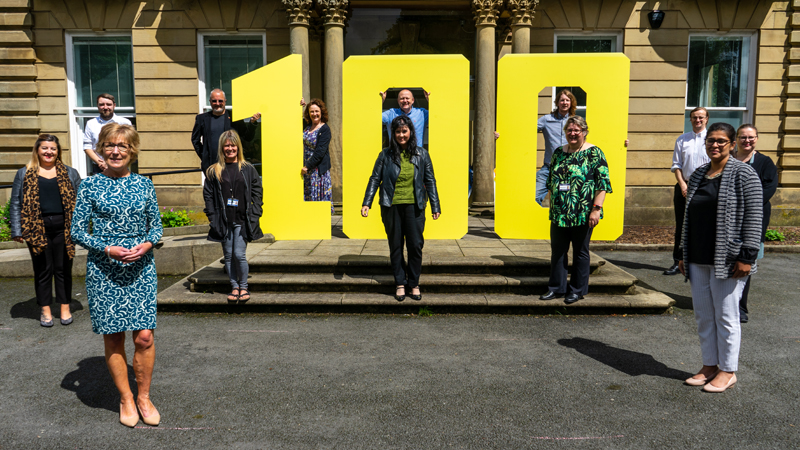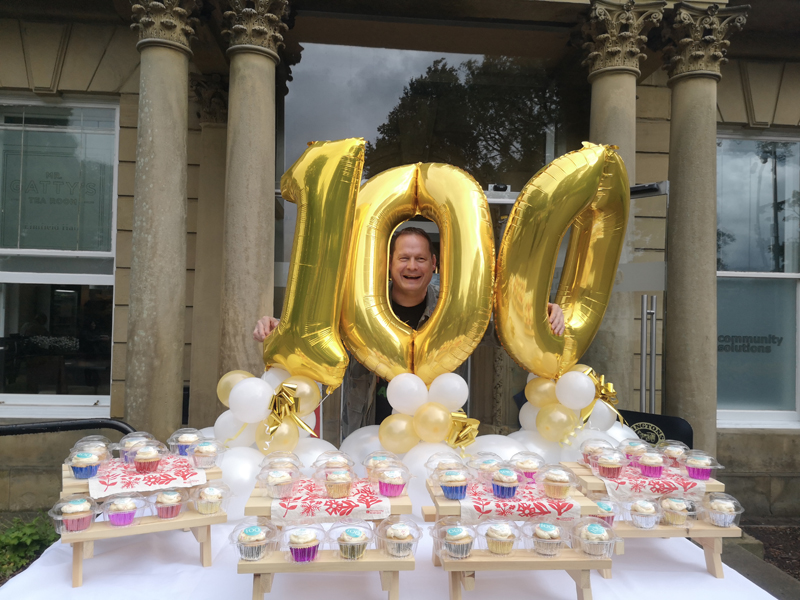 Where it all began for Gatty Park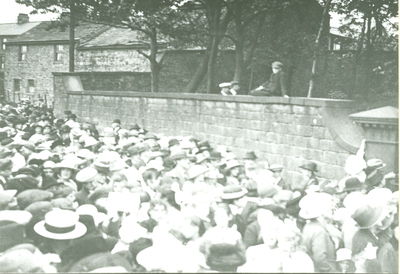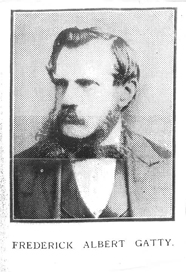 Pictures above: Courtesy of Jak Spedding and CSNW. Old pictures courtesy of Gary Britland.
* * * * *
Council issues warning to Reopening Businesses in Hyndburn
Business advice on re-opening – Legionella warning
Many businesses will be re-opening in June following closures introduced to help control the spread of coronavirus.
Some firms are due to open on June 1st, such as outdoor markets and car showrooms, followed by retail on June 15th. However, where a building has been vacant or had significantly reduced usage it is likely that the water supply has also been unused and this increases the chances of bacteria forming.
This is known as Legionella bacteris, and can cause Legionnaires' disease - a potentially fatal type of pneumonia. Legionnaires' disease is caused by water not being used or and becoming stagnated. The bacteria is inhaled through droplets of contaminated water from things like air-conditioning, showers, water sprays, whirlpool or hydrotherapy baths.
Legionella bacteria, commonly found in water, multiply when the water temperature is between 20 and 45ºC.
It is crucial, in order to protect the health of your customers, visitors and staff, that these risks are identified and sorted.
There are steps businesses can take to prevent the potentially-deadly legionella bacteria from getting into their water systems. United Utilities has released information to help this:
· Hot water systems should maintain water temperatures of at least 60ºC in storage cylinders and above 50ºC through the distribution system.
· Cold water should be below 20ºC.
· Make sure that water systems are flushed through at least weekly. More frequent flushing may be needed for some systems.
· Flush all of the system outlets – it's not good enough to just flush one or two outlets on a large system.
· Reduce the water levels in bulk tanks so there is less standing water.
· Keep records of how you're preventing legionella during closure.
· If evaporative cooling systems are in use, these must be maintained as usual or switched off safely
· Where water systems have control measures built into the system, these should be maintained and kept working (if feasible) during the closure period.
· It is crucial that businesses have a plan to address the risks relating to re-opening and making sure the water supply is not contaminated.
Where water systems have not been used for a prolonged period, you should take advice from a competent heating/ventilation engineer about pre-start checks and maintenance.
This could include a system service, such as cleaning and disinfection, including cleaning and disinfecting even simple systems such as spray taps and showers before using them again.
The Lancashire Resilience Forum (LRF), a group of organisations that work together to prepare and respond to emergencies in Lancashire, is issuing this advice to businesses across Lancashire ahead of any re-openings.
The LRF involves the emergency services; local authorities; health agencies; Environment Agency and Maritime Coastguard Agency. Voluntary groups; transport providers; utility providers and local businesses also provide help to the Forum.
Denise Park, Chief Executive of Blackburn with Darwen Council, who is leading the transition and recovery work on behalf of LRF, said: "Many businesses across Lancashire are preparing to safely re-open operations in some form in the coming weeks, and will be weighing up the potential risks and health and safety aspects of this, including Legionella.
"We, along with partner organisations, are strongly advising them to consider the potential risks of legionella in water systems that have been unused for a prolonged period of time during the lockdown.
"Advice and guidance on how to best manage the risks is available via United Utilities and we hope every organisation planning to re-open will follow this."
Cllr Miles Parkinson OBE, Leader of Hyndburn Council said: "The risk of infection is much greater when businesses close for a number of weeks and we're urging all Hyndburn businesses to follow the advice and guidance to manage the risks and reopen safely."
Further information and support can be found regarding water safety in buildings and networks after a period of inactivity via the links below:
United Utilities information on re-opening your business:
https://www.unitedutilities.com/globalassets/documents/pdf/8701-business-reopening-covid-19-leaflet-v9-web-acc.pdf
Find an approved plumber: https://www.watersafe.org.uk/
Water UK: https://www.water.org.uk/publication/recovering-drinking-water-supplies-in-buildings-and-networksafter-prolonged-inactivity/
Water Safety in Buildings: https://www.who.int/water_sanitation_health/publications/9789241548106/en/
Find a water hygiene expert: https://www.legionellacontrol.org.uk/
Find a water hygiene expert: https://www.legionellacontrol.org.uk/
Accrington and Rossendale College goes from strength to strength as it celebrates rise in National Achievement Rate Tables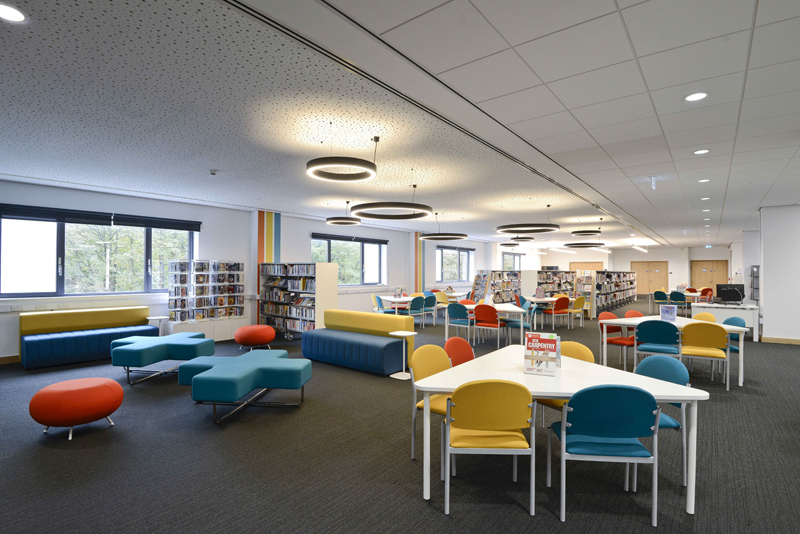 Accrington and Rossendale College is continuing to go from strength to strength – boosting its position in the newly published National Achievement Rate Tables following its successful merger with Nelson and Colne College.
Within 18 months of the merger, the shared benefits of joining forces with a leading College Group are coming to the fore, as Accrington and Rossendale College now sits with its partner as number one in Lancashire for 16-18 Advanced Apprenticeships.
For classroom achievement, at all ages and levels, Accrington and Rossendale College now places in the top five colleges nationally, building further on the dramatic improvements the college made in the 2019 tables.
The higher placings come soon after Accrington and Rossendale College achieved significant progress in the three main areas of inspection during a monitoring visit by Ofsted in October last year – a requirement of the merger – and at a time when a £4million transformation of the college campus enters its final phase.
Included within the redevelopment are brand new industry-standard Hair and Beauty salons, innovative study spaces, and a revamped specialist Learning Resource Centre. There are also dedicated Learner Services and Careers areas and a remodelled and modern student Refectory.
Coming soon is the redevelopment of the Construction and Automotive building and transformational green space creation to enhance the campus environment.
Principal of Nelson and Colne College Group Amanda Melton said: "This time last year, I said there was further ground that Accrington and Rossendale College could gain following the merger with Nelson and Colne College, and I think we have achieved that in a range of areas in the intervening 12 months.
"Whether it is in classroom learning, Apprenticeship achievement, significant progress with Ofsted or the complete modernisation of the Accrington and Rossendale College estate, the whole College Group has pulled together during a period of significant change to deliver the required positive improvements, and I'm very proud of this achievement.
"Our job now is to continue improving and to bring the extraordinary to Accrington, one of the many shared benefits of being in a leading College Group led by Nelson and Colne College."
Kian Wilding, 18, has risen up through the levels in Carpentry and Joinery and is now a Level 3 Advanced Apprentice at Frank Anthony Kitchens in Blackburn. Kian, formerly of Hyndburn Academy, said: "I've always been hands on and Carpentry and Joinery is perfect for me – it's a passion and I love it.
"I fit kitchens, work on bespoke jobs, and I enjoy developing my skills. There's nothing better than completing a quality piece of work for a happy customer. I work with some amazing colleagues and a good employer and if there is anything I need at work then help is there.
"When I'm in College, I find the facilities are very good, my tutors are experienced and supportive, and they are also organised. I feel like I'm always on track and progressing in the right direction. I would definitely recommend Accrington and Rossendale College."
Former St Augustine's RC High School student Molly Simmonds, 18, who is studying Level 3 Health and Social Work Professions at Accrington and Rossendale College, said: "I really like the idea of working with elderly people as I think it is a very rewarding career.
"Accrington and Rossendale College has been great as the course content has been ideal, and I've had excellent careers advice. I've also had two work placements – one in a care home and one in an elderly ward at hospital – and these have really helped shape my career goal. My next step is to progress to the University of York to study Social Work."
Applicants looking to apply to Accrington and Rossendale College still have the time. If you would like to apply to study at Accrington and Rossendale College, contact 01282 440272 or visit www.accross.ac.uk
Council's drive to raise standards in Accrington Town Centre
A range of service areas across Hyndburn Council and external partners have joined forces to focus on a range of issues affecting properties on Blackburn Road in Accrington town centre.
The move comes after the Council successfully bid for external Heritage Lottery funding which offered property owners 90% grants towards improvements to the front of their properties.
The week of action took place at the end of February 2020 when the group addressed issues including pest control, provision for waste containers, building defects, fly-tipping, criminal activity, empty buildings, non-payment of business rates, planning issues and food hygiene compliance, all in a bid to improve the overall appearance of this gateway into the town centre. The group will continue with this work on to the remaining blocks on both sides of the road over the coming months.
The week of action followed a recent prosecution of a takeaway on Blackburn Road by Hyndburn Council after failing to adequately control pests, failing to keep the food business clean and failing to ensure that food was protected against contamination.
The company, Illah Limited trading as Home Run, admitted being in breach of eight food hygiene offences under food safety and hygiene regulations and was fined £10,000 ordered to pay £3,400 costs and a victim surcharge when the case was heard at Burnley Magistrates Court on 20th February 2020.
Steve Riley, Executive Director (Environment) said; "Following the completion of the new Town Square, the Council is determined to raise the standard of the buildings along this important gateway into the town centre, including working with owners bringing back their empty building into use and ensuring food outlets provide safe food.
Over 95% of food businesses across Hyndburn are currently compliant under the national Food Hygiene Rating Scheme and Environmental Health Officers work very closely with businesses to ensure they know the law and in most cases offer help, advice and some free training where we can. However, in a very small number of cases, prosecution is the only option, especially where businesses have a blatant disregard to food safety or a history of non-compliance."
* * * *
News archives
REARRANGED CARNIVAL A GREAT SUCCESS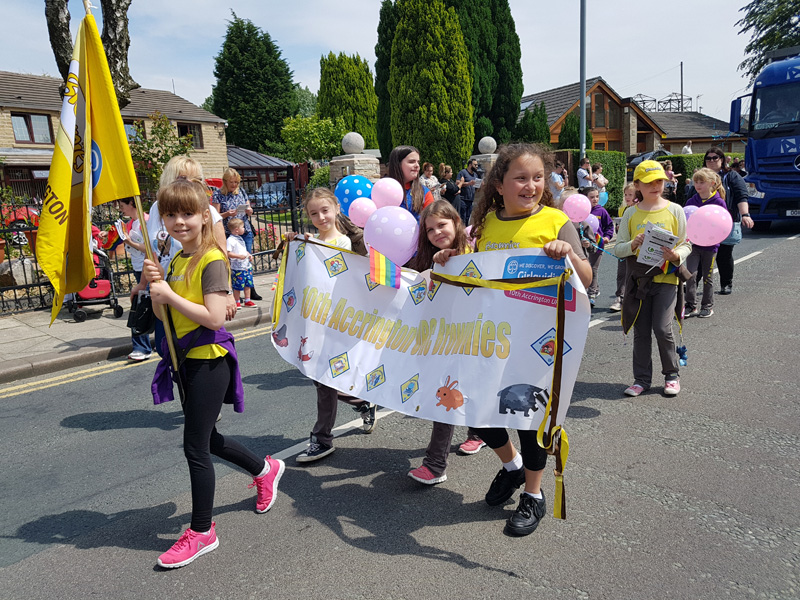 A last minute change of venue didn't deter 14,000 people from lining the route and attending Accrington Carnival, which was held for the first time in the Town Square on Sunday June 23rd.
On what was mainly a pleasant Sunday afternoon the procession travelled from Thorneyholme Road to the carnival ground amidst enthusiastic support. During the afternoon, the crowd were treated to music from the Accrington Pipe Band, Radioactive, The Itch and Whitefake and Saint Michael featuring soloists Simon Anderton, Beth Berry, Morgan Halliwell, Joe Edwards and Mark Barcroft.
Also strutting their stuff were Hyndburn Comets, Ashleigh's Dance Academy, Emma Lou Cheerleaders, Totally Tribal, Dramatic Annie Dancers and Wonderful School of Dance.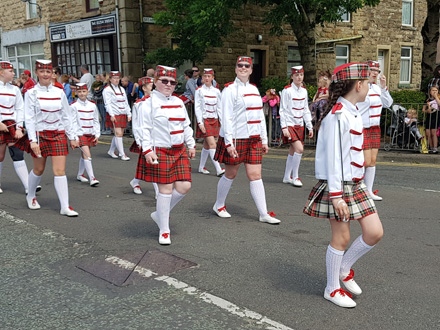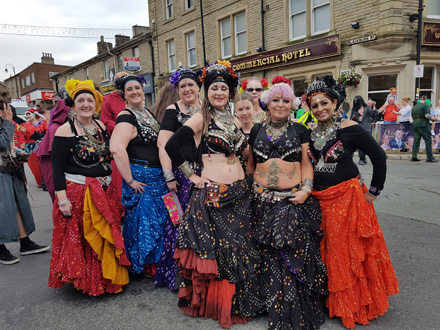 The event was organised by the Community Group chaired by Gayle Knight who took over its running in 2017 after several years of being run by Accrington Lions. The reason for the change of venue (it was supposed to be at Oak Hill Park) was an intervention by the council because the ground was unsuitable for vehicles and fairground rides after a persistent spell of rain.
There was also a Mascot race which was won by Mickie Mouse and Jake Wood of J2a was presented with the Tony Cooper Volunteer Award for all his hard work in the preparation of this year's event. The award was named after the popular lead singer of The Soundcasters, also on the 2017 committee, who sadly died last year.
Gayle also stated that the 2021 Carnival was planned but as always volunteers were needed to make it happen. Well done to all who helped organise and took part in another successful Accrington Carnival.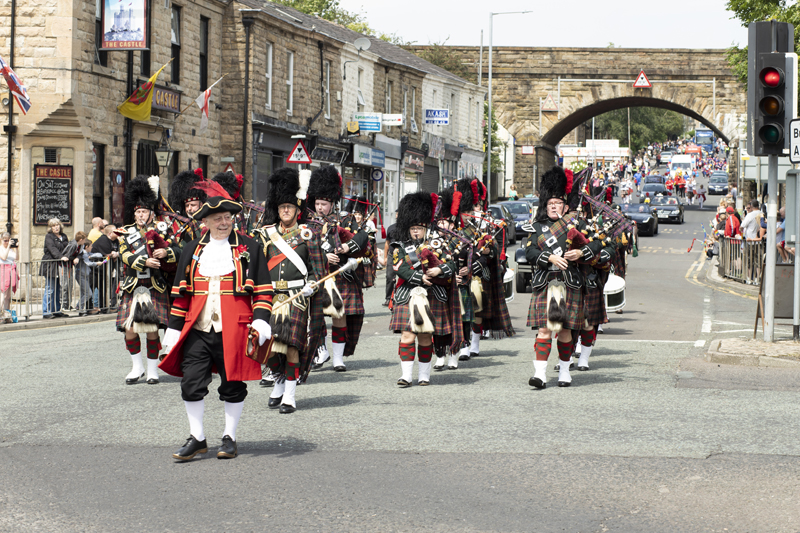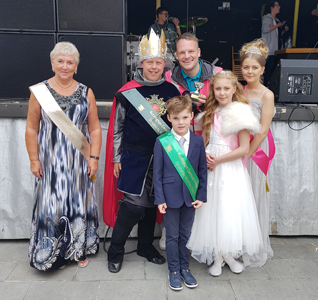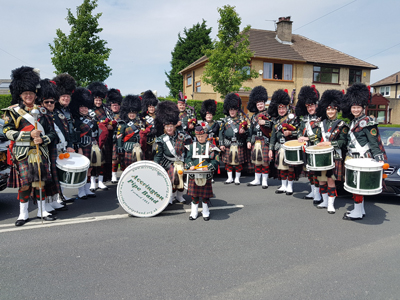 * * * *
Business Leaders and Accringtonians gathered at Haworth for an Exhibition Preview evening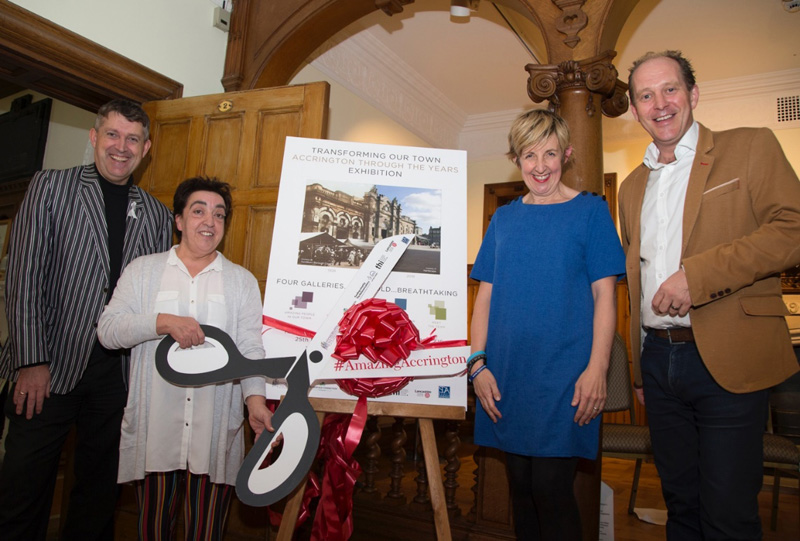 Miles Parkinson, Sharon Varley, Julie Hesmondhalgh and Murray Dawson opening the Exhibition at Haworth Art Gallery
On Thursday 22nd November over 70 people joined Julie Hesmondhalgh at Haworth Art Gallery for an Exhibition preview evening.
Transforming our town- Accrington through the years
The huge exhibition was a resounding success with smiles, memories and discussions throughout all four gallery spaces. The evening was formally opened by Julie Hesmondhalgh, Actress, who is a passionate Accringtonian alongside Sharon Varley, custodian of Accrington Market and community presence.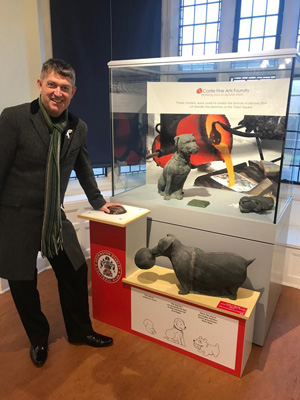 Inititally aiming to be an exhibition celebrating the new Town Square development, guests have agreed it offers much more- described by a guest as an 'emotive installation within the fabulous Haworth building'.
With over 50 metres of historic images, tributes to the Accrington Pals, Accrington Stanley, David Lloyd, Howard and Bullough and Lancashire's rich textile industy..visitors are immersed in the journey celebrating Accrington over the last 100 years.
From Royal visits to Extraordinary Women of the town, Accrington has seen amazing people come and go. The exhibition has been funded as part of the Heritage Initiative Project, which has seen Accrington Town Square be transformed into a vibrant social space commemorating the past. The grant from the Heritage Lottery Fund, in partnership with Hyndburn Council and Lancashire Council has made this possible.
The exhibition not only celebrates the past, it looks to the future and encourages individuals to venture into Accrington town centre. Drawing on the past for future inspiration, the new Town Square has been unveiled and the Blackburn Road retail development is next on the list, which is showcased within the exhibition.
Miles Parkinson, Leader of Hyndburn Borough Council said:
"This exhibition not only highlights years of work and research to create the new town square, it also celebrated Accrington and its people. I am leaving the exhibition tonight feeling a great sense of pride in our community. Hundreds of people played a part and made this possible: thank you to the individuals who got involved, to our town team, to Scott Dawson Advertising for producing and installing the exhibition and to our Townscape Heritage Officer who has managed the project. The exhibition is open until February 3 and I encourage all to come along."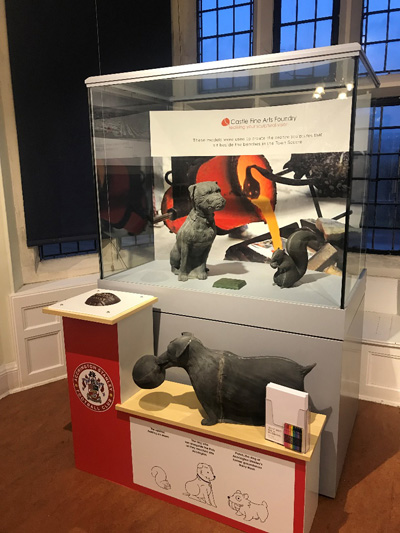 The exhibition is a huge visual display and holds a wealth of information with interactive elements such as a post-it comment board, crayon rubbings, 12 videos, educational information, selfie point with Accrington Stanley's 'patch the dog' and multiple artefact displays.
Murray Dawson, Managing Director of Scott Dawson Advertising and Chairman of #AmazingAccrington initiative lead the evening and was proud to be part of the exhibition:
"Tonight I feel a huge sense of pride, not only from a business point of view but also as a person who grew up in Clayton. The last six months for us at Scott Dawson have been intense, to produce this exhibition we have used pretty much all of our departments. Our artists, our writers, production, printing and carpenters have worked around the clock to create and install what you see here today. We not only want to celebrate everything the council have worked to achieve over the last 3 years, we want individuals to feel proud of their heritage and look positively towards the future.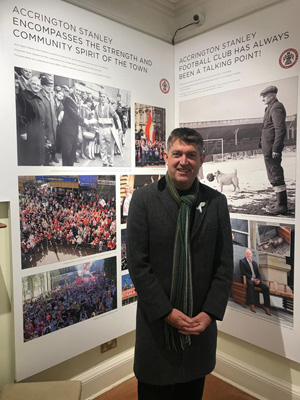 I would like to say a personal thank you to all who attended the Exhibition Preview Evening, and to all those who have helped it be a fantastic evening. Haworth Art Gallery is the perfect location, it's the jewel in Accrington's crown and people come from far and wide to visit – im sure many of those people visiting will now be inspired to venture into the town and look around at the amazing architecture and history it has to offer. Equally I hope those who wouldn't ordinarily make a trip up to Haworth come along and see what we have produced."
The Exhibition is open from Sunday 25th November 2018 until Sunday 3rd February 2019 at Haworth Art Gallery, Hollins Lane, Accrington.
For more information visit: www.amazingaccrington.co.uk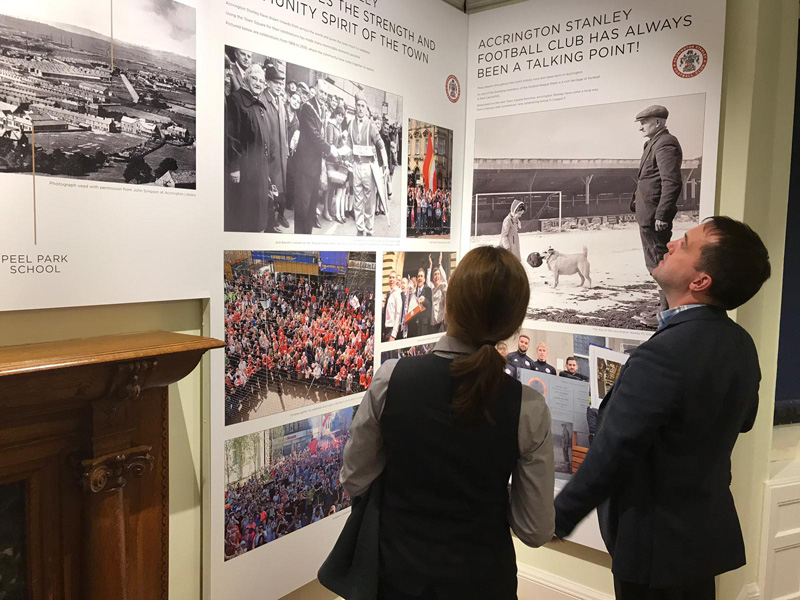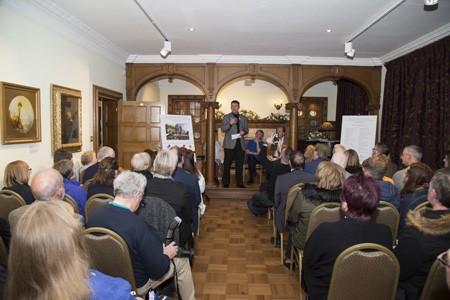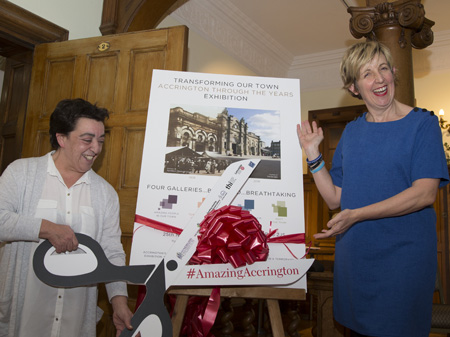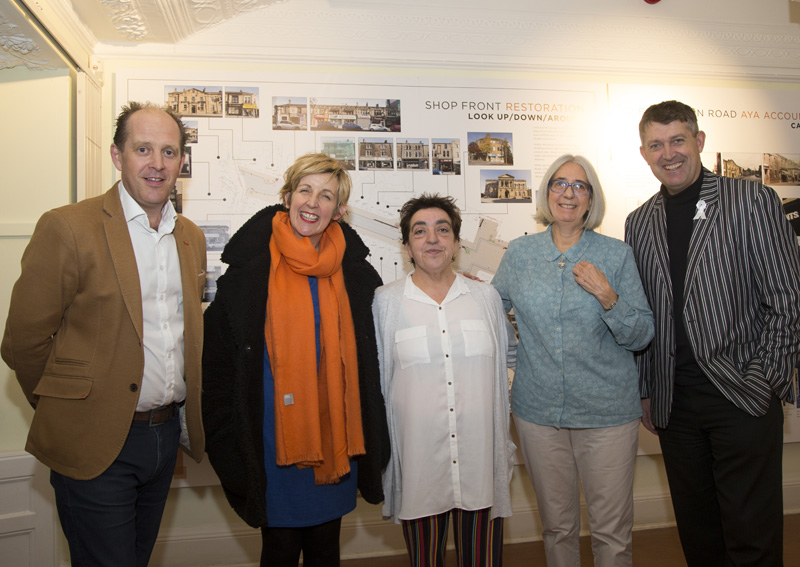 Pictures and Article courtesy of Scott Dawson Advertising
To see our pictorial coverage of the event, please click here
* * * *
Council Leader thanks everyone for supporting
10th & 11th November events in Hyndburn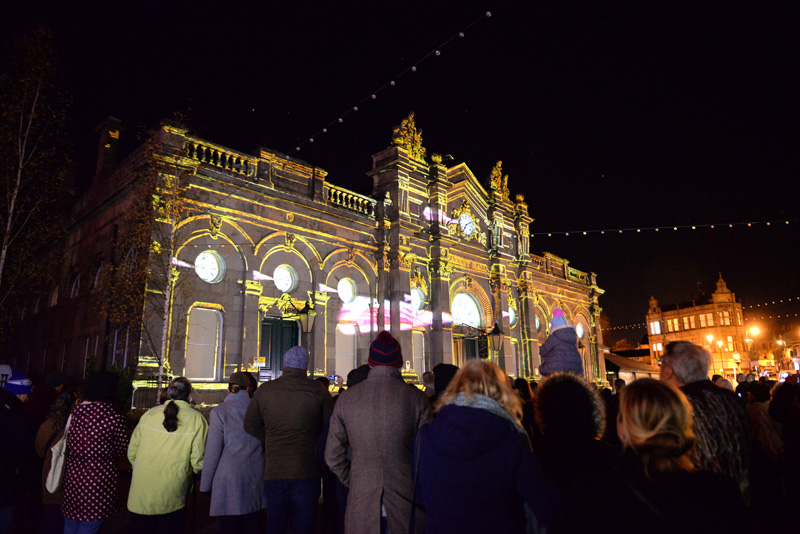 Council Leader, Cllr Miles Parkinson, spoke today of his immense pride in the Borough after a weekend of events which saw the opening of the new Town Square in Accrington on 10th November and taking part in 'Battle's Over, a Nation's Tribute' on 11th November, along with a host of other events around the Borough commemorating the centenary of the end of World War One.
Cllr Parkinson said; "What a marvellous weekend it's been for Hyndburn. "I've been absolutely blown away with our centenary commemoration events and with the massive response to them from our residents and visitors. From the dedication of the new Town Square in Accrington, to the Accrington Pals and all the fallen of the Borough in the Great War and our part in 'Battles Over- a Nation's Tribute', along with all the Remembrance services and parades around the Borough, which were all extremely well attended despite the showery weather. The word proud has been on everyone's lips and if you saw the events, I'm sure you've been saying it too. I'm so proud and so thankful to so many people for all their hard work in staging the events and to the thousands who came along to show their support."
The Accrington Pals Centenary Commemorations Group, made up of members of the community including Pals experts; historians; local craftspeople; people involved in drama; local voluntary groups and the Council, came together to create events to commemorate this momentous time in the Borough's history and I want to say a huge thank you to them and all the many groups, individuals and organisations who have worked so hard to showcase Accrington and Hyndburn and demonstrate our pride in its past, present and future.
We had thousands attending all the events and I'm so proud of all the voluntary groups, organisations, our own staff and volunteers and the many individuals who've worked long and hard in the preparation and who worked throughout the weekend to deliver such an intensely moving and poignant series of events, culminating in the spectacular 3D projection onto the Market Hall façade. There are too many people to name here but I'll be writing to everyone to say a personal thanks."
Cllr Parkinson, concluded; "This was a big weekend for Accrington. There was so much going on, including a free reading by Julie Hesmondhalgh, Elianne Byrne and all the other fabulous actors of the Accrington Pals Play, who delivered such a fitting tribute to the Pals in the building the Pals marched past on their way to war over one hundred years ago. Also the spectacular one-off 3D projection onto the Market Hall facade, featuring local people, on Sunday 11th November, which was absolutely breath-taking. We also featured on BBC news who covered London, Cardiff, Belfast, Dublin, Ypres, Paris, and ACCRINGTON also Granada and Radio Lancashire, showing the country Accrington's pride in our past, present and future, thank you to everyone involved - you are amazing.
Visit www.hyndburnbc.gov.uk to watch the 3D film and see pictures of the events.

Pictures Courtesy of Hyndburn Borough Council
* * * * *
SPORTS HUB REQUEST SUBMITTED TO FIELDS IN TRUST
Hyndburn Council has submitted a request to Fields in Trust to gain consent for the Accrington Stanley Community Trust Sports Hub development at Higham Playing Fields.
Fields in Trust, formerly the National Playing Fields Association, was founded in 1925 by King George V to provide local outdoor open spaces for sports, recreation & play. Fields in Trust has an involvement in over 2,700 sites throughout the UK. All these sites are locally managed, but Fields in Trust have an overarching role to ensure that the purpose of the site remains for sports and recreation for local communities.
The application is being submitted to Fields in Trust to let them know about and seek their views on the proposed multi million pound investment into Higham Playing Fields which will improve facilities and create the sport hub proposed by Accrington Stanley Community Trust.
Miles Parkinson, Leader of Hyndburn Council; said; ''This is a wonderful development for the Borough. We're very pleased to be making this proposal to Fields In Trust, as the enhanced provision of sports and changing facilities at Highams will be a great facility for everyone. It will be open for all to use, suitable for all age groups and a great bonus for future generations too. ''
Martin Fearon, CEO of Accrington Stanley Community Trust said ''this is the next stage in the Sports Hub development after gaining planning approval in December 2017. We consulted with Fields in Trust back in March 2017 to share our ideas and to ensure it was something that fits in with their criteria and we've continued to communicate with them over the last 12 months. We're really looking forward to strengthening our relationship with Fields in Trust and creating a fantastic facility for the Hyndburn community to enjoy.''
The process can take up to 6 months and a decision is likely during the summer months of 2018. Further updates will be announced in due course.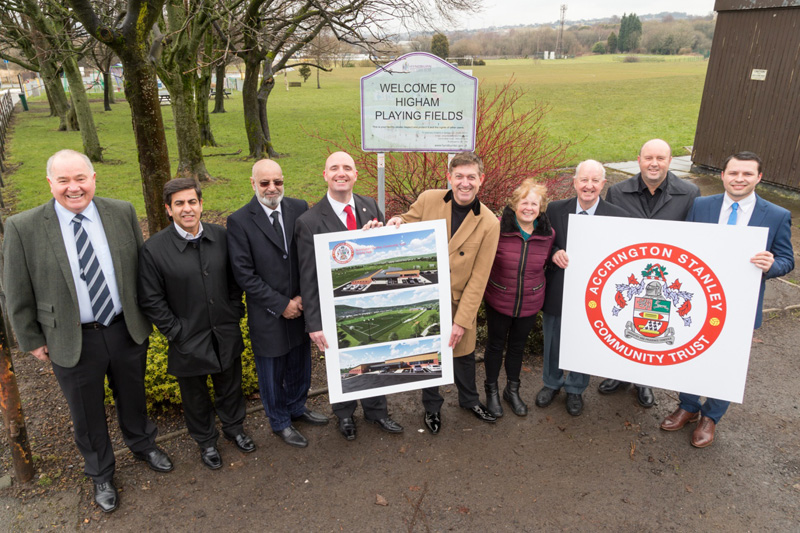 PIcture l to r: Tony Grimshaw OBE; Director of Wham, Purves Ali; Trustee at Accrington Stanley Community Trust; Jawid Hussain; Development manager for the

Raza Jamia Masjid Mosque and

Director of Nisiac, Ken Moss; Councillor at Hyndburn Borough Council, Miles Parkinson; Leader of Hyndburn Borough Council, Anne Ellwood; Trustee for Accrington Stanley Community Trust, David Keeley; Chair of Accrington Stanley Community Trust, Tony Dobson; Councillor and Vice Chair of Trustees for Accrington Stanley Community Trust and Martin Fearon; CEO of Accrington Stanley Community Trust.
* * * * *
STONE BOOK OF REMEMBRANCE INSTALLED
Families now have more options for commemorating their loved ones at Accrington Cemetery, with the installation of a new Stone Book of Remembrance in the Rose Garden, which incorporates a unique ashes scattering bed with small memorial plaques.
Cllr Ken Moss, Cabinet Member for Cemeteries, said; "The installation of the Stone Book of Remembrance is part of the ongoing improvements to the Cemetery, giving families more options to commemorate their loved ones. Other recent improvements include the refurbishment of the Chapel and moving the Book of Remembrance from inside the entrance to the Chapel to its own building next to the office, to make it easier for people to access."
Plaques can also be placed in memory of loves ones whose ashes have already been scattered within the Gardens of Remembrance or the Rose Beds.
For more information about the Stone Book of Remembrance and all the options available to commemorate a loved one at Hyndburn cemeteries, please contact the Cemetery Office on 01254 232933 where staff will be happy to help.