News
REARRANGED CARNIVAL A GREAT SUCCESS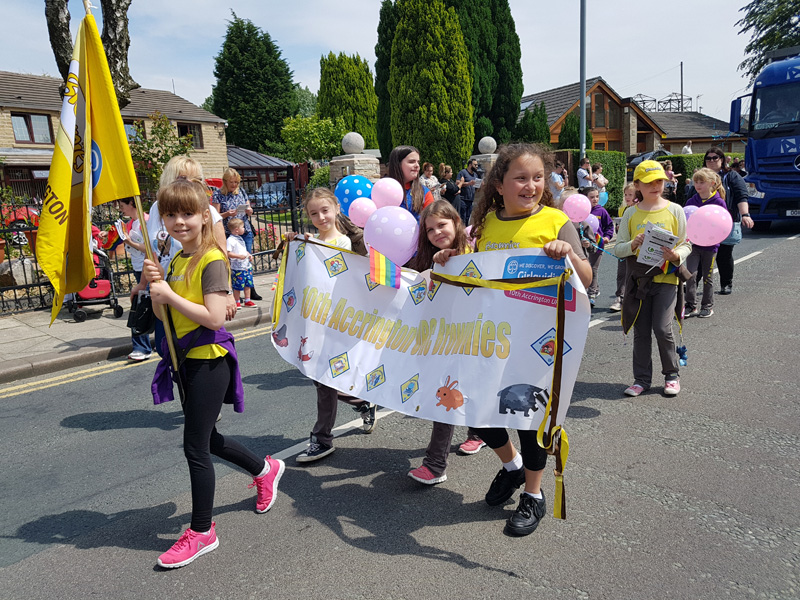 A last minute change of venue didn't deter 14,000 people from lining the route and attending Accrington Carnival, which was held for the first time in the Town Square on Sunday June 23rd.
On what was mainly a pleasant Sunday afternoon the procession travelled from Thorneyholme Road to the carnival ground amidst enthusiastic support. During the afternoon, the crowd were treated to music from the Accrington Pipe Band, Radioactive, The Itch and Whitefake and Saint Michael featuring soloists Simon Anderton, Beth Berry, Morgan Halliwell, Joe Edwards and Mark Barcroft.
Also strutting their stuff were Hyndburn Comets, Ashleigh's Dance Academy, Emma Lou Cheerleaders, Totally Tribal, Dramatic Annie Dancers and Wonderful School of Dance.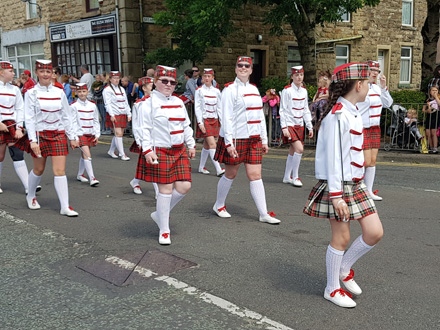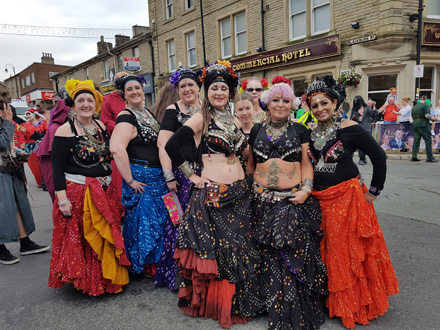 The event was organised by the Community Group chaired by Gayle Knight who took over its running in 2017 after several years of being run by Accrington Lions. The reason for the change of venue (it was supposed to be at Oak Hill Park) was an intervention by the council because the ground was unsuitable for vehicles and fairground rides after a persistent spell of rain.
There was also a Mascot race which was won by Mickie Mouse and Jake Wood of J2a was presented with the Tony Cooper Volunteer Award for all his hard work in the preparation of this year's event. The award was named after the popular lead singer of The Soundcasters, also on the 2017 committee, who sadly died last year.
Gayle also stated that the 2021 Carnival was planned but as always volunteers were needed to make it happen. Well done to all who helped organise and took part in another successful Accrington Carnival.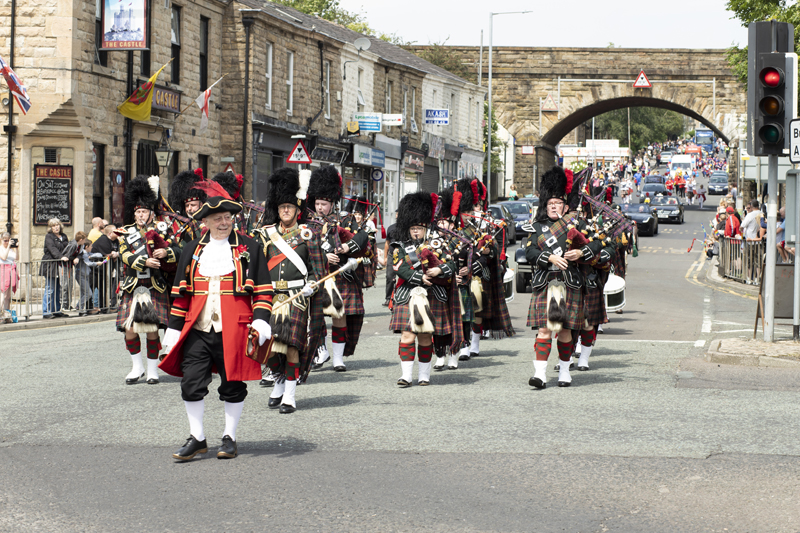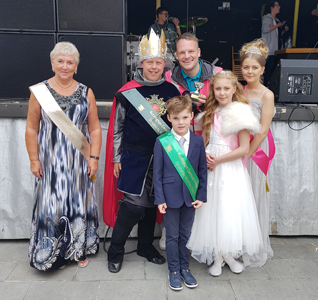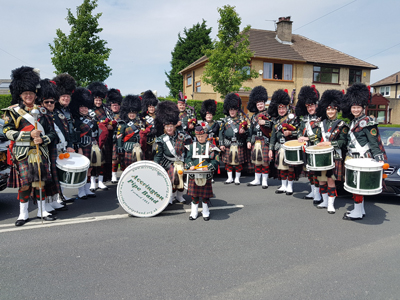 * * * *
Business Leaders and Accringtonians gathered at Haworth for an Exhibition Preview evening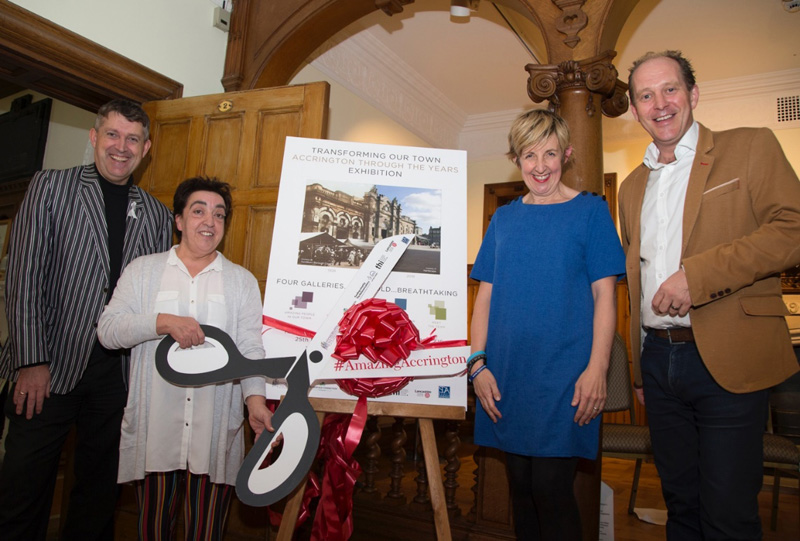 Miles Parkinson, Sharon Varley, Julie Hesmondhalgh and Murray Dawson opening the Exhibition at Haworth Art Gallery
On Thursday 22nd November over 70 people joined Julie Hesmondhalgh at Haworth Art Gallery for an Exhibition preview evening.
Transforming our town- Accrington through the years
The huge exhibition was a resounding success with smiles, memories and discussions throughout all four gallery spaces. The evening was formally opened by Julie Hesmondhalgh, Actress, who is a passionate Accringtonian alongside Sharon Varley, custodian of Accrington Market and community presence.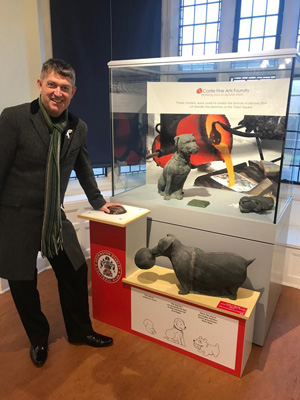 Inititally aiming to be an exhibition celebrating the new Town Square development, guests have agreed it offers much more- described by a guest as an 'emotive installation within the fabulous Haworth building'.
With over 50 metres of historic images, tributes to the Accrington Pals, Accrington Stanley, David Lloyd, Howard and Bullough and Lancashire's rich textile industy..visitors are immersed in the journey celebrating Accrington over the last 100 years.
From Royal visits to Extraordinary Women of the town, Accrington has seen amazing people come and go. The exhibition has been funded as part of the Heritage Initiative Project, which has seen Accrington Town Square be transformed into a vibrant social space commemorating the past. The grant from the Heritage Lottery Fund, in partnership with Hyndburn Council and Lancashire Council has made this possible.
The exhibition not only celebrates the past, it looks to the future and encourages individuals to venture into Accrington town centre. Drawing on the past for future inspiration, the new Town Square has been unveiled and the Blackburn Road retail development is next on the list, which is showcased within the exhibition.
Miles Parkinson, Leader of Hyndburn Borough Council said:
"This exhibition not only highlights years of work and research to create the new town square, it also celebrated Accrington and its people. I am leaving the exhibition tonight feeling a great sense of pride in our community. Hundreds of people played a part and made this possible: thank you to the individuals who got involved, to our town team, to Scott Dawson Advertising for producing and installing the exhibition and to our Townscape Heritage Officer who has managed the project. The exhibition is open until February 3 and I encourage all to come along."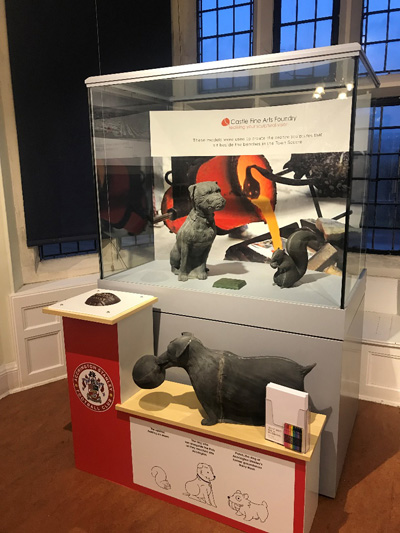 The exhibition is a huge visual display and holds a wealth of information with interactive elements such as a post-it comment board, crayon rubbings, 12 videos, educational information, selfie point with Accrington Stanley's 'patch the dog' and multiple artefact displays.
Murray Dawson, Managing Director of Scott Dawson Advertising and Chairman of #AmazingAccrington initiative lead the evening and was proud to be part of the exhibition:
"Tonight I feel a huge sense of pride, not only from a business point of view but also as a person who grew up in Clayton. The last six months for us at Scott Dawson have been intense, to produce this exhibition we have used pretty much all of our departments. Our artists, our writers, production, printing and carpenters have worked around the clock to create and install what you see here today. We not only want to celebrate everything the council have worked to achieve over the last 3 years, we want individuals to feel proud of their heritage and look positively towards the future.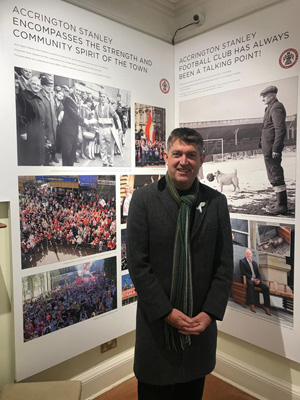 I would like to say a personal thank you to all who attended the Exhibition Preview Evening, and to all those who have helped it be a fantastic evening. Haworth Art Gallery is the perfect location, it's the jewel in Accrington's crown and people come from far and wide to visit – im sure many of those people visiting will now be inspired to venture into the town and look around at the amazing architecture and history it has to offer. Equally I hope those who wouldn't ordinarily make a trip up to Haworth come along and see what we have produced."
The Exhibition is open from Sunday 25th November 2018 until Sunday 3rd February 2019 at Haworth Art Gallery, Hollins Lane, Accrington.
For more information visit: www.amazingaccrington.co.uk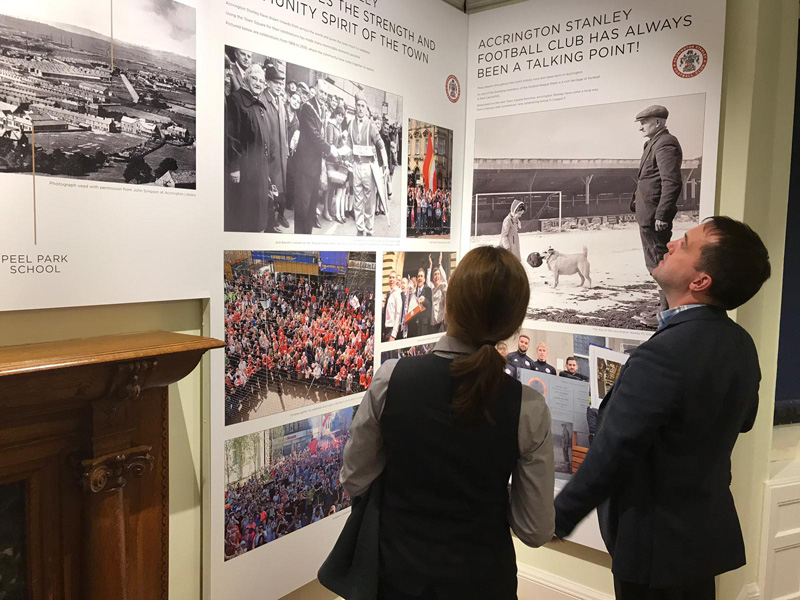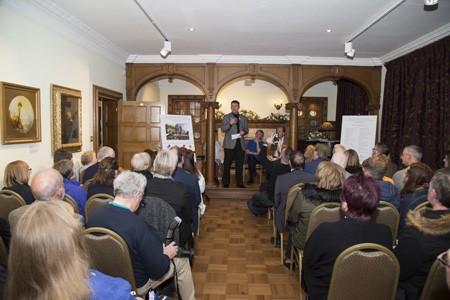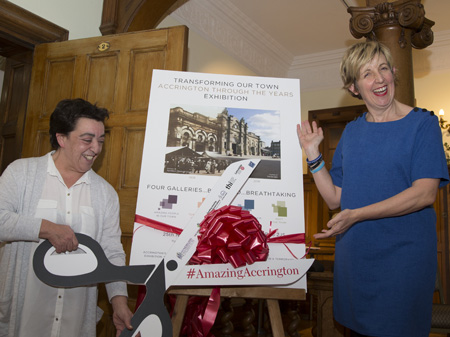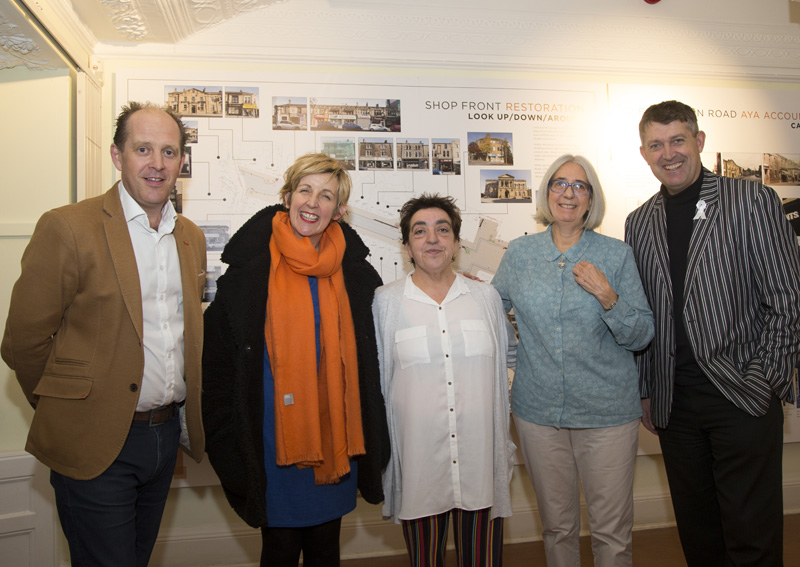 Pictures and Article courtesy of Scott Dawson Advertising
To see our pictorial coverage of the event, please click here
* * * *
Council Leader thanks everyone for supporting
10th & 11th November events in Hyndburn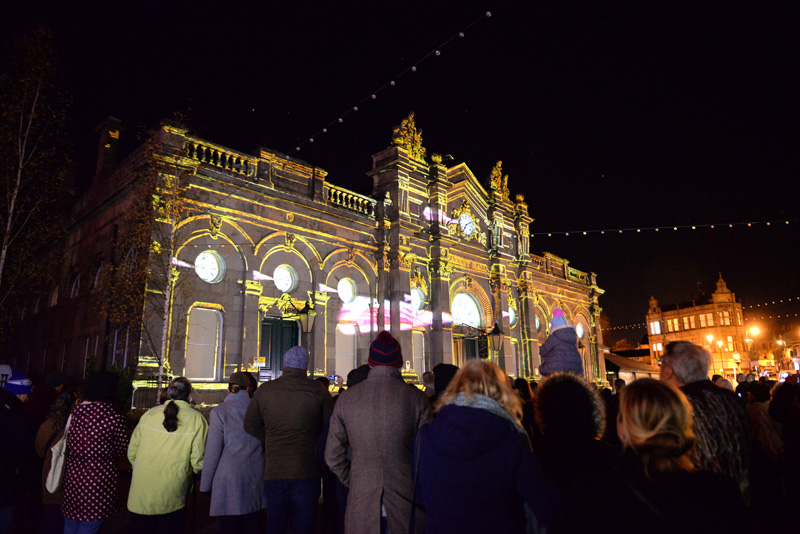 Council Leader, Cllr Miles Parkinson, spoke today of his immense pride in the Borough after a weekend of events which saw the opening of the new Town Square in Accrington on 10th November and taking part in 'Battle's Over, a Nation's Tribute' on 11th November, along with a host of other events around the Borough commemorating the centenary of the end of World War One.
Cllr Parkinson said; "What a marvellous weekend it's been for Hyndburn. "I've been absolutely blown away with our centenary commemoration events and with the massive response to them from our residents and visitors. From the dedication of the new Town Square in Accrington, to the Accrington Pals and all the fallen of the Borough in the Great War and our part in 'Battles Over- a Nation's Tribute', along with all the Remembrance services and parades around the Borough, which were all extremely well attended despite the showery weather. The word proud has been on everyone's lips and if you saw the events, I'm sure you've been saying it too. I'm so proud and so thankful to so many people for all their hard work in staging the events and to the thousands who came along to show their support."
The Accrington Pals Centenary Commemorations Group, made up of members of the community including Pals experts; historians; local craftspeople; people involved in drama; local voluntary groups and the Council, came together to create events to commemorate this momentous time in the Borough's history and I want to say a huge thank you to them and all the many groups, individuals and organisations who have worked so hard to showcase Accrington and Hyndburn and demonstrate our pride in its past, present and future.
We had thousands attending all the events and I'm so proud of all the voluntary groups, organisations, our own staff and volunteers and the many individuals who've worked long and hard in the preparation and who worked throughout the weekend to deliver such an intensely moving and poignant series of events, culminating in the spectacular 3D projection onto the Market Hall façade. There are too many people to name here but I'll be writing to everyone to say a personal thanks."
Cllr Parkinson, concluded; "This was a big weekend for Accrington. There was so much going on, including a free reading by Julie Hesmondhalgh, Elianne Byrne and all the other fabulous actors of the Accrington Pals Play, who delivered such a fitting tribute to the Pals in the building the Pals marched past on their way to war over one hundred years ago. Also the spectacular one-off 3D projection onto the Market Hall facade, featuring local people, on Sunday 11th November, which was absolutely breath-taking. We also featured on BBC news who covered London, Cardiff, Belfast, Dublin, Ypres, Paris, and ACCRINGTON also Granada and Radio Lancashire, showing the country Accrington's pride in our past, present and future, thank you to everyone involved - you are amazing.
Visit www.hyndburnbc.gov.uk to watch the 3D film and see pictures of the events.

Pictures Courtesy of Hyndburn Borough Council
* * * * *
SPORTS HUB REQUEST SUBMITTED TO FIELDS IN TRUST
Hyndburn Council has submitted a request to Fields in Trust to gain consent for the Accrington Stanley Community Trust Sports Hub development at Higham Playing Fields.
Fields in Trust, formerly the National Playing Fields Association, was founded in 1925 by King George V to provide local outdoor open spaces for sports, recreation & play. Fields in Trust has an involvement in over 2,700 sites throughout the UK. All these sites are locally managed, but Fields in Trust have an overarching role to ensure that the purpose of the site remains for sports and recreation for local communities.
The application is being submitted to Fields in Trust to let them know about and seek their views on the proposed multi million pound investment into Higham Playing Fields which will improve facilities and create the sport hub proposed by Accrington Stanley Community Trust.
Miles Parkinson, Leader of Hyndburn Council; said; ''This is a wonderful development for the Borough. We're very pleased to be making this proposal to Fields In Trust, as the enhanced provision of sports and changing facilities at Highams will be a great facility for everyone. It will be open for all to use, suitable for all age groups and a great bonus for future generations too. ''
Martin Fearon, CEO of Accrington Stanley Community Trust said ''this is the next stage in the Sports Hub development after gaining planning approval in December 2017. We consulted with Fields in Trust back in March 2017 to share our ideas and to ensure it was something that fits in with their criteria and we've continued to communicate with them over the last 12 months. We're really looking forward to strengthening our relationship with Fields in Trust and creating a fantastic facility for the Hyndburn community to enjoy.''
The process can take up to 6 months and a decision is likely during the summer months of 2018. Further updates will be announced in due course.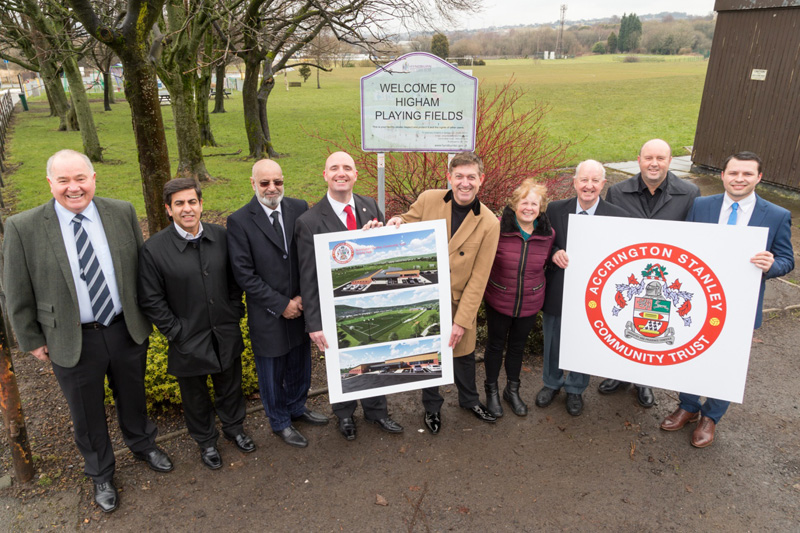 PIcture l to r: Tony Grimshaw OBE; Director of Wham, Purves Ali; Trustee at Accrington Stanley Community Trust; Jawid Hussain; Development manager for the

Raza Jamia Masjid Mosque and

Director of Nisiac, Ken Moss; Councillor at Hyndburn Borough Council, Miles Parkinson; Leader of Hyndburn Borough Council, Anne Ellwood; Trustee for Accrington Stanley Community Trust, David Keeley; Chair of Accrington Stanley Community Trust, Tony Dobson; Councillor and Vice Chair of Trustees for Accrington Stanley Community Trust and Martin Fearon; CEO of Accrington Stanley Community Trust.
* * * * *
STONE BOOK OF REMEMBRANCE INSTALLED
Families now have more options for commemorating their loved ones at Accrington Cemetery, with the installation of a new Stone Book of Remembrance in the Rose Garden, which incorporates a unique ashes scattering bed with small memorial plaques.
Cllr Ken Moss, Cabinet Member for Cemeteries, said; "The installation of the Stone Book of Remembrance is part of the ongoing improvements to the Cemetery, giving families more options to commemorate their loved ones. Other recent improvements include the refurbishment of the Chapel and moving the Book of Remembrance from inside the entrance to the Chapel to its own building next to the office, to make it easier for people to access."
Plaques can also be placed in memory of loves ones whose ashes have already been scattered within the Gardens of Remembrance or the Rose Beds.
For more information about the Stone Book of Remembrance and all the options available to commemorate a loved one at Hyndburn cemeteries, please contact the Cemetery Office on 01254 232933 where staff will be happy to help.