This year sees the 60th anniversary of Whewell's Timber in Accrington as a Limited Company. The story doesn't start there though as Gordon Whewell reminded me. His parents, Rowland and Olive were the prime movers.
"The story of the family business started in 1947, two years after the war, when my father bought a run-down hardware shop in Warner Street. He still worked part time at Lang Bridges and my mother worked at Woolworths as a window dresser.
"She gave up her job and started in the shop selling hardware. From there, my father, an engineer, started cutting keys and repairing locks."
The shop in question was number 45 Warner Street, on the corner of Cross Street and although Rowland and Olive called it The Big Key Shop, it was always known as Key Joe's to the locals. Gordon thinks that it might have been the name of the previous owner of the shop.
Between 1947 and 1954 the family lived above the shop until Rowland had enough for the deposit on a house, Gordon told me.
As business grew and expanded into selling hardboard and beadings plus other timbers and Formica, the little shop became inadequate and Rowland bought another one on the corner of Cross Street and Oak Street. Gordon said of those early days:
"They had a little saw. It was only on the floor and you had to kneel on the floor and push the hardboard through the saw to cut it to size."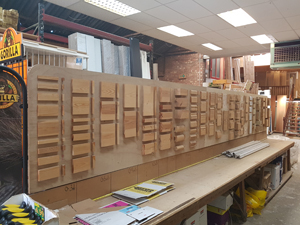 As the company need somewhere to store the wood, Gordon went on:
"He rented a warehouse, which is part of what we now own. It was just one big room. We started selling hardboard and other products from there and now, as many people know we own quite a sizeable property in Bridge Street. We own half the properties in the street."
Whewell's is essentially a family business and Gordon's son, Michael, runs it along with his father, and now a third generation is part of the company in the shape of Michael's son. I put it to them that it was great to see such a thriving business in the town in light of so many closures. Gordon said that was largely due to the fact that they had a staff that all understood the business and some good customers.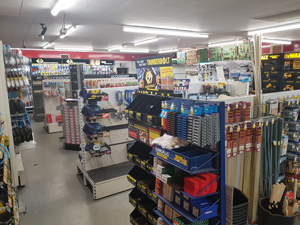 Michael joined the company straight from school and I asked him what he remembered when he just started out and what the business was like at that time. He told me:
"When I started it was already here. All the buildings we have now, except The Toolbox".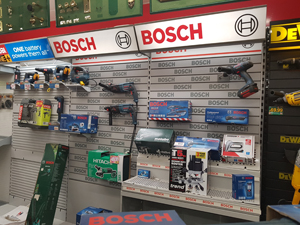 The Tool Box was acquired around twenty years ago on the site of what was then the Central Working Men's Club in Bridge Street. Michael continued:
"There were few places to get tools in Accrington so it was an opportunity we took.
"We opened with three things really: hardware and ironmongery, which the Key Shop used to do; locks and keys and also tools: hand tools and power tools. It has been very successful. Obviously since then with the advent of the Internet which all the high street's suffering from, and we are no different, it just makes you more competitive really."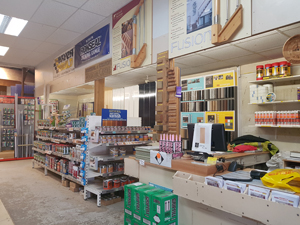 Michael did say though that one advantage they had over the Internet is the personal touch.
"We can get things in to order that people might find difficult to find online. He went on:
"You can't ask those questions online. You have got to tell it what you want. You've got to know exactly what you are looking for and if you make a mistake there's nobody else to blame; whereas, if you come in here and don't know exactly what you want, we can ask you the questions to try to ascertain the right product for your needs."
Michael also told me that one of the ways to succeed is to recognise what is in trend and cater for it. Hardboard was something that everyone wanted to panel their doors with in the 1960s and 70s for instance, but not today and MDF is now one of their top selling products. Their customers include DIY enthusiasts and tradesmen alike, and sometimes they will act as a go between to find a tradesman to help the ones who get a little out of their depth.
Talking to Gordon and Michael gave me a real insight into why they are still going strong after all these years and on behalf of Acorn News I wish them good luck for the next sixty years and beyond.
© Peter Jones 2018