Hyndburn Heritage Museum has had several homes in the past. Part of it still occupies the Market Hall but the other part has just moved into its third different unit in the Arndale Centre.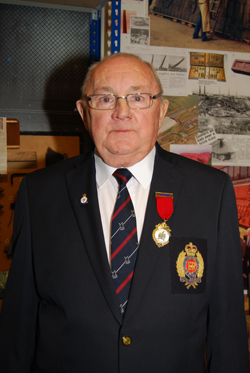 For some time, after H Samuel moved out of the complex the museum was housed there with many artefacts stored in the basement as others formed the changing displays.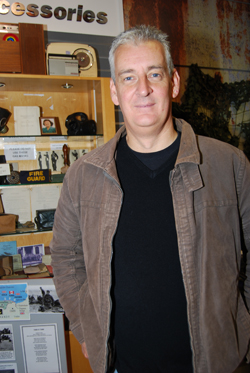 Then when H Samuel decided to return to the Arndale they wanted their old unit back. Fortuitously for the museum, the perfume store, J&T Cosmetics had just closed their doors and their empty unit was offered to Hyndburn Heritage.
The only problem was that the upstairs space was much smaller than the first venue and more of the display items had to go down to the basement.
Another unit became available when Blue Inc moved out of their much more spacious unit. This unit had had such previous tenants as New Look and way back in the eighties and nineties, even housed Dixons.
On Saturday September 16th the grand opening took place. Present were Hyndburn's Mayor and Mayoress, Councillor Peter Britcliffe and his daughter Sara, Hyndburn's Member of Parliament, Graham Jones and Bernard Scully; the man whose vision first launched the venture when the artefacts were housed under the Town Hall and attracted many visitors on organised tours.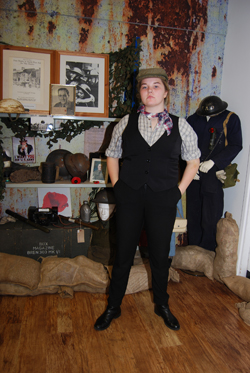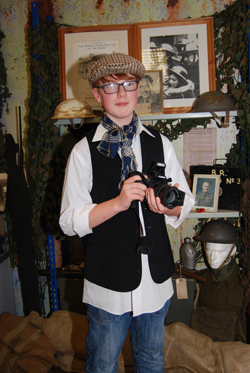 Entertainment was provided by Accrington Accordion Band and refreshments were served.
Amongst the items on show was the clock that was the centrepiece of the Arndale Centre when it first opened in the 1980s and was an attraction for many people coming into the town and gathering on the hour to see it in action. Unfortunately it is now in a display cabinet and no longer works.
Mr Scully escorted the Mayor and Mayoress around the exhibition explaining many of the displays.
Also attending the opening was prominent local artist, Peter Sherburne who presented one of his paintings to Her Majesty the Queen during her visit to the town in 2012.
The festivities came to an end around 4 p.m. but the museum is set to stay in its new home for the foreseeable future and it is hoped it will attract many visitors and house many new exhibitions in the coming years.
Footnote: If you have any memorabilia or pictures relating to the Accrington Pals or any historical information regarding Accrington Fire Brigade, Hyndburn Heritage would love to hear from you. You can contact Bernard Scully at bscully8066@btinternet.com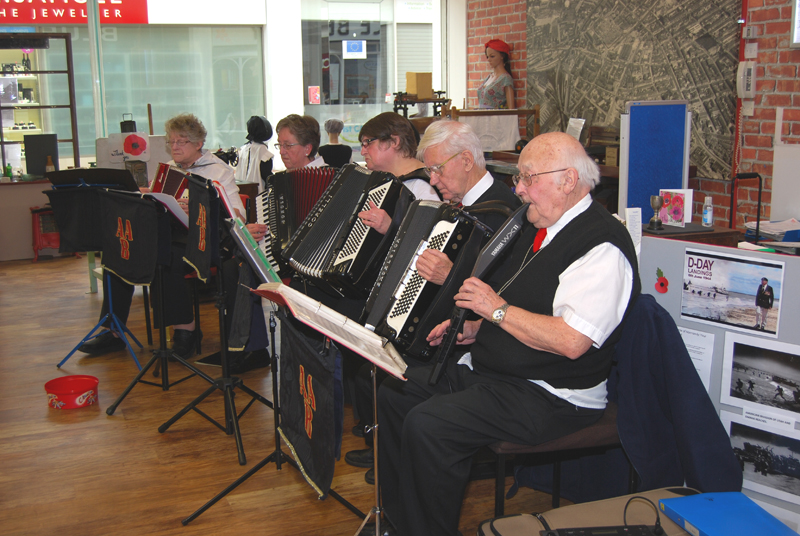 To listen to an excerpt from the band, please click here