First I spoke to Donna McKno who runs "Dotty Art" She works alongside artists in the old stables. The building is very well lit and although the stable stalls are still there, the horses have been replaced with desks and easels.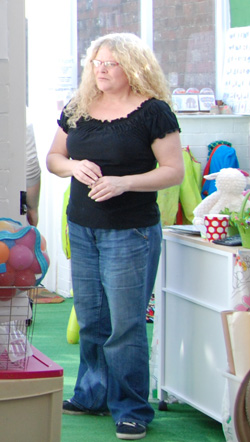 Dotty Art is the application of dots and the manipulation of colours which is based on the art form of pointillism. Donna works with acrylic paints and applies the art to many different surfaces including wood and canvas but also less common ones too. Donna just applied her art to a vacuum cleaner for instance.
I asked her when all this started. She told me:
"It came from experimentation 15 years ago and I've done it ever since."
Donna didn't want to dwell on the commercial side of her business though. She told me:
"I want to emphathise the fact that this is also very therapeutic. I have done ladies nights but also worked very successfully with people with ADHD, OCD and Behavioural Problems."
Dotty Art is not confined to people with mental health issues and Donna's classes are open to anyone from the age of six upwards.
Donna set up the interview which included the owners of the second business on the premises. The three ladies are firm friends and were kind enough to give up a little time to talk with me.
© Peter Jones 2017