When Tracy suggested I accompanied her to the Balti House in Rishton for a meal, I wasn't sure. Yes, on occasion, I had eaten Indian Takeaway but had never been in an Indian Restaurant. Since she must have thought I needed moral support, Tracy suggested that my wife, Rita came along also. Rita has eaten less Indian Fayre than I have.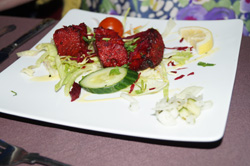 So it was a certain trepidation that we went along one Wednesday evening to Balti House, Rishton. I have never had anything against Indian cuisine but I just can't eat very spicy foods and all you ever hear from friends is about the vindaloo they ate and steam came out of their ears.
From the moment we stepped in to the restaurant, we were treated like royalty. We quickly explained that we were novices in Indian cuisine and our waiter couldn't have been more helpful. As anyone who is well-versed in Indian Restaurants will know, the menu comes with numbers ranging from 1-4 as to the chillies used. Rita and I both chose number ones from the menu. They are the least spicy.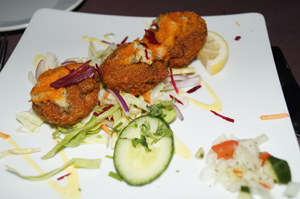 Tracy, on the other hand, a seasoned veteran of Indian Cuisine was more adventurous and chose something hotter.
We all began with starters: Tracy chose Lamb Tikka with Tamarind Sauce, Rita went for Chicken Pakora and I opted for Garlic Mushrooms. Rita and I tasted each other's starters so I can tell you that her Chicken Pakora just melted in the mouth and my Garlic Mushrooms must be amongst the best I ever tasted. We both declined Tracy's offer to try her much hotter dish and hot sauce, but she seemed to be delighted with both.
Now onto the main courses: adventurous Tracy went for Chicken Tikka Razala (three on the Richter scale I believe), Rita had Chicken Korma and yours truly opted for Lamb Punjab (both graded one). I can tell you that Rita really enjoyed her Korma, which she described as "very tasty;" lady of few words, my wife.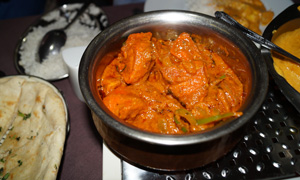 I absolutely loved the Lamb Punjab. The lamb was so tender and the sauce was just right. Tracy positively swooned over her Chicken Tikka Razala and all three of us left with smiles on our faces and a good feeling in our stomachs.
Before we left we spoke to the owner Mr Hussain, who Tracy was showing pictures of old Rishton and I enjoyed the experience so much I decided to write about it and asked if I could come back the next evening to take pictures to compliment the pictures I took of our meals on the evening, as one key member of the staff, Mr Khan wasn't on duty on the night we were there.
Everyone there was wonderful and you felt that nothing was too much trouble for the staff when it came to service, and from what I observed all the diners were treated in exactly the same courteous way.
Would I go again? You bet I would and I urge anyone who like me has not tasted the delights of proper Indian food inside a proper Indian Restaurant to give it a try. If you go to the Balti House in Rishton, you'll be glad that you did.