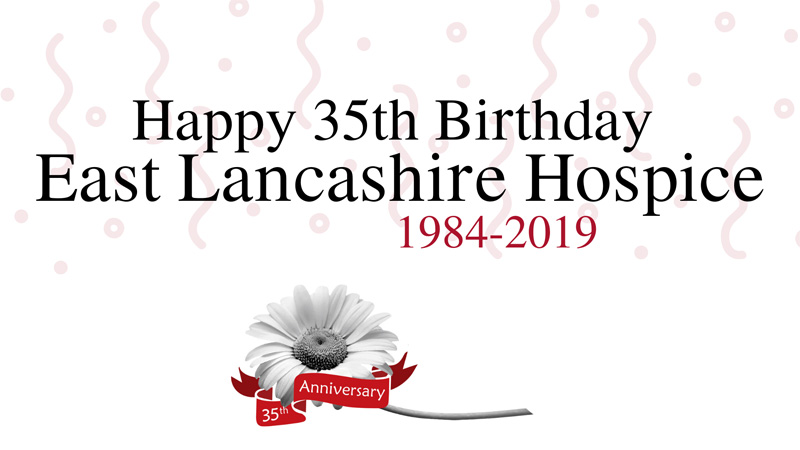 * * * * *
Lancashire group-Lancashire Remembers were recognised at the Royal British Legion Greater Manchester and Lancashire Area Awards.
Lancashire Remembers beat Waitrose supermarket, in Walton-le-Dale, and the South Cumbria and North Lancashire Military Vehicle Trust in winning the Fund-raising Organisation Award: Lancashire.
This was for the work Anne Ellwood (Accrington) and Nick Holme (East Lancashire Concert Band) had done in organising a festival of remembrance at the Guild Hall, in Preston, last November, which included Lancashire's cadet forces and a host of bands and choirs. Raising several thousand pounds for the Royal British Legion.
The inspirational awards evening, held at the Bury Village Hotel, was introduced by Alison Bunn, RBL area manager for Greater Manchester and Lancashire. It featured guest speakers, D-Day veteran Jim Healey, and Anthony Cooper, an Afghanistan veteran, who spoke about how they had been helped by the Royal British Legion.onig
Lancashire Remembers was in remembrance of the First World War ,the event was organised by Anne Ellwood (Accrington)and Nick Holme of local band the East Lancashire Concert Band at the Guild Hall in Preston last Nov 10th.Featuring 2nd Rossendale Scout Band, East Lancashire Concert Band, Accrington Pipe Band, Massed Community Choir, International Opera Singer Sean Ruanne from Burnley, Longton's Katy Bradley , the Lakes Fanfare group, singers Chris Bannister and Les Bond (an Accrington Pals relative who sang his self-penned song 100 Years On) and local poet William Michael Neary.
The evening was attended by local Forces Cadets under the guidance of RBL Regional Parade Master Dave Eltman and the service was conducted by Rev'd Father Keith Fenton.
Presenters for the evening included BBC Radio Lancashire's Sally Naden and local actress Steff Baron. Who told her own story of a relative who had fought in the war, bringing a special affinity to the evening. As tributes were made to the Pals ,on the big screen, with photos, and film from the war.
The event was 2 years in the making with all those appearing did so free of charge and all money raised after expenses was to go to the RBL and were grateful to the many businesses who contributed resources to the event. Making it a truly amazing evening. Local artist Ursula of Artdaze , who helped decorate the stage with giant poppies and banners. Creating a very intimate setting, along with pictures of the Pals who were lost in battle, being shown on the screen and in the audience were relatives,
Both Anne and Nick have been involved in organising several events as part of Hyndburn's WW1 centenary in the borough. With Anne organising the Accrington Pals Prom at Oakhill Park in 2016 in partnership with the Accrington Royal British Legion. Which included the East Lancashire Concert Band, who started off life back in 1842 as the Accrington Old Band. Nick and the band also featured in several events.
ANNE ELLWOOD
ellwoodanne@aol.com
WHEWELL'S WHEELS WHIRR FOR CHARITY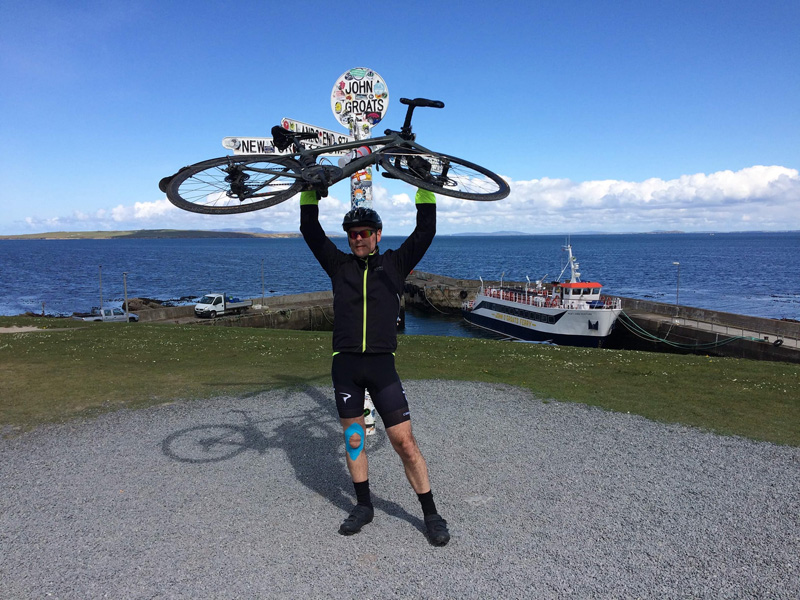 Last weekend while everyone else was enjoying the friendly weather, local businessman Michael Whewell was completing his cycling trip. For charity, the father of two cycled from Land's End to John O'Groats. All in all, he managed to rack up and impressive £1,200 for Lancashire Mind; an exceptionally topical charity in Mental Awareness week.
As a teenager, Michael had great ambitions as a cyclist. He always entertained the thought of cycling for John O' Groats to Land's End though and did it the other way around instead, as an adult, thus crossing one item off his bucket list; a life-goal complete. He did, however, say he probably wouldn't want to do it again.
In preparation for this marathon trip, Michaels cycled up to 100 on the consecutive Friday, Saturday and Sunday two week prior to the big event.
During his nine day journey, Michael endured several obstacles; not least of which was sustaining an injury to his knee on the fourth day. At one point, it seemed that all would be lost. However, after ice treatment and the use of Kinesio tape, Michael came out on top, even despite atrocious weather around Inverness. Refusing to give up, he managed to raise a lot of money for the mental health charity.
Why Lancashire Mind? Michael shared his thoughts:
"We all know people with mental health issues and it's becoming more topical these days," he said in an interview with Peter Jones. "It has been wrongly stigmatised in the past!"
Lancashire Mind is a branch of the National, Mind charity, but Michael specifically chose the local arm. He wanted to help the people of our area, as mental health is a conscious issue that needs to be discussed more openly. Michael is right!
Because of Michael and his winning battle with not only a sore knee, but with wicked weather, people with mental health issues can get even more help. £1,200 can do so much for many people.
From Acorn and the people of Lancashire; thank you.
© Luci Mae Hanley 2019HaHha

REGISTRATIONS FLOODING IN FOR THE BIG HYNDBURN WALK
Another large turnout is expected on Sunday 12th May, 2019 when the Charity Walk organised by Church and Oswaldtwistle Rotary gets underway. Many organisations, like police cadets, sea cadets, scout groups and charity walkers have already registered.
Baxenden Slimming club are hoping to send a large contingent of walkers, who will be raising money for the Pendleside Hospice
Volunteers from Hyndburn and Ribble Valley Police cadets are turning out in large numbers with at least 50 who have registered thus far. The Police cadet programme provides an environment where young people can harness their community spirit to help others, can learn new skills and become a community leader of the future.
Rhyddings Business and Enterprise school will be entering at least 40 students who will be working towards the Duke of Edinburgh bronze award and will be raising money for Cancer Research and MacMillan nurses.
Also, Oswaldtwistle St Mary's Football club are entering a team of 14 players who are getting sponsorship to raise funds for the running of the club. This thriving organisation runs 2 Adult teams who play in the East Lancs League and 8 Junior teams who play in the East Lancs Alliance and Accrington and Ace District Junior Football League.
St Andrew's school in Oswaldtwistle have registered a group of 16 teachers, and East Lancs Scouts have entered individually stating that the money they raise will help to fund an 'Icelandic Expedition' in 2019.
This charity walk is now one of Hyndburn's largest event, and most of the walkers raise money for a good cause or charity of their choice. The Rotary club, although they organise the walk, do not handle any of the sponsorship money, thereby ensuring every penny goes to the nominated charity or good cause.
The walk starts at 9.30am on Sunday 12th May, 2019 from Petre Road, Business Park at Clayton le Moors. (200 yards further up from Junction7) The popular 10K walk is very scenic as it includes part of the Leeds-Liverpool canal. In addition a 5K Walk is also available as an alternative. Plenty of entertainment has been arranged, so that a grand morning is guaranteed ( hopefully as in previous years, the weather will be kind to us)
As an added attraction the Rotary club will donate £50 to the cause supported by the person wearing the best 'fancy dress' costume.
Cath Heap, walk organiser said " The club is delighted to see the high number of people signing up for the walk, I am extremely pleased that once again this event is proving to be so popular, and I am sure it will be an enjoyable day, with the walkers raising much needed funds for their nominated charity or good cause."
To register on line go to: rotarywalk.org.uk or telephone Stuart Duhan on 01254 433501.
* * * * *
LOCAL ROTARY CLUB- FILM STARS FOR THE DAY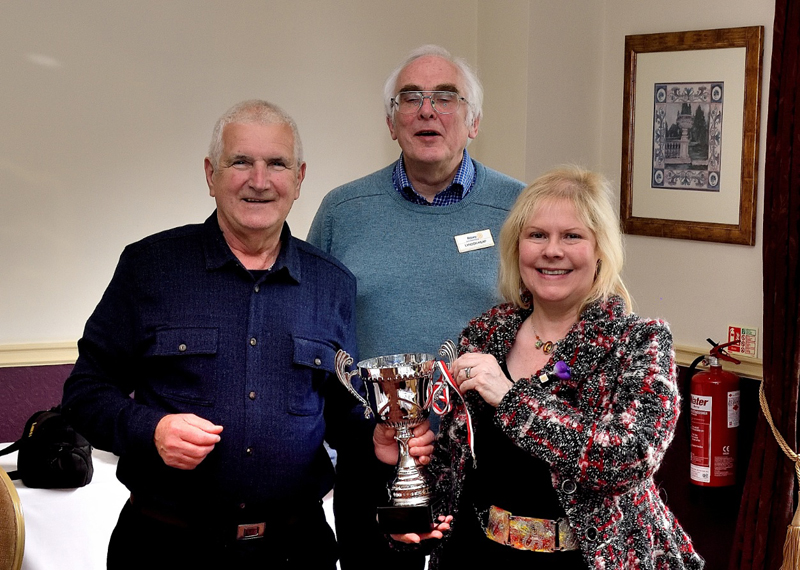 The Rotary Headquarters of Rotary In Great Britain and Ireland (RIBI) has selected Church and Oswaldtwistle as one of the traditional clubs, who has shown very significant progress to meet the ever changing events which translates in the quest for younger members to join Rotary.
During the end of March, a film crew from RIBI spent the full day in Hyndburn in and around Oswaldtwistle, filming various aspects of what Rotary can achieve. Such as recording work carried out in the community, involvement with children under 11 years of age, helping with loneliness, close ties with the disabled and interviewing the Assistant Head of the local Secondary school where there is a great deal of involvement from both the students and Rotarians.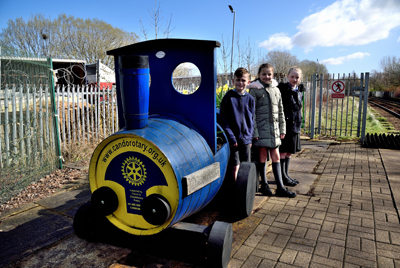 The filming started early in the morning with Rotakids from St Andrew's school, placing a hedgehog box in the undergrowth near railway station, which along with bird boxes and a bat box (also in situ at the station) were built by the Rotakids. The film crew then moved onto the railway platform to take shots of the model engine and carriages which looked magnificent with daffodils in full bloom. This project started by past President Jim Hargreaves was admired by all present, similar to all the praises which have been forthcoming from local residents and railway employees as trains pass through the station.
Oswaldtwistle is one of the few towns that have preserved the punishment stocks, and thanks go to Rotarian Ron Pickup who has refurbished the stocks so they are in working order. It was decided that Jim Hargreaves should be placed in the stocks and he very gamely agreed to have wet sponges thrown at him! Eve Conway Past President of RIBI and who is the lead person in the filming project found the use of the stocks most amusing!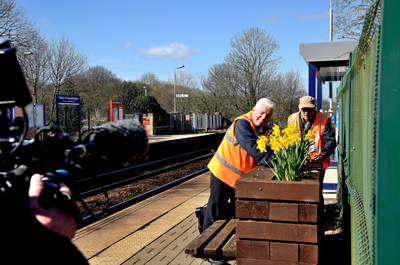 After lunch at the Dunkenhalgh Hotel filming was carried out interviewing the Rotakids from St Andrew's who with their Head teacher Tina Wilkinson outlined the many projects that the Rotakids have carried out with President Elect Cath Heap very much involved. Mrs Wilkinson is also a Corporate Member of Church and Oswaldtwistle Rotary and she explained why she chose to join Rotary, and how important is to her personally and to the school.
The film crew was very impressed with the presentation made by Lewis Baker-Vose who suffers from Cerebral Palsy. This 22-year-old man has entered and finished nearly every 'Walk 4 your Charity' sponsored walk for the past 10 years. A couple of years ago he was nominated to take part in the Rotary Calvert Trust, it was here he excelled in completing most of the physical tasks. Lewis paid tribute to Church and Oswaldtwistle Rotary for selecting him for this. He told of how taking part in the many activities on the Outward-Bound course at the Calvert Trust made him realise just what he can achieve despite his disability. He shortly finishes his studies at Nelson and Colne College and will take up a role on reception at the Royal Blackburn Hospital.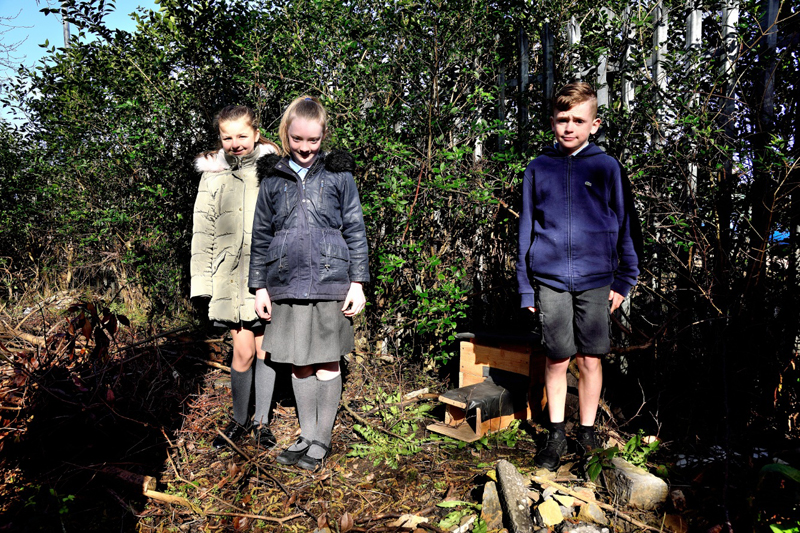 Finally filming took place with Carmel Cunliffe, Assistant Head Teacher and Business and-Technology Manager at Rhyddings school. Carmel acknowledged the very close working relationship between the school and Rotary. She was very appreciative of Rotary sponsoring students to take part in the Rotary schemes of RYLA and RYPEN.
President Lyndon Heap, who was also interviewed, said 'The filming which started early in the morning and did not finish until evening, was a great success. It certainly was a tribute for Church and Oswaldtwistle Rotary to be selected as a club that shows dynamic progress. Nearly half of our membership are women, and we have members from a variety of different cultural backgrounds plus 25% of our members work fulltime and it is this eclectic mix that contributes greatly to the success of Church and Oswaldtwistle Rotary. The purpose of the filming is to show us as a Rotary club that embraces change and this puts us in a strong position, going forwards"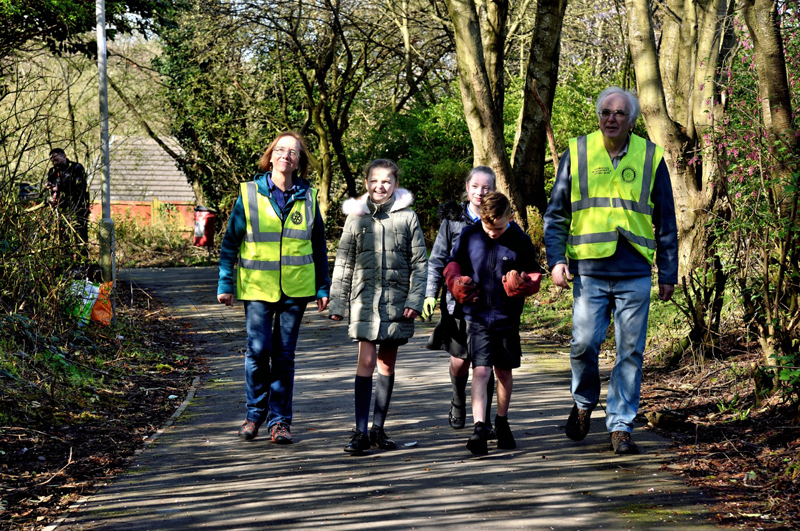 * * * * *
ARMY VETERAN HELPED BY CHARITY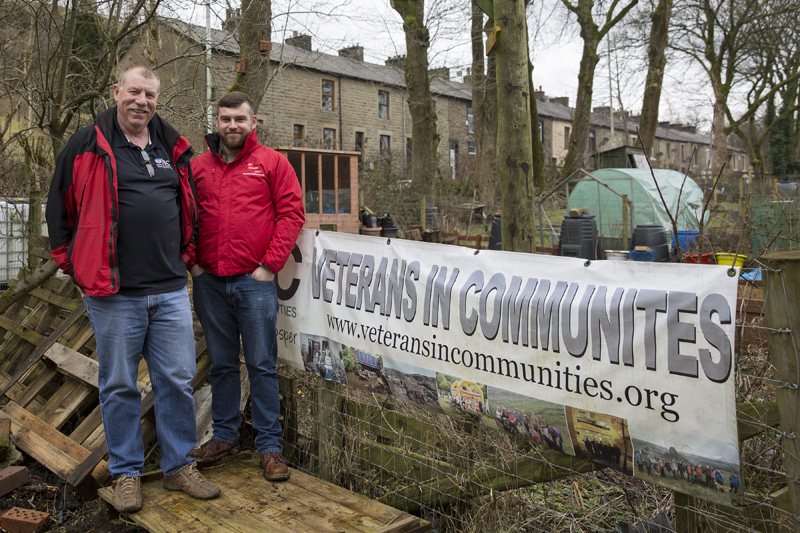 Operations Manager Bob Elliott and Andy Greaves at the VIC allotment in Helmshore.
IT IS four years since Fusilier Andy Greaves left the army and at first he was struggling, but thanks to support from a veterans' charity he has turned his life around.
He left the 1st Battalion in February 2014 with anxiety, depression and symptoms of PTSD, but these went undiagnosed for about eight to 12 months and were compounded by his autism.
Andy, 28, from Baxenden, said: "I was in a very dark place at times and I was suicidal. Everyone threw me away because of my mood swings.
"In the Infantry I wasn't aware of my problems it was only when I left that they became obvious. Everything in my life fell apart."
He was 20 when he joined up and because he already had an autism diagnosis it took an extra three weeks before he was accepted for basic training. He then went on to serve in Afghanistan.
Andy joined Haslingden-based Veterans In Communities in early 2016 after being signposted by his GP and began volunteering on a number of projects, some of which have been funded by a grant from the ABF: The Soldiers' Charity.
His story is now being used as a case study and a team from the charity's London base came out to interview Andy and photograph him at work at VIC's allotment in Helmshore.
He said: "I have had a lot of time to sit and think about what I want out of life and I started volunteering at Stubbylee Greenhouses in Bacup.
"With their help and VIC I have completed a foundation course in horticulture and I may become a gardener in the future."
Andy is currently working as a labourer with an online auction house.
He still goes to the greenhouses once a week and pops into VIC when he is not working and joins the team on social inclusion trips.
Operations Manager Bob Elliott said: "Andy is a changed person to the one who came here two years ago. He has benefited directly from projects at VIC that were funded by the ABF: The Soldiers' Charity.
"We are delighted to see the progress he has made in his personal life and pleased to have been able to play our part in it."
Veterans In Communties works with and for veterans from the armed forces and other emergency services and can be contacted on 01706 833180.