CHARITY FOR THE COMMUNITY
Art Group
Over the next few months we will be looking at the work of local charities. Our first one is Maundy Relief, which was founded by Sister Dorothy Macgregor in 1998.
Lucy Hardwick, who took over its running when Dorothy sadly died in 2013, was kind enough to tell me a little about the charity and its aims.
"Maundy Relief is a grassroots charity, serving the people of Hyndburn. We have been called both a 'first port of call' and a 'last resort' and we offer services to anyone who needs them. We have a drop-in centre on Abbey Street and anyone can come to us for help with an issue or a crisis or just for a chat (in normal times, this has been restricted during the pandemic). We serve a community lunch every day at noon.
"We also have a range of structured services that take referrals from the drop-in or from any other services; these include a large counselling service, advice with welfare benefits and other issues, a housing service, a nurse-led health advice and advocacy service and a foodbank. All these services work closely together and make sure that the service user (we call them 'guests') is at the centre of everything we do."
Lucy told me she had been involved with the charity for the past 16 years, starting as a volunteer welfare benefit advisor, but wanting to become more involved. She was able to help Dorothy by taking on some roles she was too busy to do, such as attending meetings and writing fund bids. She told me:
"Dorothy was a qualified nurse, a social worker and probation officer – she had also been a model and a sweetshop owner! In later years she said that she didn't know quite where her life was leading until she retired and put her skills, experience and formidable amounts of energy into Maundy Relief. Even eight years after her death, we are still hearing new stories from people whose lives she touched; many of whom found their encounter with Dorothy to be a turning point in their lives.
She was dedicated, kind, and insightful and dealt with each person equally and as one friend to another. She cheered people's days with her smile and warmth and she handwrote letters and cards to all who crossed her path - many people treasure those letters still."
The charity's drop in is still based at 'The Grange,' which was largely financed by Dorothy through the sale of her own house. Maundy Relief are always looking for public support and volunteers, without which they simply could not survive. Lucy explained:
"We couldn't stay open a single day without the support of our community: we have a large team of volunteers who do everything from providing therapy (trained counsellors) to driving our van, helping in the shop, preparing lunches and providing advice. We are currently looking for volunteers for our shop which has just been refurbished and is an important source of income for us.
"We also welcome donations of food for distribution, goods for our shop or to be donated to people setting up home and financial contributions."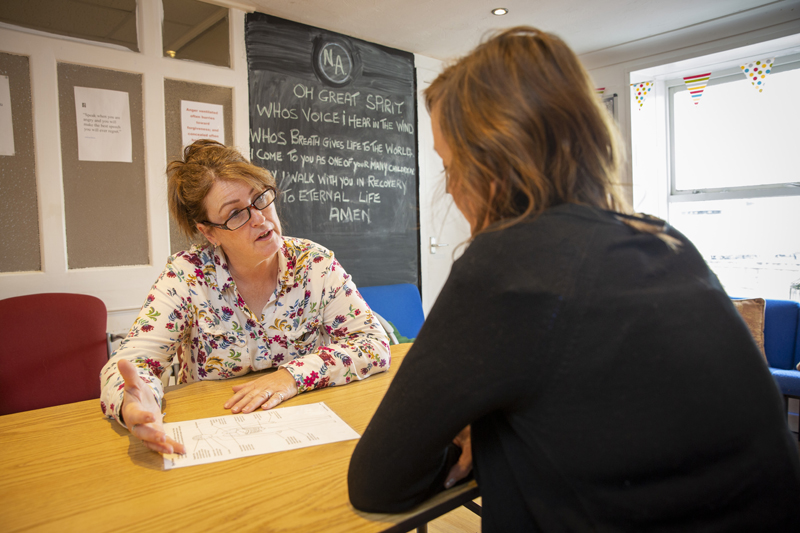 Counselling
I put it to Lucy that although Maundy Relief is essentially a charity, it must also be run as a business to help it survive and asked if finding the correct balance between the two could cause problems. She replied:
"Yes, this is the trickiest part of my role probably. We have to generate enough income to keep going whilst remaining true to the founding values of the organisation and sometimes there can be tension between these two things.
"Fortunately, the Board and staff are in agreement that all decisions must ultimately benefit our guests and that we must be guided by strong ethical principals in all our dealings. We have had to make some tough decisions as a result, including turning down funding where the demands of the funder didn't align with our values or could interfere with our relationships with our guests."
I also mentioned a very famous patron of Maundy Relief, Accrington lass and well-known star of stage and screen, Julie Hesmondhalgh. I remembered her going onto two TV Gameshows: The Cube and Mr and Mrs, with husband Ian Kershaw, a writer and actor in his own right and winning £20,000 for the charity each time and asked Lucy about Julie's involvement.
"We are very fortunate in our Patron, Julie Hesmondhalgh who is a loyal and generous friend to Maundy. Julie and Dorothy McGregor were quite a double act! ('The Nun and the Soap Star' as they liked to say.) They were so different in many ways but they shared the same deep generosity of spirit and optimism and a love of Hyndburn and its people. Julie has done so much for us in terms of fundraising and putting on events but even more importantly, we know she will always be a staunch ally and our wonderful ambassador."
I then asked Lucy if she could give me any examples of how Maundy Relief has helped to change someone's life, without mentioning names of course. She gave me this reply:
"A very recent one that springs to mind is when we worked with a young man who had been in care throughout his childhood. He was rough sleeping as he had been working for a builder who refused to pay him and had lost his home as a consequence. The young man had a history of being exploited by employers but had a strong work ethic.
"We were able to put him up for the night in our Nightshelter and we found him a room to rent with a good landlord by the end of the same week. Our benefits adviser helped him claim for Universal Credit and he was referred in to our counselling service to help him talk through some of the difficult things he had encountered as a child and young adult.
"As soon as he'd moved in, he came back to ask if he could volunteer with us until he got a new job. He is an excellent tradesman and made himself very useful for a week or so after which time he succeeded in finding paid work with a decent employer. He is really happy in his new home and the future looks a bit brighter now."
I would like to thank Lucy for answering all my questions so thoroughly and wish her every success in the future.
To find out more, or if you want to get involved in some way, please visit their website at https://www.maundyrelief.org.uk/ or you can contact them by phone at 01254 232328 by emailing them at info@maundy relief@org.uk
© Peter Jones 2021
* * * * *
BOXING DINNER CANCELLED AS LIONS STRUGGLE TO RAISE FUNDS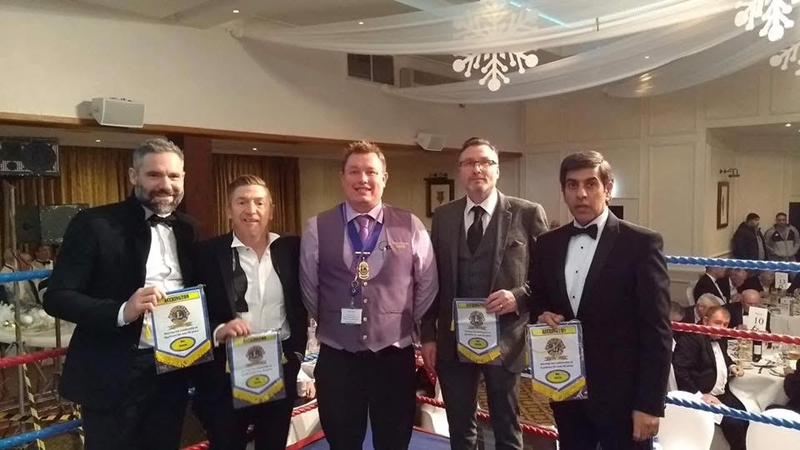 Accrington Lions Club has had to cancel its Boxing Dinner for the first time in its 53 year history due to the coronavirus regulations. As this is the Club's main source of income for funding the charity, it has has impacted the annual Toys and Teens Christmas appeal due to take place on December 12th. Lion President May Edmundson said:
"Covid 19 restrictions have had a devastating effect on every single event we had planned for 2020 and this has had a knock on effect for our toy appeal as we use any funds raised to buy gifts for the age groups with little or no donations. We are unable to accept donations unless brand new and we realise it's a big thing to ask but if anyone could please consider a small cash donation we will then be able to buy gifts. Last year we had over 200 local children referred by schools and Children's services and we are expecting a huge increase in numbers because families have seen their income cut as many have been furloughed for over 6 months".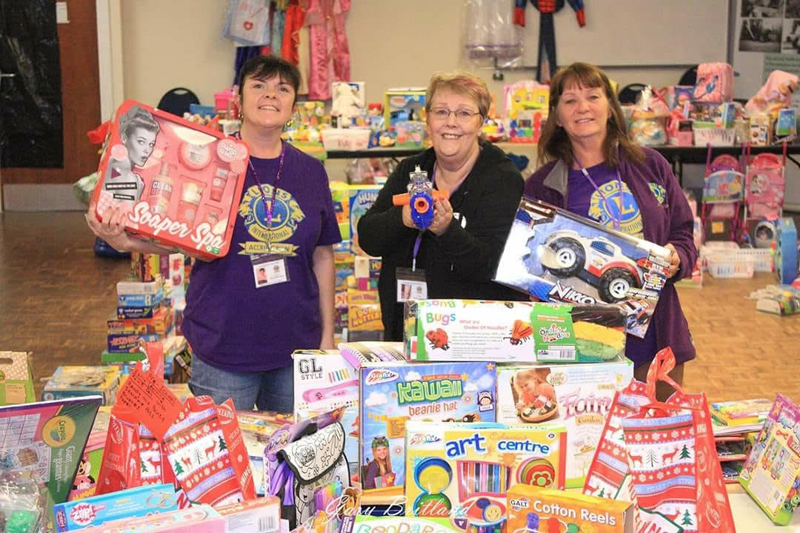 * * * * *
TOY APPEAL TO HELP LOCAL FAMILES FACING FINANCIAL HARDSHIP
In Conjunction with Accrington Lions, Sugar Rush Soaps are funding an initiative to help children enjoy Christmas. They are decorating their house with a huge Christmas Tree, sleigh, gingerbread house and much more and you are invited to come and take pictures and support their toy appeal by either donating a toy or as little as

£1.00, towards their fund.

Donations will be used for new toys to give to local children. Their address is: 302 Blackburn Road, Accrington and you can visit their website at www.sugarrushsoaps.co.uk
ROTARIANS CLEAN UP AREA
Rotarians from Church and Oswaldtwisle, together with some friends, spent three days litter picking around the town recently. Stonebridge Lane and Melbourne St, together with Tinker Brook, Harvey St and the West End playground were some of the areas covered. The members collected a total of fifty-one bags of rubbish and other items which included a bike, a scooter, wire fencing, a tree stump and a cricket bat.
President, Cath Heap said:
"Because of the lockdown restrictions, we are tending to concentrate on our community programme. Whilst adhering to the guidelines, we had to come up with something that would benefit our surroundings. So, we decide to do a litter pick. Whilst out picking up the rubbish, we were approached by some people who urged us to try and convey the message about disposing of their rubbish correctly.
Many thanks go to Hyndburn Council for the loan of some equipment, and the prompt collection of the bags, and thanks to the Friends of Rotary who turned up to help"
* * * * *
THE LADY BEHIND THE MASKS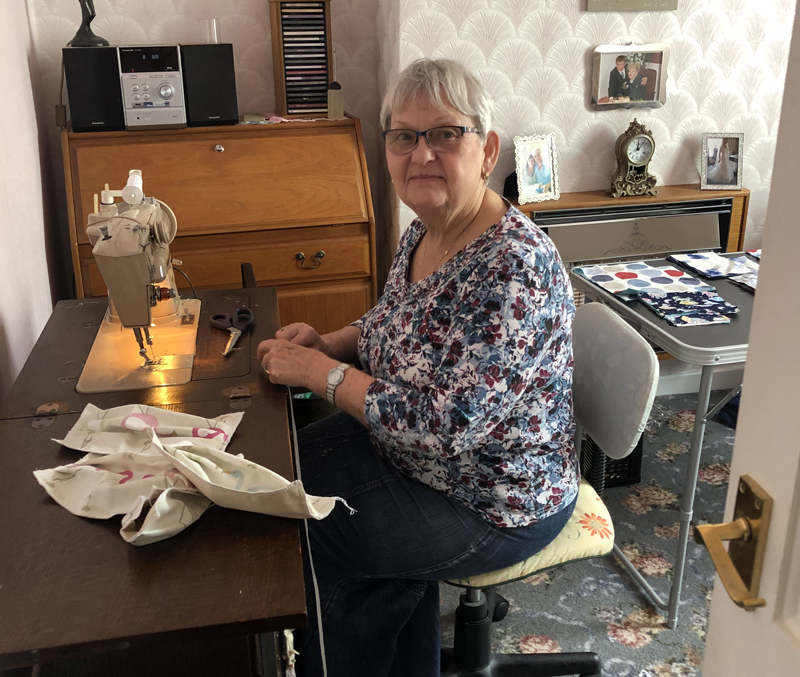 In last month's issue, we featured a lady called Jaqui Collins, and ex career army sergeant who is raising money for the NHS during the pandemic.
One of her projects involves an organisation called Eanam Wharf – Here for Humanity, for which she provides face masks. At the time she took pains to say this wouldn't have been possible without the work of Audrey Law who makes the masks.
When I spoke to Audrey in a telephone interview she also heaped praise on Jaqui, saying that she sourced all the material and helped her by cutting the material for her to work with. As a result of last month's piece a lady called Bernadette came forward with a bin liner crammed with material for the purpose of making more masks. Audrey told me:
"Bernadette used to make quilts for her friends and family with all intricate designs; octagons, stars etc. using very expensive cotton from America. This takes a lot of work and the bag contained pieces that were offcuts from the original process. She is from Great Harwood like me, and she showed them to Jaqui who said they should be big enough to make into masks."
When Jaqui brought them around to Audrey's house she had been going through the material, matching the pieces up with coloured linings and cutting them out. Audrey continued:
"It really is very expensive, high quality material. I don't know how long it will take me to use it up, but it will get used."
I asked Audrey what the latest total was in funds raised and she said at Here for Humanity Jaqui had just told her they had so far raised £2,850.
I wondered how this project had first started and Audrey said that made a few plain cotton masks at the beginning of lockdown, for herself and friends, but the notion came from a friend whose husband was seriously ill in hospital and they couldn't visit him unless they wore face coverings. The friend's daughter asked Audrey is she could make six and that really started the ball rolling.
Audrey told me:
"When I left school I worked for a firm in Rochdale called Jillinda Frocks, as a dressmaker, where the wage was: £3.10s.04p per week. I've sewn for my family for many years. I made wedding dresses for all my nieces. I'm usually very active, going out with my friends, swimming three times a week and have other interests that have all been put on hold at the moment.
I didn't want to just stare at the walls so I decided to do something useful."
Audrey doesn't know the exact number of masks she has made but estimates it must be in the hundreds now. I put it to her that she must be shattered with all the sewing?
"No, not really; sometimes I've sewn for eight hours if we need to catch up and sometimes I put four hours in, but I used to sew for Promedics so I'm used to it really."
In her normal day to day life, Audrey practices tai chi and although she isn't a qualified instructor, has been known to take classes from time to time, so is obviously well-versed. The classes were at Lyndon House and Great Harwood Spiritualist church, which Audrey attends. She told me she will be so glad to get back to all these pursuits as soon as they start up again.
In the meantime, as long as masks are required Audrey is committed to making them. I would like to take this opportunity to thank her for taking the time to speak with me and long may she keep up the good work as she is a true inspiration.
© Peter Jones 2020
* * * * *
ROTARIANS SPRUCE UP LIBRARY GARDEN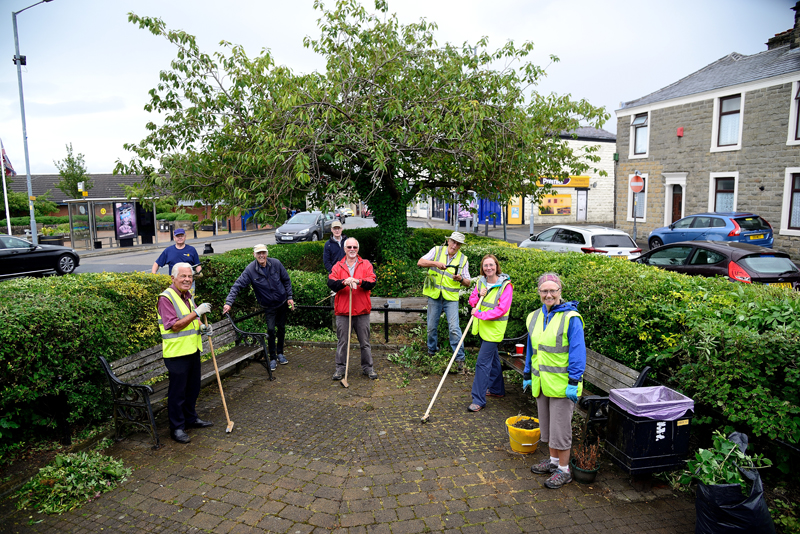 Front: left to right; Michael Jackson, Stuart Duhan, Pres Lyndon Heap, Pres Elect Cath Heap and Dawn Taylor
Back: left to right; Ian McTurk and Michael Hindle.
Church & Oswaldtwistle Rotarians turned their attention recently from maintaining the local railway station, which they have been working on for the past 6 years, to the old stocks outside the library. The stocks were refurbished by the club in 2018 to coincide with the reopening of the town's library.
But since the onset of the Coronavirus pandemic and the subsequent lockdown, the area around the stocks had deteriorated. The Rotary Club members turned out to do some essential work, such as cutting privet hedges, removing overgrown weeds and moss from the pavement, and then taking away the resulting waste which amounted to 22 bags!
Work has started on repairing the vandalised stocks, which included resetting the wooden beams and starting the re-painting of both stocks and nearby benches.
President Elect, Cath Heap, said "This indeed was an example of Rotary in Action. We wish to thank Judith Addison for her co-operation with the project, and Friends of Rotary who turned up to help".
* * * * *
M3 PROJECT HITS CENTURY
TEN years ago M3 Project set up its unique Teenage Family Service and this year the 100th mother and baby were provided with supported accommodation.
Over the years the project, based in Rawtenstall but operating across East Lancashire, has had many success stories, including Anna who was just 16 and pregnant when she contacted M3.
She said: "I am very proud and I didn't want to ask for help, I didn't want charity because I have always earned my way, but I needed help.
"I couldn't stay living with my dad because there was no room for me, contacting M3 was the best thing I could have done for me and for my children."
Senior Project Worker Joanne Aspin leads the project and Anna said: "Joanne is not just a support worker she is a friend."
M3 arranged for Anna and her partner Josh to move into a two-bedoom flat, which was ideal for the couple, Theresa, now three, and Athena, two, but when she was expecting their brother Cain, now 20 months, she needed a larger property.
Anna said being on the project gave her the confidence to then source her own accommodation, initially in the town centre and now the family have settled in a three bedroom end terrace in Church.
She said: "Without M3's help when I was 16 and pregnant, I wouldn't have known what I was doing. I don't know where I would be have ended up, but it would have been a bad place.
"I am now living across from my sister-in-law and we have been able to help each other through the lockdown and be there for each other.
"M3 has made me more confident and able to sort things for myself."
Josh, 23, is hoping to start a woodworking course in September, and Anna, will be 21 next month.
They are planning to get married in the next three years.
Her advice for teenage families who find themselves in a difficult situation is to contact M3 Project. She said: "Don't think too much into it, help is out there."
The service provides accommodation and an intensive support package for young women who are pregnant or have a baby and are living in temporary, unsuitable or overcrowded accommodation.
Senior Project Worker, Joanne Aspin, has seen many changes over the years and this has led to an additional Support Worker being employed.
Cutbacks have meant that the role of Health Visitors has changed. It is no longer a statutory service with one visit when baby comes home and they have restricted contact thereafter.
Changes involving Universal Credit have mean often there are issues around budgeting as payments are made once monthly so money management becomes problematic.
There has also been a rise in young mothers experiencing mental health problems and post natal depression and Joanne feels they now have far more complex needs than when the project was set up.
When the time is right, the project also encourages young women to get back into education or in to work.
To find out more about the charity visit www.rossendalem3.org/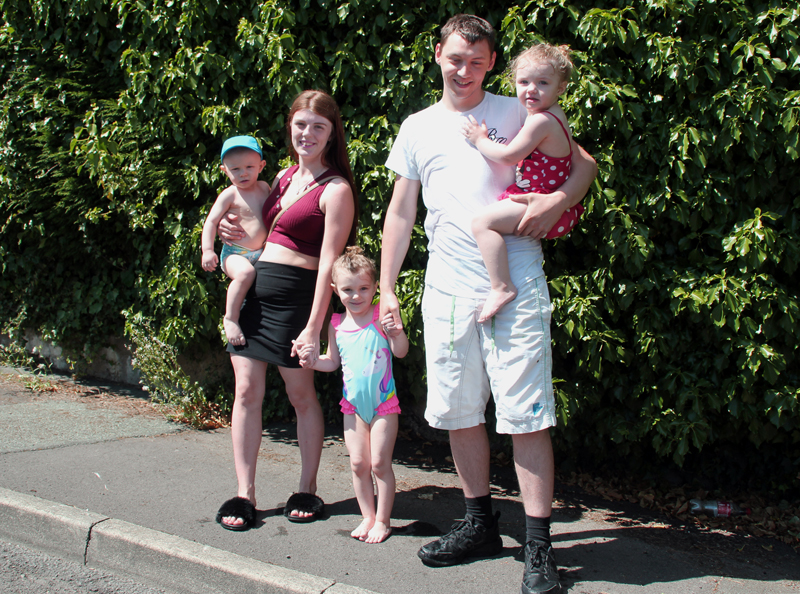 Anna with baby Cain, Theresa, and Josh with Athena
* * * * *
<![if !vml]>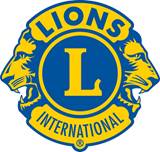 <![endif]>
£100K: Lions Clubs supporting communities during COVID-19 crisis
The Hyndburn Centennial Lions Club has received a share of £100,000 from the Lions Clubs Foundation of the British Isles. Lions Clubs across the British Isles have benefited from a special fund launched to support local communities during the COVID-19 crisis.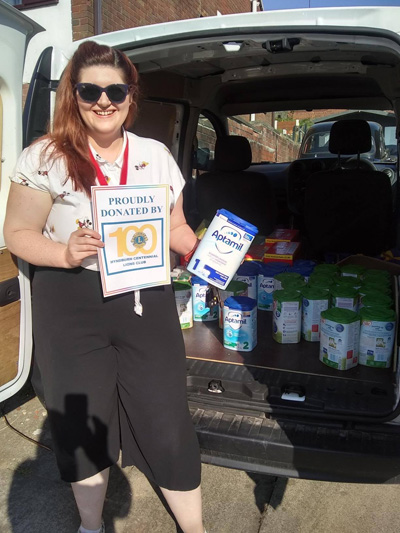 Hyndburn Centennial Lions club will utilise the grant to support the purchase of baby products for provision to needy parents as well as through food banks at this critical time.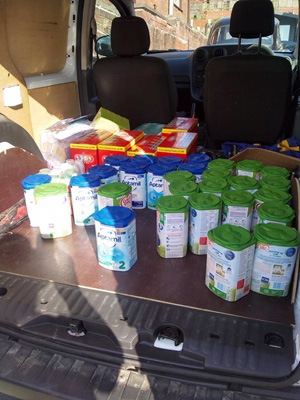 Lion President Jane Flegg said: "This is a significant sum of money that we are putting to good use straightaway. This Coronavirus pandemic is hurting lots of local people in lots of different ways - just because we are all social distancing doesn't stop us from caring - we are doing what we can, and this cash injection will help us do more by providing those at most need with baby products they would otherwise not be able to obtain. Through the Hyndburn Baby Bank distribution will be directly to single parent families and through the local food banks to families with young babies".

When a humanitarian crisis strikes, the Lions Clubs Foundation of the British Isles works with and are guided by their own Lions members who are ordinary people actively working at the heart of their communities.

To watch our short film please click the link below.

Your local Lions Club supports a range of good causes and local projects where you can get involved, please contact us on 0345 833 8203 or hyndburnlions@gmail.com

* * * * *

<![if !vml]>

<![endif]>

The Foundation supports local Lions Clubs to provide humanitarian aid, disaster relief, and support a range of youth programmes.

About Lions Clubs

Lions Clubs of the British Isles are part of Lions Clubs International which has 1.45 million members in over 210 countries, making it the largest service club organisation in the world.

Wherever you live, work or travel, you are likely to come across members of Lions clubs and the projects we support.

Lions are ordinary people who do extraordinary things to help others and support good causes. Globally we have more volunteers in more places than any other service club organisation. We love to help others and make things happen.

Every day Lions are having fun by organising remarkable and memorable fundraising activities.

Every year, in Europe alone, Lions Clubs members volunteer almost 6 million hours of service and raise £88 million annually to support the needs of local communities.

Lions Clubs International: British Isles

257 Alcester Road South

Kings Heath

Birmingham

B14 6DT

Tel: 0345 833 9502

To find out more about Lions Clubs, visit www.lionsclubs.co
Like us on Facebook www.facebook.com/LionsClubsBritishIsles

or Tweet #LionsGetInvolved on https://twitter.com/LionsClubsBI

<![if !vml]><![endif]>

Advocacy Focus achieves Senior Leader and Workplace Wellbeing Awards from national mental health charity Mind
Advocacy Focus' CEO and the organisation's commitment to wellbeing within the workplace, has been recognised by the national mental health charity Mind.
Advocacy Focus was one of 106 organisations to take part in Mind's second annual Workplace Wellbeing Index and was recognised with a Gold Award. The award showcases the charity's commitment to achieving real and sustainable change within their workplace.
Mind's Workplace Wellbeing Index is a benchmark of best policy and practice, celebrating the good work employers are doing to promote and support positive mental health, and provides key recommendations on where there is room to improve.
In further celebrations for the charity, Justine Hodgkinson, its Chief Executive Officer, won the Senior Leader Award, for her commitment and contribution to fostering an equitable and supportive workplace. Other members of the team were also shortlisted for their efforts in this area; Becci Jackson-Maher in the Line Manager category for her work as the Time to Change lead and Jasmine Bell in the Wellbeing Champion category, for her work as Suicide Champion and helping to drive forward the Time to Change programme.
Every employer depends on having healthy and productive employees – valued and supported staff are far more likely to perform better and achieve peak performance. Mental health problems are common among employees. Mind surveyed more than 44,000 employees across the 106 employers participating in the Awards and found that 7 in 10 had experienced a mental health problem in their lives, with over one in two (53 per cent) affected by poor mental health in their current workplace.
Advocacy Focus has developed a collaborative and supportive environment for its team, through initiatives such as an "All Fine Hotline" for staff to speak and offload to a manager out of hours if they are feeling stressed or upset, private healthcare and counselling for all staff. The team also have access to Suicide and Cancer champions, a mental health plan which raises awareness of female health issues and a Time to Change team which reduces the stigma of mental ill health. Many of the team are also qualified mental health first aiders, which is delivered by their in-house training team. In Mind's independent and anonymous survey, which formed part of the process, staff reported how they are empowered to take control of their own wellbeing and that of their peers, colleagues, family and friends.
Justine said: "Our cultural approach to mental health, alongside our policies and training programmes, demonstrates how we place our team's physical and mental health and wellbeing at the heart of our organisation. How we look after our team has a ripple effect across the whole of the North West and the people we serve."
"As a registered charity, we have been supporting people with mental ill health for over 20 years. These awards are a significant achievement, which recognise how we live and uphold the values of advocacy within our workplace and are proud to do so. Winning Gold shows that we provide a trusted and safe place to work from, which enables our team to focus on our communities and help them live the lives they want to live."
After receiving the Senior Leader Award, Justine said: "I have learnt over the years that the only way to bring about positive cultural change, is to treat every member of your team with kindness and respect. You never know what challenges a person may have faced to even make it into work that day, life can be so pressurised. Particularly now with the current situation and many people's lives being turned upside down. If we can provide a friendly and supportive, values based workplace, that normalises the conversation around mental health and tackles any form of discrimination, then our team will show up as the very best version of themselves. That is a workplace I am proud to be the leader of."
Emma Mamo, Head of Workplace Wellbeing at Mind, said:
"Every employer depends on having a healthy and productive workforce – valued and supported employees are far more likely to deliver the best outcomes for your organisation.
That's why we're delighted to recognise and celebrate employers making mental health a priority for their organisation through our Workplace Wellbeing Awards.
"This year, we've been overwhelmed to see so much good practice right across the board, from each and every one of the 106 diverse employers to take part. The Awards event provided an opportunity to recognise those forward-thinking employers who are at the cutting edge when it comes to investing in their staff wellbeing, and in turn getting the best outcomes for their business."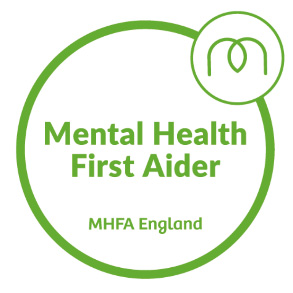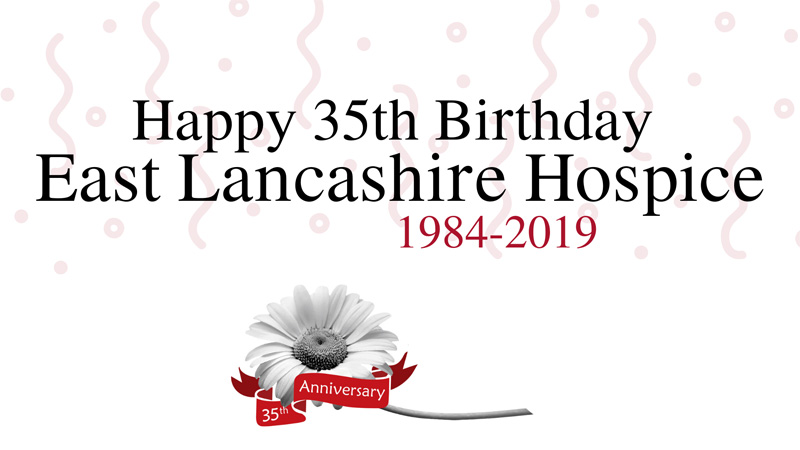 * * * * *
Lancashire group-Lancashire Remembers were recognised at the Royal British Legion Greater Manchester and Lancashire Area Awards.
Lancashire Remembers beat Waitrose supermarket, in Walton-le-Dale, and the South Cumbria and North Lancashire Military Vehicle Trust in winning the Fund-raising Organisation Award: Lancashire.
This was for the work Anne Ellwood (Accrington) and Nick Holme (East Lancashire Concert Band) had done in organising a festival of remembrance at the Guild Hall, in Preston, last November, which included Lancashire's cadet forces and a host of bands and choirs. Raising several thousand pounds for the Royal British Legion.
The inspirational awards evening, held at the Bury Village Hotel, was introduced by Alison Bunn, RBL area manager for Greater Manchester and Lancashire. It featured guest speakers, D-Day veteran Jim Healey, and Anthony Cooper, an Afghanistan veteran, who spoke about how they had been helped by the Royal British Legion.onig
Lancashire Remembers was in remembrance of the First World War ,the event was organised by Anne Ellwood (Accrington)and Nick Holme of local band the East Lancashire Concert Band at the Guild Hall in Preston last Nov 10th.Featuring 2nd Rossendale Scout Band, East Lancashire Concert Band, Accrington Pipe Band, Massed Community Choir, International Opera Singer Sean Ruanne from Burnley, Longton's Katy Bradley , the Lakes Fanfare group, singers Chris Bannister and Les Bond (an Accrington Pals relative who sang his self-penned song 100 Years On) and local poet William Michael Neary.
The evening was attended by local Forces Cadets under the guidance of RBL Regional Parade Master Dave Eltman and the service was conducted by Rev'd Father Keith Fenton.
Presenters for the evening included BBC Radio Lancashire's Sally Naden and local actress Steff Baron. Who told her own story of a relative who had fought in the war, bringing a special affinity to the evening. As tributes were made to the Pals ,on the big screen, with photos, and film from the war.
The event was 2 years in the making with all those appearing did so free of charge and all money raised after expenses was to go to the RBL and were grateful to the many businesses who contributed resources to the event. Making it a truly amazing evening. Local artist Ursula of Artdaze , who helped decorate the stage with giant poppies and banners. Creating a very intimate setting, along with pictures of the Pals who were lost in battle, being shown on the screen and in the audience were relatives,
Both Anne and Nick have been involved in organising several events as part of Hyndburn's WW1 centenary in the borough. With Anne organising the Accrington Pals Prom at Oakhill Park in 2016 in partnership with the Accrington Royal British Legion. Which included the East Lancashire Concert Band, who started off life back in 1842 as the Accrington Old Band. Nick and the band also featured in several events.
ANNE ELLWOOD
ellwoodanne@aol.com

* * * * *
LOCAL ROTARY CLUB- FILM STARS FOR THE DAY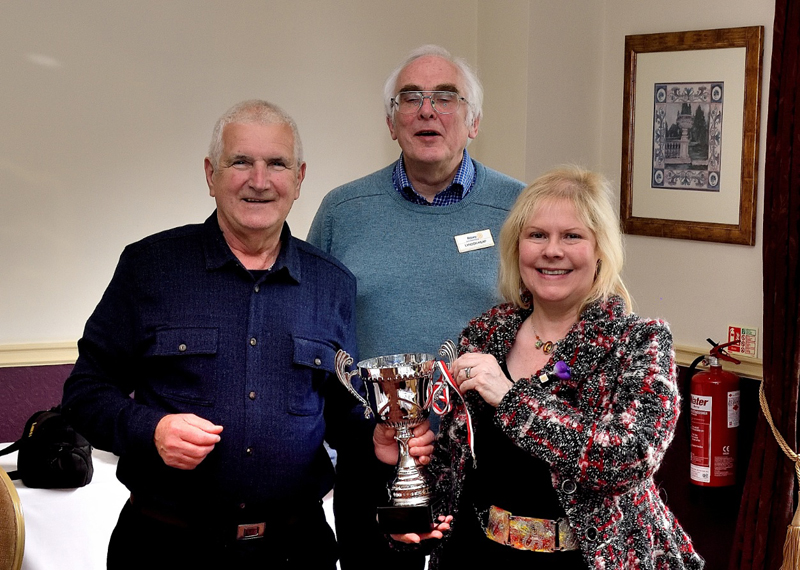 The Rotary Headquarters of Rotary In Great Britain and Ireland (RIBI) has selected Church and Oswaldtwistle as one of the traditional clubs, who has shown very significant progress to meet the ever changing events which translates in the quest for younger members to join Rotary.
During the end of March, a film crew from RIBI spent the full day in Hyndburn in and around Oswaldtwistle, filming various aspects of what Rotary can achieve. Such as recording work carried out in the community, involvement with children under 11 years of age, helping with loneliness, close ties with the disabled and interviewing the Assistant Head of the local Secondary school where there is a great deal of involvement from both the students and Rotarians.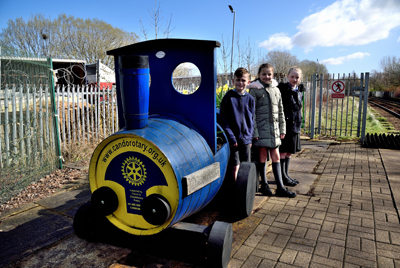 The filming started early in the morning with Rotakids from St Andrew's school, placing a hedgehog box in the undergrowth near railway station, which along with bird boxes and a bat box (also in situ at the station) were built by the Rotakids. The film crew then moved onto the railway platform to take shots of the model engine and carriages which looked magnificent with daffodils in full bloom. This project started by past President Jim Hargreaves was admired by all present, similar to all the praises which have been forthcoming from local residents and railway employees as trains pass through the station.
Oswaldtwistle is one of the few towns that have preserved the punishment stocks, and thanks go to Rotarian Ron Pickup who has refurbished the stocks so they are in working order. It was decided that Jim Hargreaves should be placed in the stocks and he very gamely agreed to have wet sponges thrown at him! Eve Conway Past President of RIBI and who is the lead person in the filming project found the use of the stocks most amusing!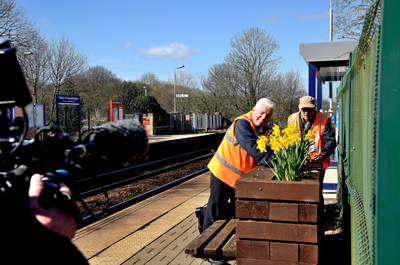 After lunch at the Dunkenhalgh Hotel filming was carried out interviewing the Rotakids from St Andrew's who with their Head teacher Tina Wilkinson outlined the many projects that the Rotakids have carried out with President Elect Cath Heap very much involved. Mrs Wilkinson is also a Corporate Member of Church and Oswaldtwistle Rotary and she explained why she chose to join Rotary, and how important is to her personally and to the school.
The film crew was very impressed with the presentation made by Lewis Baker-Vose who suffers from Cerebral Palsy. This 22-year-old man has entered and finished nearly every 'Walk 4 your Charity' sponsored walk for the past 10 years. A couple of years ago he was nominated to take part in the Rotary Calvert Trust, it was here he excelled in completing most of the physical tasks. Lewis paid tribute to Church and Oswaldtwistle Rotary for selecting him for this. He told of how taking part in the many activities on the Outward-Bound course at the Calvert Trust made him realise just what he can achieve despite his disability. He shortly finishes his studies at Nelson and Colne College and will take up a role on reception at the Royal Blackburn Hospital.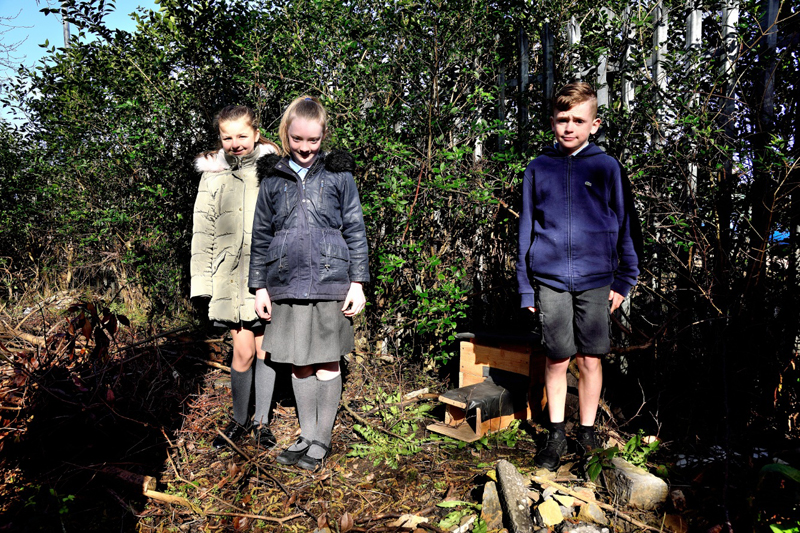 Finally filming took place with Carmel Cunliffe, Assistant Head Teacher and Business and-Technology Manager at Rhyddings school. Carmel acknowledged the very close working relationship between the school and Rotary. She was very appreciative of Rotary sponsoring students to take part in the Rotary schemes of RYLA and RYPEN.
President Lyndon Heap, who was also interviewed, said 'The filming which started early in the morning and did not finish until evening, was a great success. It certainly was a tribute for Church and Oswaldtwistle Rotary to be selected as a club that shows dynamic progress. Nearly half of our membership are women, and we have members from a variety of different cultural backgrounds plus 25% of our members work fulltime and it is this eclectic mix that contributes greatly to the success of Church and Oswaldtwistle Rotary. The purpose of the filming is to show us as a Rotary club that embraces change and this puts us in a strong position, going forwards"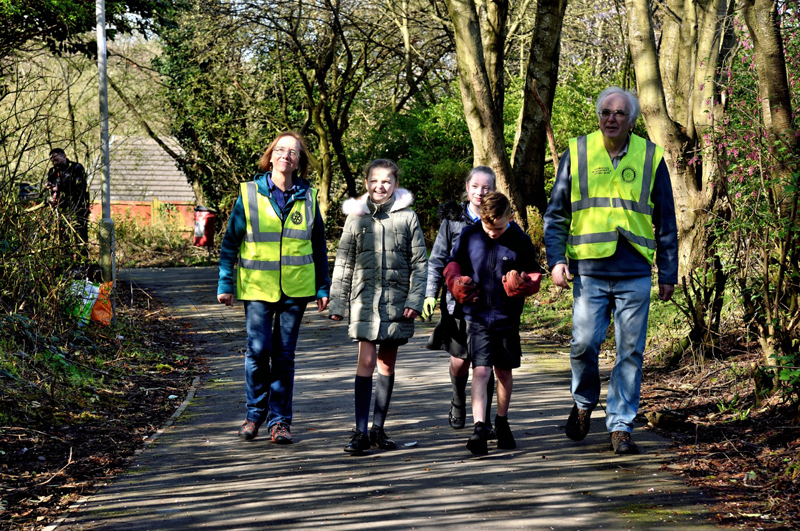 * * * * *
ARMY VETERAN HELPED BY CHARITY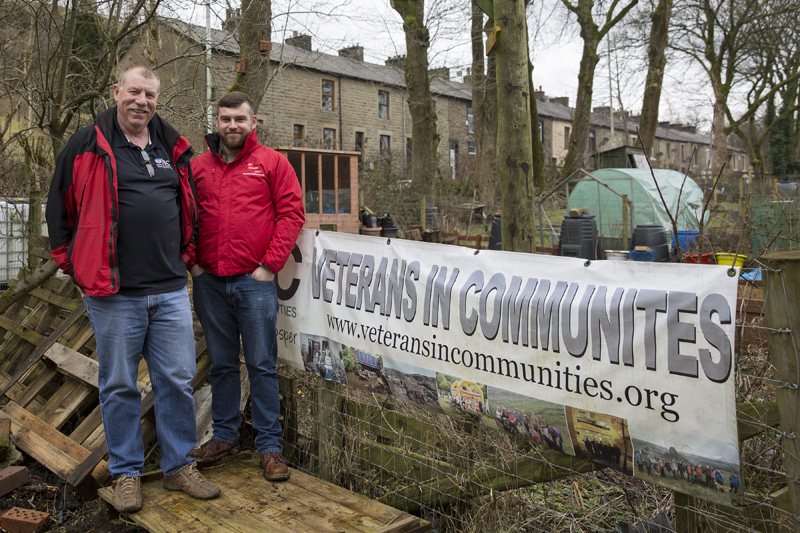 Operations Manager Bob Elliott and Andy Greaves at the VIC allotment in Helmshore.
IT IS four years since Fusilier Andy Greaves left the army and at first he was struggling, but thanks to support from a veterans' charity he has turned his life around.
He left the 1st Battalion in February 2014 with anxiety, depression and symptoms of PTSD, but these went undiagnosed for about eight to 12 months and were compounded by his autism.
Andy, 28, from Baxenden, said: "I was in a very dark place at times and I was suicidal. Everyone threw me away because of my mood swings.
"In the Infantry I wasn't aware of my problems it was only when I left that they became obvious. Everything in my life fell apart."
He was 20 when he joined up and because he already had an autism diagnosis it took an extra three weeks before he was accepted for basic training. He then went on to serve in Afghanistan.
Andy joined Haslingden-based Veterans In Communities in early 2016 after being signposted by his GP and began volunteering on a number of projects, some of which have been funded by a grant from the ABF: The Soldiers' Charity.
His story is now being used as a case study and a team from the charity's London base came out to interview Andy and photograph him at work at VIC's allotment in Helmshore.
He said: "I have had a lot of time to sit and think about what I want out of life and I started volunteering at Stubbylee Greenhouses in Bacup.
"With their help and VIC I have completed a foundation course in horticulture and I may become a gardener in the future."
Andy is currently working as a labourer with an online auction house.
He still goes to the greenhouses once a week and pops into VIC when he is not working and joins the team on social inclusion trips.
Operations Manager Bob Elliott said: "Andy is a changed person to the one who came here two years ago. He has benefited directly from projects at VIC that were funded by the ABF: The Soldiers' Charity.
"We are delighted to see the progress he has made in his personal life and pleased to have been able to play our part in it."
Veterans In Communties works with and for veterans from the armed forces and other emergency services and can be contacted on 01706 833180.