Accrington Lions held their annual youth awards at Brooks Club, this was the last official duty of Lion President May Edmundson and was attended by Councillor Mohammad Ayub and Mayoress Mrs Noreen Ayub.
There were more nominees in different categories than ever before and this year there were a brother and sister both winning an award and also one winner who won in two different categories.
Each award has two age categories, a senior award 11-18 and junior award under 11. Nominees must either live, attend school, college or a community group or work in Hyndburn. All nominees received a medal and certificate with the category winners receiving a glass trophy to keep.
Accrington Lions would like to thank everyone who took the time to nominate a young person, Brooks Club for their hospitality and also our sponsors.
This year's winners were:
Bravery Senior award, sponsored by Holy Trinity Church: Paddy Radigan
Paddy was nominated by Mrs Lewis at Mount Carmel High School who had the following to say about Paddy.
Paddy is a polite, enthusiastic and lovely young man. He is always courteous and always wants to better himself. Paddy has had a challenging few years due to the sad loss of a close family member.
Paddy has made a tremendous start to life at Mount Carmel. He has represented his form with pride in a variety of capacities and helped out with numerous after-school events. His attitude, application and organisation have been exceptional; he is a true role model.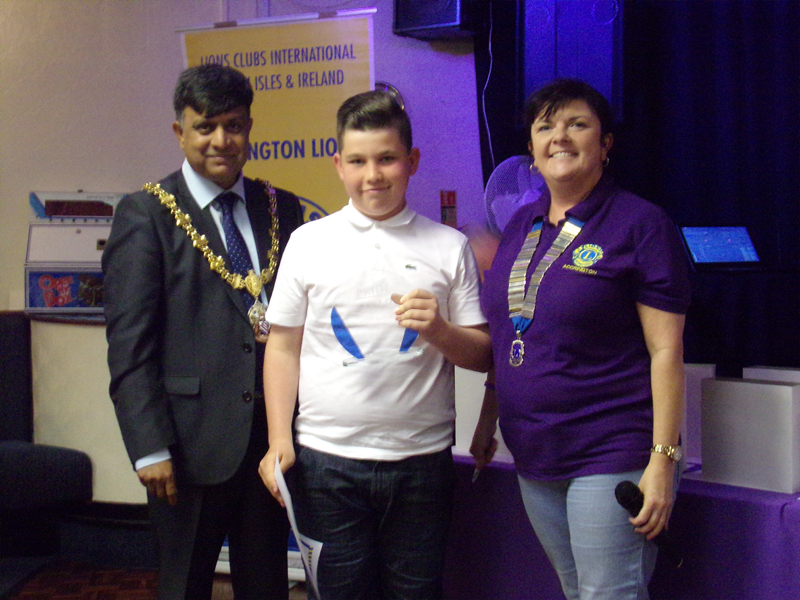 Caring for others Senior award, sponsored by Townfield Care Great Harwood: Igor Pelkowski

Igor was also nominated by Mrs Lewis at Mount Carmel High School. Igor is a lovely young boy who has had a challenging year following the sad loss of a close family member.

Igor has compassion and has shown constant care for others during very challenging times. Igor has adapted to his circumstances with maturity, compassion, endless resilience and determination.

The school are very proud of Igor and his strength he has shown during very difficult times.

Igor is a credit to his family, his caring for his mother during her terminal illness showed great strength, courage and love.

Environment Senior award, sponsored by Acorns of Lancashire: Chloe Bonner

Chloe was nominated by Lion President May Edmundson. Chloe is the school Eco Captain at St Christopher's High School. This involves trying to get new members to join the eco group and helping with the litter picking, growing and selling their own organic produce, encouraging the school to reduce their waste production by using reusable products, turning off unnecessary lighting and recycle where possible.

The role also involves assisting the Director of Sustainability spread the "Green Word" around school and to other schools and groups, by attending sustainability conferences (including the 4 Nations Sustainability Conference). The Eco Group including Chloe have been nominated for numerous awards, not least all gaining a commendation at the High sheriff of Lancashire's Young Citizen Awards.

Chloe encourages younger children to grow their own produce, and provide natural habitats for indigenous wildlife, in the local community gardens at Piggy Park in Rishton.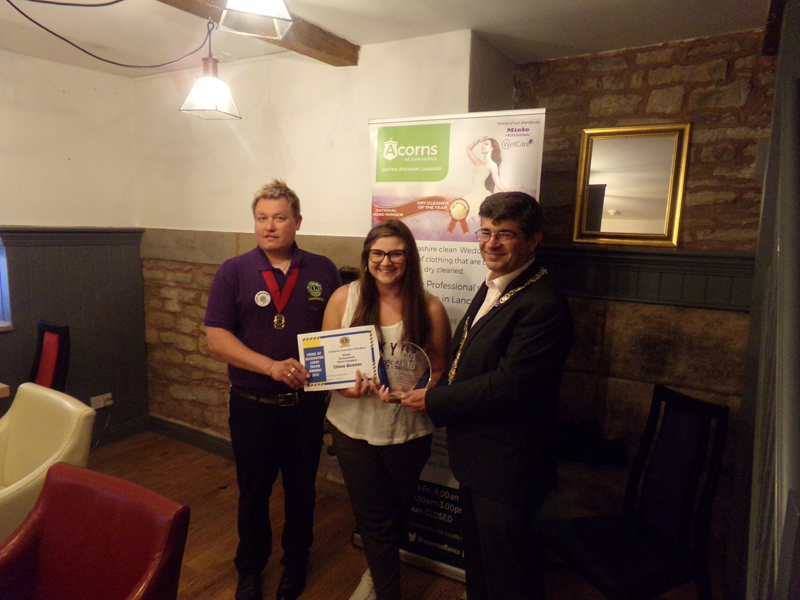 Fundraising Senior award, sponsored by Pampered Pets, Oswaldtwistle: Chloe Bonner
Chloe is Charity Representative at St Christopher's. She has helped organise sponsored "Rough Sleep" to raise funds and awareness of the plight of the homeless. She was interviewed by Radio Lancashire and visited Night safe to see where/how the money is needed.
She assists at school fundraising events such as Christmas fayres, summer fayres, fashion shows, quiz nights, BBQ's etc
Chloe visited Shining Faces orphanage in India after fundraising events such as car washing, car boots, gardening, decorating, quiz nights, Mothering Sunday lunch. Whilst there she helped to distribute donations of toys, clothing and toys. She came back a changed person.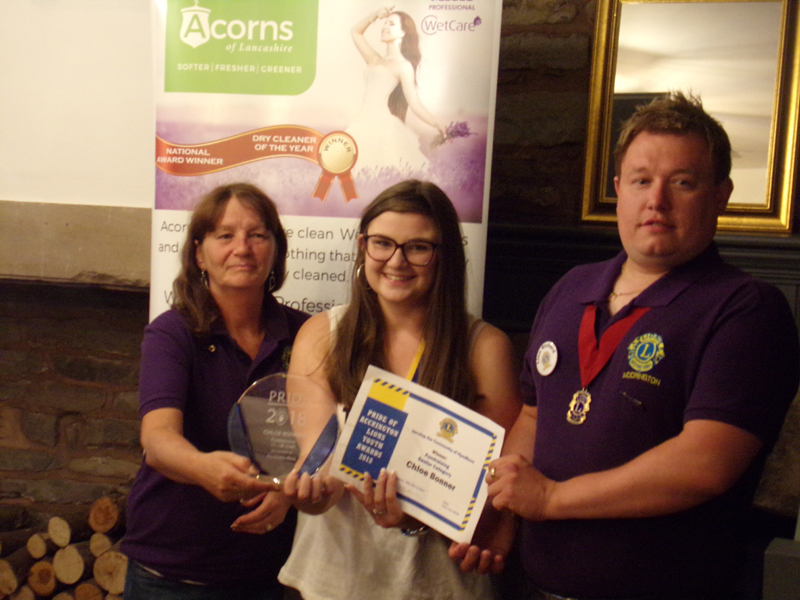 Health Awareness Junior award, sponsored by Caz's Crafty Creations: Theo Slinger
Theo was nominated by a family friend Donna Greenwood. Donna told us that Theo is a brave superhero. He battles with type 1 diabetes every day. He now has a pod which is a great help and he wanted to make a video to put on Facebook to show other children with diabetes that it doesn't hurt too much when you change them
.
It takes so much out of the little chap, when he is low you just feel so helpless. His family would be so proud to show Theo the recognition he deserves, his smile lights up the room. To win this award would put him on top of the world.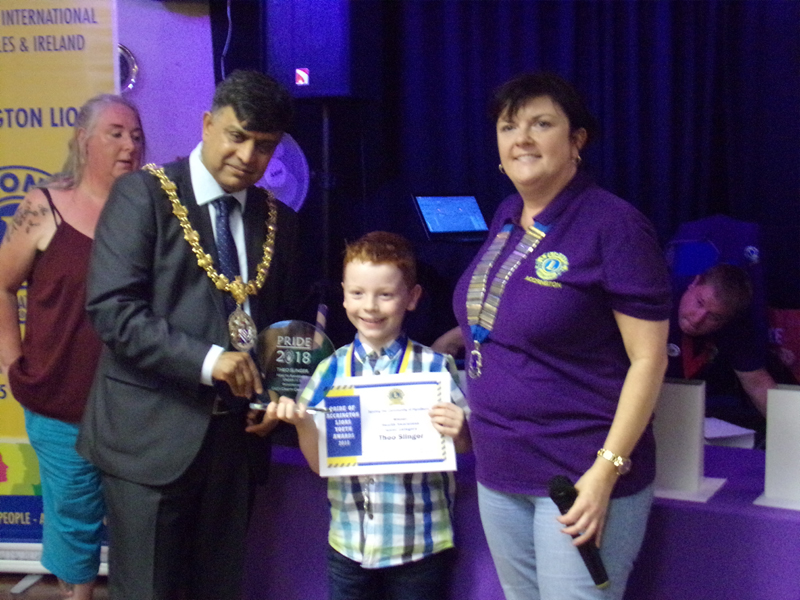 Health Awareness Senior award, sponsored by Accrington Lions: Chloe Fitzpatrick
Chloe was nominated by Gayle Knight from Oswaldtwistle Civic Theatre. Chloe has a life-threatening allergy to strawberries. The allergy is air-borne so she takes calculated risks every day, especially in summer when strawberries are out in force.
To raise awareness of allergies in general, she and her sisters wrote a play which was performed at the Civic Arts Centre last year following the tragic death of Megan Lee (a young girl with a nut allergy).
The play was originally intended to be taken into schools to raise awareness, but Lancashire County Council's Food Safety team became aware of the play and asked Chloe and her sisters if it could be made into a film.
With encouragement from Allergy UK and Anaphalaxis UK, a short documentary film was made which is now being sent out to every school in Lancashire. It is hoped it will become a national campaign.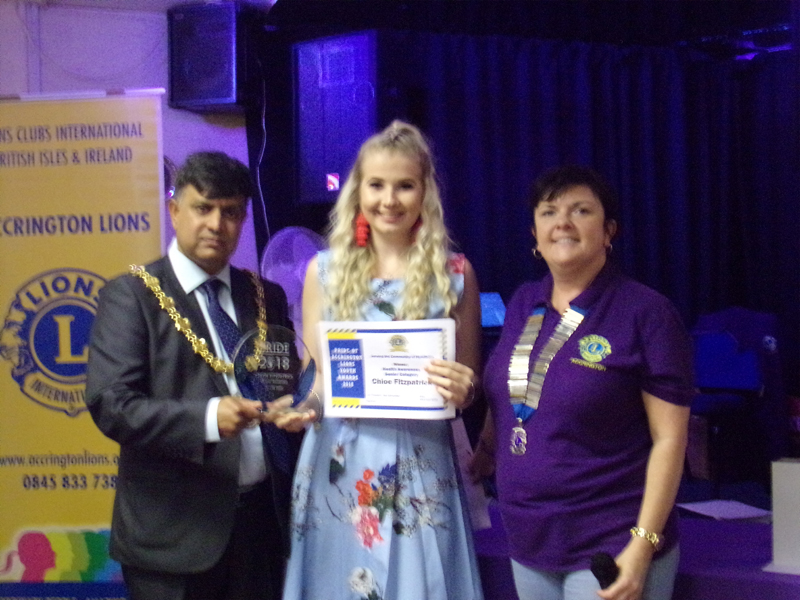 Young Carer Junior award, sponsored by J2A: Connor Edleston
Connor was nominated by his aunty Natasha Kerr. Natasha told us on his nomination form that Connor has an older brother Zack who has complex disabilities. My sister has raised both boys alone and with Zack needing so much care and support, Connor often has to take a back seat.
He knows how to care for Zack and can operate the equipment himself and has done for many years. He will step in to help with any part of his care to help my sister without being asked.
He often has to miss things or wait around for things for Zack and he will never moan or complain. I just think that he deserves something to be just about him to show him he is a superstar.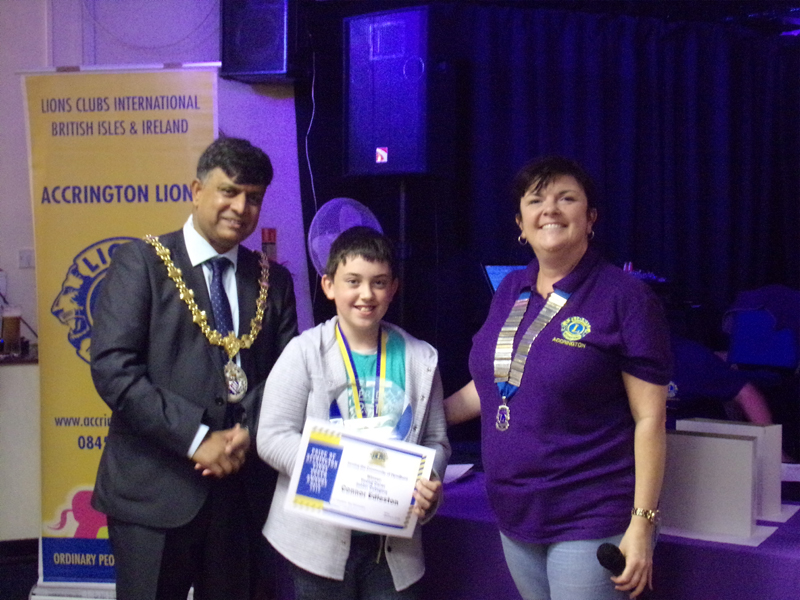 Young Carer Senior award, sponsored by Townfield Care Great Harwood: Lee Scott
Lee was nominated by: Mrs Wild, Mount Carmel High School. Lee is a young carer for his Dad as well as working hard in school. He also takes on other interests such as woodwork in his own time at home.
He is a fine young man who deserves recognition for all he does.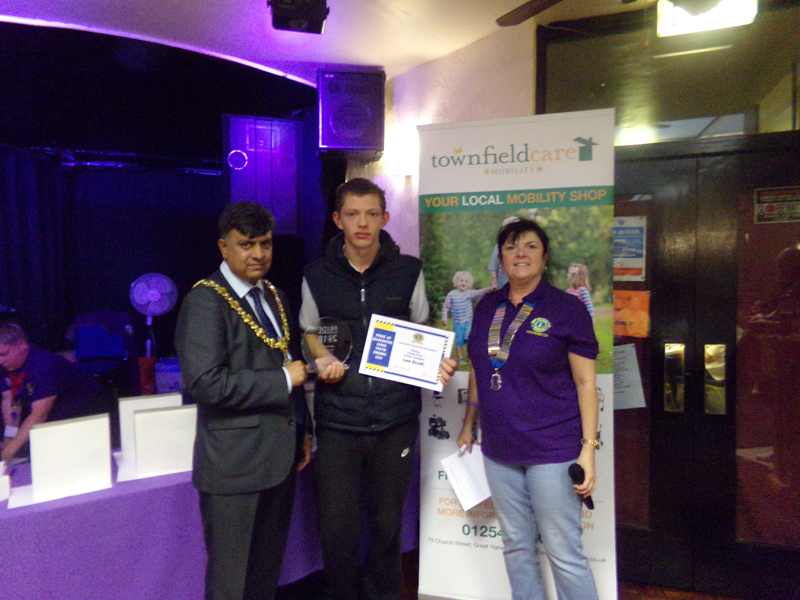 Sportsperson of the Year Junior award: Madison Cronshaw, sponsored by Accrington Lions.
Madison was nominated by her mum Susan Cronshaw who told us that Madison is 10 years old and has participated in dancing from the age of 2. She dances in the styles of ballet, tap, street, cheer, ballroom, Latin and classical sequences. She really enjoys dancing and it shows in her performance and facial expressions.
Madison has also joined an all-girls football team at Bullough Park junior football club and has started to gain experience as a goalkeeper. As part of the Globe family Madison has been involved in many charity events set up by the club including delivering presents to the elderly in sheltered accommodation.
She is a lovely, kind and bubbly young lady with a truly amazing personality who always puts 100% into everything she takes part in and both my husband and I are proud of her and her achievements to date.
Sportsperson of the Year Senior award, sponsored by Jim Gilbert Decorating Services: Jay Cronshaw
Jay was nominated by a very proud mum. Mrs Susan Cronshaw who told us that Jay is a quiet boy with low self-esteem who does not realise the significance of what he has already achieved in his life. Jay has been under constant investigation for Asperger Syndrome and has found social interactions to be a challenge in the past.
Jay is 14 years of age and attends St Christopher's High School. Despite the daily challenges Jay faces he has thrived at sports. He represents the school at football and table tennis, but most noticeably at judo where he has represented the school 3 times at national level in the BJA British Schools Championships.
At the age of 8 he began to compete in competition, starting at local competition but gradually building his way up to the Ippon League, the national league which tours the country once a month with the best 20 boys and girls from every age and weight category competing in a league format to gain points in the GB ranking system. Jay has been as high as 6th in the GB ranking for a pre-cadet under 38kg boy and he is a member of the North West Squad and has represented them at national events on many occasions.
Jay represents the Accrington junior football club Globe Bullough Park under 14's. As part of the Globe family Jay has been regularly involved with the club's charity events including handing out Christmas presents to the elderly in sheltered accommodation, raising money for Jason's Wheels and a new defibrillator for Bullough Park.
In his spare time Jay has joined Ossy Joggers to support his mum and regularly takes part in 5K Burnley Park runs held every Saturday morning at Townley Park. He is also a member of Lancashire Police Cadets and is currently doing his Duke of Edinburgh Bronze award with the cadets volunteering his time to help train the 5 and 6 year olds who have just taken up judo at his club.