Most University students, who take a gap year, do so to explore the world. Sara Kroeger Britcliffe took her gap year to become Mayoress of Hyndburn.
At the age of 22 Sara is indeed the youngest person ever to fill that role in Hyndburn, so I asked her how it had gone so far.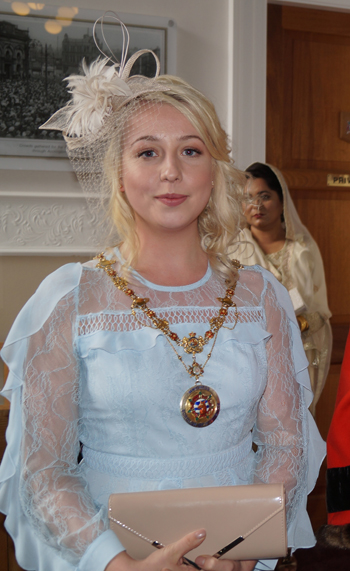 It all came about when her father, Councillor Peter Britcliffe became mayor. He had been a councillor for over 30 years so no one was more deserving of the role. He asked Sara, whose Mum died when she was nine to be his Mayoress and his son Dominic became Mayor's consort.
Sara told me that it had been "surreal at times"
I asked her, what her most favourite and least favourite moments of the job were, and without hesitation Sara said:
"The worst one's easy. I don't eat scones. I hate scones and at a lot of the places we get afternoon tea and we get a lot of sweet things, and I have not got a sweet tooth at all – and my Dad will say 'ooh she loves these'"
Of her favourite moments Sara said there had been so many that it was more difficult to pick just one.
"The actual day, the mayor making day will stick with me forever because I had all the people I loved around me to see this happening, and it was just so intense – a day that I would never imagined would have happened."
She then said:
"But I think going to the schools is my favourite part and seeing the children, because children are amazing and they're just so funny and they love it. They are so excitable…we went to an afternoon tea that the children had made – but it wasn't just scones, they'd made soups and quiches and their own sausage rolls.
"Seeing children do things like this and seeing how happy they were; it's things like that – like the Maypole at Moorend.
"The McMillan coffee mornings are also wonderful."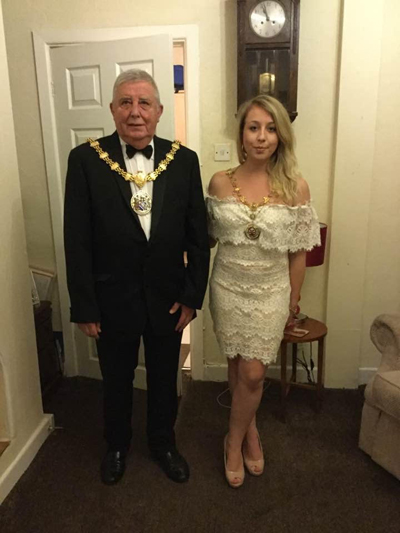 I asked Sara how she had managed when she first had to attend functions with her Dad. She told me:
"I think I was very overwhelmed when I went to the Duke of Lancaster's Remembrance Service and I saw all these other people in the mayoral robes and chains. My Dad had to wear the full robes there and seeing so many mayors and mayoresses got me thinking; am I supposed to be here?"
In spite of all that, Sara has settled in nicely to her role and with a little help from her Dad and others at the Town Hall she is doing a great job. In fact many think she has brought a breath of fresh air to the role of Mayoress.
She was telling me that there were three mayoral charities this year; Arthritis Care, Stray Dogs in Need and Oswaldtwistle Civic Centre and they were already planning the Mayoral Ball which takes place next March, at which they hope to raise a lot of money towards them.
I would like to thank Sara for taking the time to talk to me and wish a lovely young lady much success for the next few months as Mayoress of Hyndburn and in the years to come in whatever path she chooses.