With so many TV stations to choose from it is amazing that the original terrestrial channels: ITV, BBC and Channel 4 are still the only ones to regularly pull viewers in their millions; or is it?
Perhaps it is because the quality of drama, documentaries and comedies are so far ahead of the opposition. You only have to name a few such as Happy Valley, Broadchurch, Only Fools and Horses, The Good Life: the list goes on.
ITV is also the home of the first true soap opera shown on British Television: Coronation Street. That particular programme has given us a bevy of stars who have gone on to do wonderful things; among them, Sarah Lancashire, Surranne Jones, Michelle Keegan, and our own Julie Hesmondhalgh.
Julie was born in Roe Lee Maternity Home in 1970 and grew up in Elmfield Street in Church. She lived with her Mum and Dad: Maureen and John and older brother Dave, who was born in 1963.
She attended Hyndburn Park, Moorhead (now Accrington Academy) and Accrington and Rossendale College before going to London to study at the London Academy of Music and Dramatic Art (LAMDA).
I asked Julie how she would describe herself as a student in those early years. Her answer was: "Lazy but full of beans." She went on to say, "I was (democratically elected) Head Girl at Moorhead!"
Julie went through school with another local actress, Mina Anwar.
"Mina and I were at juniors, secondary and college together and moved to London to attend Drama School at the same time. She is amazing. Also at LAMDA were Joe Alessi and Connie Hyde (now Gina in Corrie)."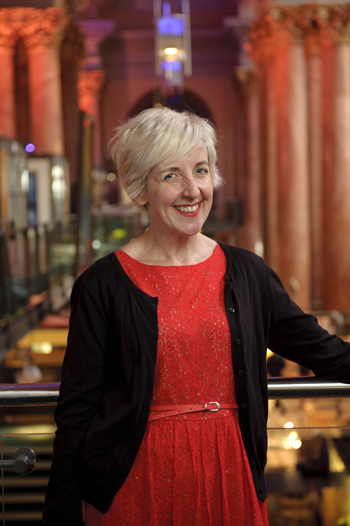 I asked Julie when she first realised she would be a performer. She said:
"I always loved it since Mrs Mulderrig encouraged me to do English speaking Board exams at Hyndburn Park, but I'm not sure I seriously thought about it as a career until I went to Accrington College."
It was here that Julie first utilized her talent and along with many others from this college was accepted into Drama School thanks mainly to "the excellent tutelage" of Martin Cosgrif. Dominic Brunt who plays Paddy in Emmerdale was also Julie's year at Moorhead but went to college a little later. Apart from his role in Emmerdale, Dominic is also an Award winning film maker.
I asked Julie what were her main inspirations when she was growing up that made her want to become an actor and she replied:
"I loved old musicals mainly, and then I started to go to the Royal Exchange (Manchester) with School and with a family friend."
Julie told me that her first stage performance was as Sammy Sludge in the school panto and she loved every minute of it.
Of course we all know Julie from her – at that time ground-breaking - portrayal of transgender Hayley who went on to become Hayley Cropper, in Coronation Street, but she was an actor for some time before that big television break, her first television appearance being in Catherine Cookson's "The Dwelling Place" as Rose, the miller's daughter, which she says is still shown on UK Gold from time to time.
As well as being a sought after actress, Julie is also a wife and mother. Her husband is writer Ian Kershaw; they met on the set of Coronation Street when he was playing the part of an unscrupulous Weatherfield Gazette reporter, and they have two teenage daughters.
It is impossible to interview Julie Hesmondhalgh without spending some time speaking about Hayley Cropper. Julie played the part for sixteen years and I put it to her that it must have been difficult saying goodbye to her in 2014.
"Very difficult; I still think of her with love and a bit of sadness. She was a huge part of my life."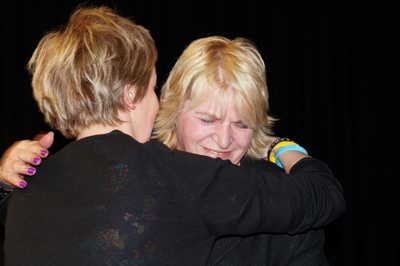 I did remember that whilst in Coronation Street, Julie took time out to play the part of Sylvia Lancaster (pictured with Julie right at Accrington College) in the stage play:" Black Roses: The Killing of Sophie Lancaster" at the Royal Exchange Theatre shortly before she left the soap and asked if this had rekindled her love for the theatre and was instrumental in her decision to leave the soap. She answered thus:
"Yes, exactly that. I thought I'd be in Corrie forever, until I did that beautiful play and then I realised that a part of me I thought was dead was merely sleeping! I knew it was time to move on, but I thought long and hard because I was very happy on the Street."
The play was centred on the brutal kicking to death of a young girl in a park in Bacup, Lancashire, just because she dressed as a Goth, and was later the subject of a BBC4 airing where Julie again played Sylvia and Rachel Austin played Sophie – both were amazing! Simon Armitage wrote the book and the evocative poetry that was a major feature.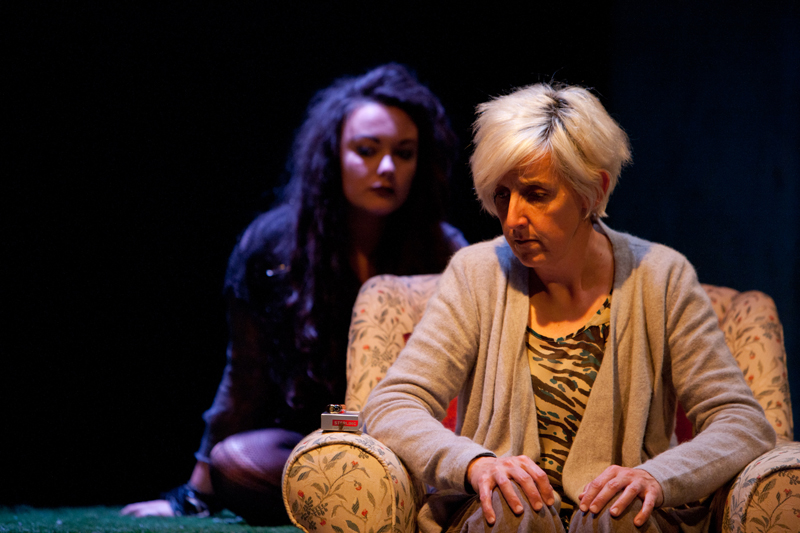 Rachel Austin as Sophie Lancaster (left) and Julie Hesmondhalgh as Sylvia Lancaster in BLACK ROSES - The Killing Of Sophie Lancaster. Photo - Jonathan Keenan
Shortly after Julie left 'the Street' she appeared in Channel 4's controversial comedy/drama "Cucumber." Julie played the part of the main protagonist's sister, Chloe Whittaker. I put it to her that this vehicle could not have been further removed from Hayley and asked her whether this was a conscious effort to tell the world she was an actress and could play any part, or simply the fact that the script was by Russell T Davies. This is what Julie told me:
"When you get offered a role in a RTD drama, you don't hesitate! I loved that show. It wasn't for everyone, but it was one of the happiest summers of my life filming that show. I couldn't believe my luck."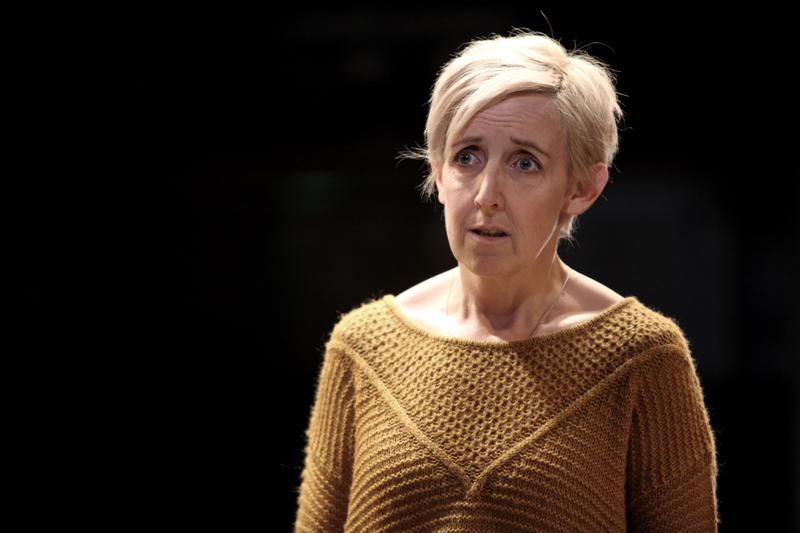 Julie Hesmondhalgh in BLINDSIDED
I asked Julie about some of the roles she had played since leaving 'Corrie' and mentioned some that I remembered, including "Moving On" in which she starred with John Thompson, "Inside Number Nine" BBC 2's quirky comedy written by and starring Steven Pemberton and Reese Shearsmith and most notably the final series of "Broadchurch" where she played a woman traumatised by, but eventually surviving a violent rape, to great plaudits. I asked Julie what were her highlights so far. She replied:
"I've enjoyed every project I've worked on. Broadchurch was a big breakthrough role for me, and the subject matter meant a lot to me. But Wit at the Royal Exchange (in which I played an American Professor dying of cancer) was pretty life changing too, and I'm currently working on a beautiful new play there called The Almighty Sometimes. I worked with Mike Leigh all last summer on his epic film about Peterloo, so that was a new and exciting experience."
I went on to ask Julie what she enjoyed watching in the way of TV and films when she wasn't working.
"Transparent on Amazon, A Handmaid's Tale, Corrie (of course!), This Country (brilliant comedy), Fleabag, Getting On (Jo Brand's performance is one of my favourites of all time). I love American indie films. I loved Twentieth Century Women last year, and Moonlight."
And her favourite authors?
"I love Ann Tyler and Toni Morrison. My favourite book of all time is M Train, the second of Patti Smith's memoirs."
With someone as busy as Julie is, my next question might have appeared a little hypothetical. I asked her what she did to relax. She did answer me, thankfully.
"I read a lot, novels but non-fiction, poetry and graphic novels too. I write (for myself mainly) and I walk my lovely old dog Bridie. My favourite thing in the world is going to the theatre. I don't ever not enjoy it."
For anyone who doesn't already know it, Julie Hesmondhalgh is also an active patron of "Maundy Relief," a charity in her home town of Accrington, founded by ex-nun Dorothy McGregor who sadly died a few years ago. The charity still goes from strength to strength thanks to the tireless work of its volunteers in helping the underprivileged by way of providing beverages, food parcels, moral support and professional advice when required.
I put it to her that I remembered her going on "The Cube" as a contestant and winning the charity £20,000. Julie also reminded me that she repeated that feat with Ian on Mr and Mrs too. She said of the charity:
"We all miss Dorothy every day, but her team are carrying on her amazing work, which is more needed than ever. It's the 20th anniversary of the charity this year, so we're planning all sorts of events."
The first time I met Julie was at Accrington and Rossendale College on a cold day in January 2015 when she was awarded the Freedom of the Borough. I was fortunate enough to have been invited as a member of the local press to cover the event for Acorn News.
Many local schools performed for Julie after she had received the accolade and she was so supportive of them all. I remember her giving a speech at the end of the evening telling all the participants to always follow their dream. At the end of the evening Julie also stayed on to talk to them all. That is the sort of lady she is; kind and supportive.
In light of that I asked Julie what advice she would give to anyone, young and not so young, who fancied a career in the media. She made this reply:
"Don't be afraid to ask for help and advice. Learn to network. Go to every free event possible, meet people, find your gang. You'd be amazed at how many people are willing to help people with a bit of chutzpah, a bit of spark. Be engaged with the world. Try and make it better."
Finally I asked Julie what projects she had in the pipeline and she told me:
"The Almighty Sometimes by Kendall Feaver at the Exchange, a new series of Val McDermid's crime comedy for Radio 4. And I have a book out next year: My Working Diary from 2017. Published by Methuen Drama. And I'm always busy with my political theatre collective, Take Back. We have a musical about the NHS coming up and a project on homelessness."
On behalf of myself and Acorn News, I would like to take this opportunity to thank Julie for granting me this interview and being so willing to answer all my questions. She is a true inspiration to anyone from towns like Accrington that they can achieve great things and is also a very lovely person who has never forgotten her roots.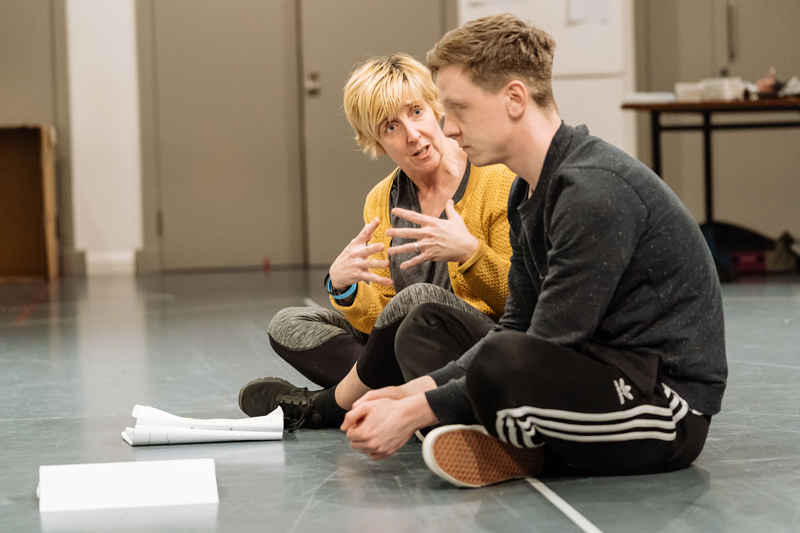 The Almighty Sometimes: L-R Julie Hesmondhalgh (Renne) & Mike Noble (Oliver) in rehearsals - Image by Manuel Harlan