When someone we know does well we are always pleased for them. When someone from our area does well even if we don't know them we still take an interest, especially if that person does well in the medium of television. Perhaps it's the fact that they went to the same school that we did, frequented the same public houses, went to the same church or lived in a part of town that we know well.
At Acorn News we always try to bring you stories that have a local connection and from time to time media personalities are kind enough to answer a few questions for us. I am delighted that Mina Anwar is one such person and in what follows I will tell you a little more about her beginnings and what she is doing today.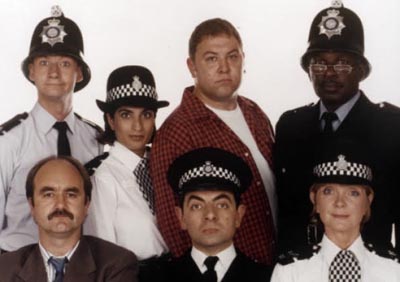 For anyone lucky enough to have seen the television comedy series based loosely on police procedure called The Thin Blue Line Mina will be indelibly etched in your memory as the wonderful WPC Maggie Habib. The series was written by the immensely talented Ben Elton and starred, among others, Rowan Atkinson as Inspector Fowler, David Haig as DCI Grim, James Dreyfus as Constable Kevin Goody and Serena Evans as Sergeant Patricia Dawkins, Fowler's long-term partner.
That was 20 years ago now and it ran for two series. Around that time, Mina starred in the television film Flight some of which was shot in Accrington. I remember being in Wardleworths bookshop in the town and being told I couldn't leave because they were shooting a film outside.
The two vehicles mentioned showed that Mina Anwar was equally at home with dramatic and comedy roles but only scratch the surface when it comes to defining her.
Mina has been busy doing television roles since she appeared in The Bill in 1993 and has constantly had parts in other series over the years, more recently in Holby City, The A Word and In The Club, but that only tells a small part about her achievements and career.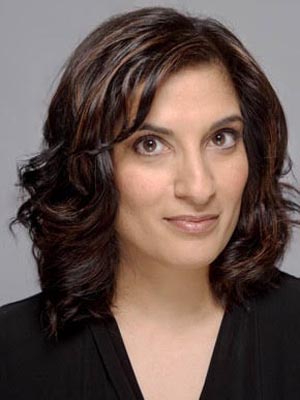 Mina was born in Blackburn but all her schooling was in the Hyndburn area, attending Ernest Street Infants School in Church, Hyndburn Park Junior School, Moorhead High School and Accrington and Rossendale College (all in Accrington).
As a student, Mina describes herself as "very academic". Her favourite subjects were music (she loved singing in the choir), science, geography and she particularly loved history and R.E.
About her penchant for music Mina says:
"I loved singing. I have been singing wherever and whenever I could since I was three."
Her singing extended to assemblies, choirs and concerts and later she performed in variety clubs in Accrington and Oswaldtwistle, singing jazz and soul whilst studying for her A Levels. She told me:
"I think I wanted to tell stories through song and be an archaeologist or anthropologist. I didn't really know that acting would be such a passion until I went to Drama School in London."
That Drama School was Mountview Theatre School (now Mountview Conservatoire) and Mina won a scholarship grant to study there. That was after she attended Accrington and Rossendale College, where she received a good grounding in all aspects of her chosen art.
"We had a fine, inspirational team of tutors teaching Theatre Studies A Level and Theatre in performance and the new A Level course I studied, A Level Contemporary Dance. They were Martin Cosgrif, Nick Pamphlett and Kate Engineer. I owe them so much for igniting my love and curiosity of the craft of acting and dance and musical theatre."
Mina told me that her first professional role was in a European Tour of "Hair" The Musical even though she had sung at Ronnie Scott's Club in the summer of that year as part of a songwriter's competition on behalf of one of the musical directors at Drama School. She went on to say:
"It was a six month tour of arenas and theatres around Europe. It was hard work but wonderful; singing, dancing and acting and touring. As a new graduate you have to learn very quickly in this industry. It was brilliant. It remains one of my favourite gigs."
When I asked about what was her favourite film role and TV role Mina couldn't choose but said:
"They've all been great. I do particularly love working with Ben Elton. He is such a mentor and inspiration to me and discovered me in the theatre to give me my first and seems most lasting character on TV; Constable Maggie Habib in The Thin Blue Line with Rowan Atkinson. Working with my comedy heroes is always such a thrill for me.
"I've worked alongside so many of them: Stephen Fry, Hugh Laurie, Ade Edmondson, Rik Mayall, Nigel Planer, Griff Rhys Jones and Mel Smith to name a few. That's a great line-up to learn from. I only mention the comedy greats as I grew up watching them all on Saturday Night Live, The Young Ones and Not the Nine O Clock News, which were my favourites."
I put it to Mina that as most people will know her from her TV roles and may not know of her other talents and achievements it would be good to hear what was her own favourite medium. I also asked what roles she was most proud of.
"I love having the opportunities and skills to be creative in all creative mediums. The only set of criteria for me is that the work is of a high quality and it captures my imagination and continues to challenge me as a human being."
As for what she is most proud of, Mina said that she is always proud as she always approaches life and work with honesty and integrity and hopes that she always will.
By now you will be in no doubt that Mina Anwar is an accomplished all-rounder when it comes to the Performing Arts, but there is a lot more to this remarkable lady than her achievements in the media as Mina explains here.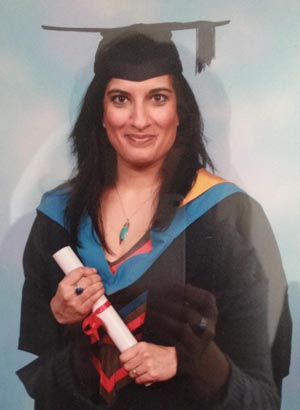 "I graduated in 2013 with a BSc (Hons) Psychology degree and then completed a two-year PGCE training to teach in adult education and lifelong skills. My speciality for that was teaching Performing Arts. I am also a proud licensed Zumba Instructor for adults and Kids and occasionally run my own classes but mostly use these skills as warm-ups or in my workshops."
I asked Mina about her own writing and she told me that she has only written in collaboration with other writers on work projects and not professionally yet but has directed Musical Theatre shows over past few years in Further Education and running workshops in acting technique, vocal confidence in speaking and singing and also in personal confidence and wellbeing.
The workshops have been with adults and young people from all backgrounds and abilities and Mina says;
"It's so humbling to give something back. I am a voluntary mentor for Arts Emergency and a committee member for Act For Change. These are two grass roots level charitable organisations that seek to provide knowledge, awareness and education for all about access, diversity and inclusivity in the Arts. I'm proud to work on their behalf, raising awareness and providing support."
Mina is passionate about helping with this side of her art and hopes in future to move into creating theatre and directing for more diverse community groups who stand to benefit from creative arts processes. She continued
"I'm at the early stages of researching a theatre piece about mental health awareness through real life stories for teenagers as well as looking at real stories from refugees."
I suggested that there were perhaps some things she would like to change if she had her time again and she said she doesn't believe in regrets. "Life unfolds as it should. I endeavour to go with the flow."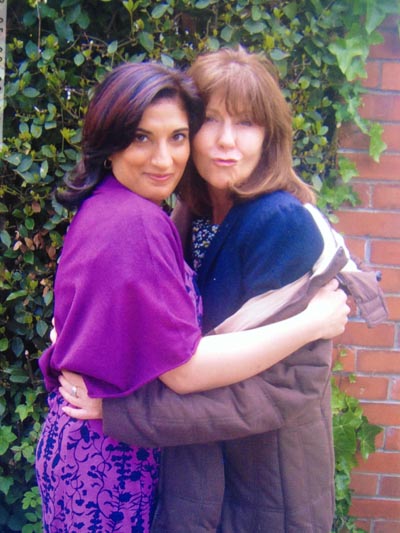 I enquired what Mina likes to read, providing she ever has the time. She replied:
"I love reading. Novels have been rare for the last few years as I've been studying Psychology and Anthropology. I have always loved European literature: Herman Hesse, Dostoyevsky, Kafka, but also I love Ben Elton's books. My favourite is Blind Faith. I've enjoyed reading Matt Haig. I'm reading Sapiens at the moment."
I asked Mina what she does to relax and her answer was thus:
"I love dancing and learning new skills. I do yoga and I have a daily meditation practice and love going off for the weekend to meditation or yoga retreats when I have time, and I love travelling."
I was interested to know what advice Mina would like to impart to anyone irrespective of their age or background, who would like to succeed in the media. Her answer was very straightforward;
"I can't talk about what people in the media need; only what you may possibly need to be a creative artist. You have to want to do it more than anything else as it is a very hard industry. Don't confuse your craft and the industry. One requires dedicated skills, development and openness, the other, just a lot of luck and sometimes being in the right place at the right time and being ready and courageous when opportunities present themselves. Keep training and developing and keep relevant and current."
Wise words indeed from an erudite lady.
The big question on my lips was what's in the pipeline for Mina Anwar? What are your future plans?
Her answer was encouraging but still left me wondering a little.
"A few I can't talk about right now until official announcements, but they involve a TV show and a musical next year"
I would like to take this opportunity to thank Mina for answering my questions and wish her all the best for the future. Now let me think; a TV show and a musical eh? I think we'll have to watch this space for now.
Footnote: To learn more about Arts Emergency and Act For Change please follow the links below.
© Peter Jones 2016
Pictures courtesy of Mina Anwar
As always, if you have any comments, or indeed, ideas for future columns, please feel free to cotact me at peterjones040@gmail.com