At my doctor's surgery, Blackburn Road Medical Practice, our current HCA, Shelley Crook will be leaving us in November to take up her post as a paramedic. For Shelley, it will be the realisation of a lifetime ambition. I'll let Shelley expand on that later but first let's go back to where it all started.
Shelley is an Accrington lass but like many babies since the closure of our Maternity Home and later the maternity unit at Accrington Victoria, she was born in Blackburn.
She had a happy childhood, growing up with a brother and two sisters.
She attended Huncoat Primary School and Hollins Secondary School before taking a performing arts course at the Rawtenstall Annex of Accrington and Rossendale College. Shelley said:
"I went to college and did Performing Arts; no idea why."
I asked Shelley what sort of student she was and she told me:
"A good one at first, but then I became a bit of a follower and didn't do very well in my GCSEs"
When she was at college, Shelley got a part time job at Express gifts and on leaving college, worked there full time as a job trainer, which she did until she became pregnant at the age of twenty. She married her husband six years ago but they have been together for sixteen. Her daughter is now fourteen years of age.
Some time after her daughter was born, Shelley went back to Express gifts part time for a while but didn't stay long as childcare proved difficult to manage. Next Shelley got a part time job as a Homecare assistant, which is probably where she realised she wanted to care for people. She explained:
"The Paramedic aspect of things always intrigued me from being a child. But, given how I was at school – I wasn't a rebel as such…but I wasn't as focused as I should have been – so when I finished school and went into Express Gifts, it was always at the back of my mind, but it was never going to happen.
"For a start I didn't know how to go about it, secondly I didn't think I was clever enough, and thirdly I didn't have the grades to do it."
I asked her what changed all that.
"When I went into the homecare side of things, it niggled me that as much as I enjoyed doing this, I wanted to do more. Then a job came up at a local doctor's surgery for a receptionist in medical admin. I applied and go it.
"After I had been in reception for twelve or thirteen months the health care assistant left and I jokingly said that I could do that job. The nurse told me to apply and I got the job. They trained me up in-house and sent me on a lot of courses and after shadowing the Practice nurses I became an HCA.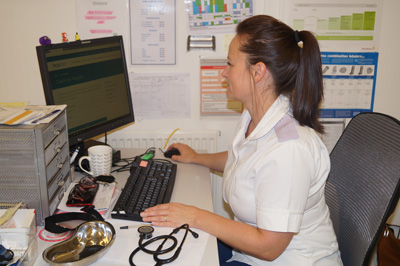 "After that I went on more courses until I went from taking bloods and doing blood pressures to doing ECGS, COPD reviews and vaccinations. I was there for ten years."
Shelley told me that all this had made her hungry for more challenges. Eventually she left the practice and it was around this time that her husband and her best friend suggested that now she had the opportunity, why not check out college courses to see what she could do next. Shelley takes up the story:
"My husband dragged me down to Accrington College where I spoke with a careers advisor. I jokingly said that I want to be a paramedic and he replied 'why is that funny?' I told him about the exams I needed to pass and he said they were free and I should do them."
With the help of the careers advisor, she mad a five year plan. The first year was retaking the GCSEs she needed and on passing those Shelley was able to get onto the health access course in the second year. Shelley achieved both of these goals and applied to University. She was accepted at UCLAN and it "rolled from there." After a year at college she embarked on a two year diploma course to become a paramedic.
In the meantime Shelley received a phone call from Lisa Murray at BRMP telling her that we had no HCA and wondering if she could fill in part time.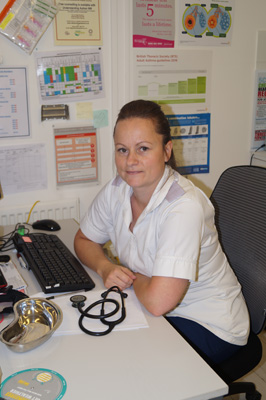 "This was only meant to be for a few weeks," Shelley told me. "I spoke with Rob (Practice manager) and told him that University had to be my priority but I would do perhaps, one, two or three days a week when it was possible."
Shelley is still here and says she loves the job as it is something she is used to and a good way to take her mind off university and all the studies. I put it to her that she has probably been on a few shouts and she explained:
"The university course is half study and half practical. I do six weeks at uni and then perhaps seven or eight weeks on the job. Then back into uni."
Shelley told me about her first day on the job.
"If I'm honest; my first day on the ambulance on placement, I turned up at Clitheroe Ambulance Station and my mentor asked me if I was alright as I looked as green as my uniform," she laughed. "I was a nervous wreck because it's not a job you can try before you buy."
I put it to Shelley that being a paramedic meant being on the front line and whereas patients at the surgery might stop and chat, the people they are helping are desperate for that help and their lives sometimes literally depend on their response. She said:
"I've done this job (HCA) for ten years and if ever I had an ECG I wasn't happy about I had the doctor to back me up. But on the road it is so autonomous. You have got to make that decision."
I also mentioned that sometimes people don't make it and asked how they dealt with that.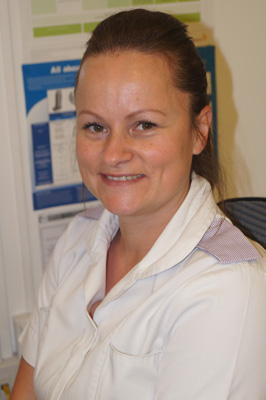 "You have to be 100% professional. Of course it's emotional but you have to treat it as a part of the job and remember at the end of the day you have to go home and be with your family and live your own life.
"There is no way you can go home and recount your day with them, but the paramedics are like another family and will support each other."
I asked Shelley if she was qualified to drive an ambulance yet. She replied:
I've just passed my C1 which I needed before I could do anything. I start my induction on November 4th which entails two weeks in house clinical and then a week operational but I won't be able to drive then. After that I'll have four weeks intensive blue light driving."
I mused that being new to the job there might be some amusing incidents to recall. Shelley told me:
"Whilst in my first year of placement, I was still getting used to the equipment etc. The bag which we take into patient houses (BLS bag) is quite heavy and worn like a rucksack. Me being as small as I am, it's nearly the size of me when I wear it.
"It took some getting used to, remembering the size of it on your back when maneuvering around houses. I once went into a home, bag in the back, and whilst walking past a rather overflowing coat stand, the bag got caught, pulling the coat stand onto me, along with all the coats... I was lost under a huge bag, a mountain of coats, and my crew couldn't help for their fits of laughter!! Obviously I was embarrassed, but also highly amused whilst trying to fight my way out."
I asked Shelley what she does to relax and she told me:
"I love taking my German Shepherd out for a walk. We also have a camper van so when we are all free, we go away in that for the weekend."
When I asked Shelley what were her tastes in music, she said:
"Anything you can sing along to really, like Bon Jovi."
Shelley also likes reading romantic novels and crime thrillers and her favourite author is Sandi Lynn. When I asked about her TV favourites she said she and her husband were big box set fans and have seen Game of Thrones and Line of Duty. Her favourite film actors are Liam Neeson, Dwayne (The Rock) Johnson and Jason Statham. All good action film stars.
Finally I asked Shelley what advice she would give to anyone seeking a career in any aspect of medicine. Her simple answer was: "Don't think about it – do it! I wish I had made this move much sooner."
Shelley has just learned that she will be stationed at Blackburn and though I'm sure we all wish her good luck, we would probably rather not run into her on duty.
She went on to say: "Could I also just say, a little thank you to Rob, Dr Motupalli and all the other staff for making me so welcome. It's an amazing working family here; a great team. There aren't many what I would call 'family doctors' around anymore; this place definitely still has that vibe though."
I would like to take this opportunity for myself and on behalf all at BRMP to wish her all the best in her new career.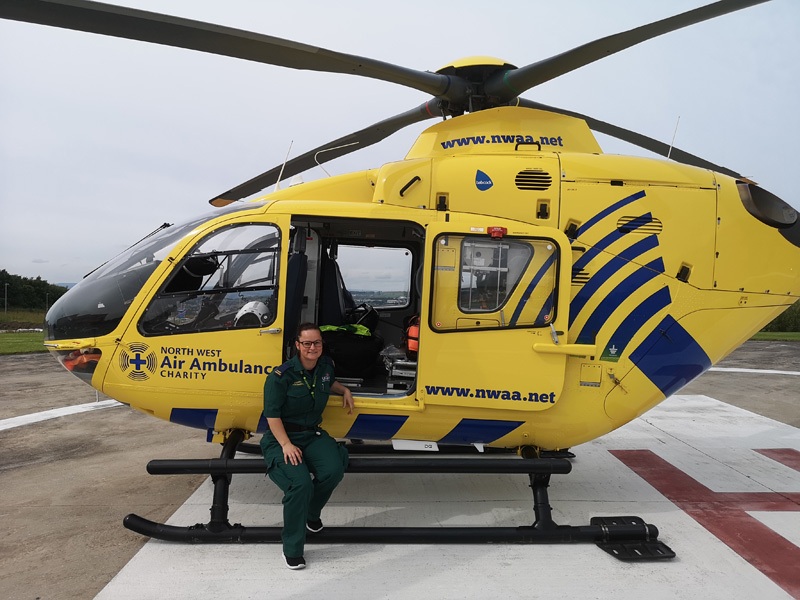 © Peter Jones 2019